Slime is fun all year round, but fall slime is especially fun…Halloween! Slime is so much fun to play with and so easy to make. Kids can play with it year round, no matter what the weather is doing outside.
But the best time of year to make slime? Fall…and for one reason: Halloween! These Halloween themed ideas bring out the best of slime. Be sure to have supervision and have fun!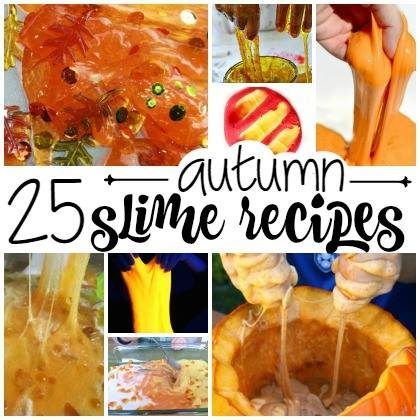 If you're looking for fun ideas that will activate your kids creativity and imagination, whether it's Halloween or not, then you are on the right page!
These 25 Fall Slime Ideas for Kids are going to bring out the best of what your kids love about slime, and with your supervision you might discover your love for slimes too!
Fun Autumn Slime Recipes that you kids Will Enjoy
1. Drippy, Gooey Glow in the Dark Slime
This Drippy, Gooey Slime is fun to play with and glows in the dark! It includes 4 simple ingredients such as corn syrup and you can choose the color of your slime.
2. Easy DIY Slime with Bats
Do you want to Spook Up the Slime? you can add in some bats to it.

Let's make a slime web with bats on it.
3. Fun Slimy Bug Sensory Bin for Preschoolers
Bugs love slime, and your kiddo is going to love this Slimy Bug discovery bin. Your kids will love a bit of a change in their discovery bin a touch of this slime.
4. Yummy Candy Corn and Slime for kids
Candy corn and fall go hand in hand, and Candy Corn and Slime now do, too in the craftiest way!
5. Fantastic Color Changing Slime
This Color Changing Slime is heat sensitive! It means that its superpowers from thermochromic pigment. As a result it changes color depending on the temperature. how cool is that! It's perfect for the little Iron Man in your life.
6. Hot and Delicious Cocoa Slime
Want a way to make boring fall nights more fun? Check out this Hot Cocoa Slime. It's edible and fun to play with!
7. Vampire Blood Slime Recipe for Halloween
We want to play with slime and vampire slime is perfect for a Halloween themed play. Check out this slime version of vampire blood.
8. Fall Themed Slime Craft
Mix all your Favorite Colors From Fall into this slime and your kiddo will have a blast picking them out.
9. Fun Science Frog Egg Slime Discovery Bin
Explore slimy nature with a little peek on Science with this Frog Egg discovery bin.
10. DIY Incredible Slimy Gak Bubbles
These slimy gak bubbles are easy to make and you can make them over and over again.


11. Blue, Violet, and Pink Galaxy Slime For Kids
This Galaxy Slime is out of this world gorgeous, and super fun to play with! Let your kids hold their own galaxies in their hands with this super easy and fun to make DIY galaxy slime.

12. DIY Glow in the Dark Green Slime
This Glowing Green Slime reminds me of ectoplasm…perfect for the Ghostbuster in your life.
13. Jurassic Era version of Slime for Dinosaur Loving Kids
This Amber slime is right out of the Jurassic era and your dinosaur loving kiddo is going to have so much fun playing with it!
14. Easy DIY Pumpkin Colored slime For Halloween
Bring the colors of fall alive with this Pumpkin Colored Slime. Since every Halloween pumpkins are amazing decorations everywhere, they are absolutely sure to be loved by your kids to play with.

15. Orange Glow in the Dark slime
Or this Orange Slime that Glows in the Dark . So much fun for those nights stuck inside.

16. DIY Easy Monsters Inc Inspired Slime
This Monsters Inc inspired slime has its eyes on you… It's a fun decorative slime version of the popular movie "Monsters".
17. Glowing Multi-colored Rainbow Slime For Kids
Yes it's another glow in the dark slime with a different twist. This Glowing multi-colored rainbow slime is like a groovy Halloween party all by itself. If you and your kiddos are looking for the perfect Halloween vibe or even if it's not Halloween this is for you.
18. Easy and Fun Witch's Brew Slime
This Witch's brew slime is full of eye of newt and who knows what else… kids playing to be the witch can add anything that they have in their imagination into their witch's brew but it's super fun to play with, so we don't care!

19. Harvest frost Slime
This Harvest Frost Slime is a great way to excite your kids about the changing season and play with some sensory-loaded fun.
20. Orange Glittery Slime
Orange Glitter Slime is sparkly fun for those sparklier Halloween kiddo's. It looks like a melting pumpkin but glittery!



Glitter and slime, what a pretty combination.
21. Princess Snot Slime
But if your kids like gross, this Princess Snot Slime by may be more what you're looking for.

22. Cute Slime Monsters for Kids
Make Slime Monsters in different colors and name them! This little monster below is Flub.

23. Easy DIY Slime Made in a Pumpkin
How amazing is this? Slime Made in a Pumpkin, using it's seeds and all. So much sensory fun in one slime!


24. Snot Looking Slime Craft for Kids
Could someone please pass a tissue? This Snot Slime by Kids Activities Blog is everywhere! just like the Princess snot this is one of those gross looking things kids like playing… at least it isn't real. This recipe includes some tips on how you can make the slime thicker.
25. Easy DIY Lava Slime for Kids Lego Play
Lava Slime makes for the perfect battle ground for these Lego Jedi masters. Perfect for any playing that involves lava.
More Fun and Easy DIY Crafts for Little Ones from Play Ideas
Which was your favorite slime recipe idea for kids?