Are you looking for sensory bin ideas to keep kids of all ages entertained this Fall? Here are 25 fantastic ideas for you to try!
Sensory bins are an excellent technique to introduce new sensory stimuli to young children (and sometimes older children). They're also a lot of fun to play in.
These 25 Fall Sensory Bin Play Ideas are wonderful for kiddos who want to explore the smell and feel of Fall from the comfort of their kitchens. Have fun!
Easy and Fun Fall Sensory Bin Crafts for Kids of all Ages to Enjoy
1. Play with Fall-themed Acorn Sensory Bin
I Heart Crafty Things' acorn sensory bin allows your little ones to explore the texture and weight of acorns while counting them out.
2. Create Fall Cinnamon Apple Sensory Bin
With this cinnamon apple bin from Fantastic Fun and Learning, your child will surely enjoy playing with some of the textures and scents of fall cooking.
3. Cook Apple Pie Baking Bin this Fall Season!
Or let them explore even more with this apple pie baking bin by Little Bins for Little Hands.
4. Segregate Acorns and Apples with this Fall Sensory Bin
How do acorns and apples feel so similar? This acorn and apples sensory bin by No Time For Flashcards, will spark your kiddo's imagination.
5. Watch and Play this Fall Sensory Bin with Birdseed
Bird seed via The Chaos and The Clutterm makes a terrific sensory bin! You and your child can watch the bird feast after the play is over.
6. Fall Sensory Bin with Mixed Beans, Rice and Everything Nice!
Fascinate your kids exploring color and texture (unavailable) with this fun sensory bin. Simply mix pinto beans, rice, and a bag of multicolor fall scatter!
7. Fall Sensory Play with Pumpkins, Corn and Acorns
Your youngster may discover pumpkins, corn, and acorns in Mama's Happy Hive's autumn sensory bin… tastes of the season!
8. Colored Candy Apple Rice Fall Sensory Bin
This beautiful, brightly colored candy apple rice of Learn Play Imagine is going to be so much fun for your children of all ages!
9. Sensory Play with Cinnamon Scented Fall Colored Rice
This colored rice by Mom vs The Boys is cinnamon scented. Your kids will love playing with it! They can also spend hours running their fingers through it. Make sure to add it on your list!
10. Colorful Fall Sensory Bin Out of Different Pasta Shapes
In this fall sensory bin, Life over C's gorgeous fall colors will come to life, bringing joy to your kiddos!
11. Explore Shapes with Corn and Cookie Cutter Fall Sensory Bin
Your child would definitely love to explore shapes with this corn and cookie cutters bin by The OT Tool Box.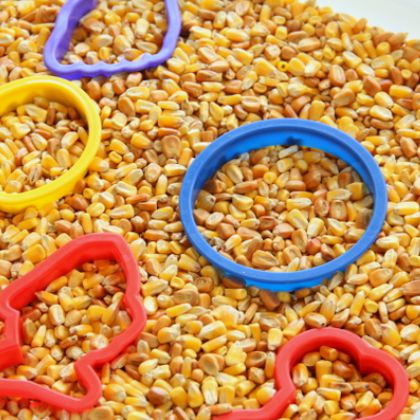 12. Create and Enjoy a Fall Nature Sensory Tray
Your child and you will have a blast collecting nature and putting it into KC Edventures' natural fall sensory bin.
13. Cute and Fun Fall Button Sensory Tree
Hands On As We Grow's fall button tree is a terrific way for little ones to develop their tactile actions (plus it's incredibly cute)!
14. Play with the Fall Farm Sensory Bin
If Old MacDonald had a fall farm sensory bin this would be it! Fantastic idea by by Parenting Chaos. Ee ii ee ii oo!
15. Enjoy Playing with Fall Leaves Water Sensory Soup
And Next Comes L's fall leaves soup probably doesn't taste all that wonderful. But, boy, the kids will have a blast playing in it!
16. Fall Sensory Bin with Pumpkin Play Dough
Fall pumpkin play dough by Wild Flower Ramblings is so fun to play in. A great way to get kids into the pumpkin carving spirit!
17. Mixed Seeds and Colors Fall Sensory Table
This fall sensory table by Frogs, Snails and Puppy Dog Tails, mixes seeds and colors. A brilliant way for children to explore themes of harvesting and changing seasons!
18. Colorful Fall Pom Pom Sensory Bin
Littles love playing with pom poms. Who doesn't? This fall pom pom bin by Teaching 2 and 3 Year Olds, will give them plenty of fun sensory play.
19. Hedgehog Hibernation Fall Sensory Basket
These adorable hedgehogs in hibernation by The Imagination Tree are so easy to make. It will undeniably give your child hours of delightful sensory play.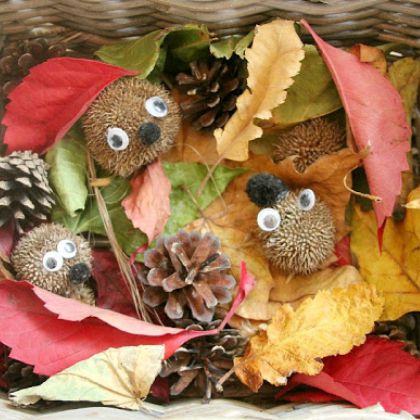 20. Fall Sensory Bin out of Indian Corn
Indian corn by Still Playing School makes for a fun sensory bin! Kids can dig their fingers in and explore to their hearts content.
21. Pumpkin House & Fall Sensory Bin
Let your child create their own whimsical wonderland with this little pumpkin house sensory bin by Adventure In A Box.
22. Fall Sensory Bin out of Pasta and Everything Nice
Your child is going to love playing with pasta and shapes sensory bin. A brilliant idea by Happy Hooligans!
23. Fall Sensory Experiment with Pumpkin Soup
This pumpkin soup (unavailable) probably doesn't taste that great (but who knows, maybe it does?) But!!! Your kids will still love playing with the textures and scents of this fun sensory experiment.
24. Sensory Bin with Signs of Autumn
Your child is going to love exploring the signs of autumn of B-Inspired Mama by this fun watery sensory bin.
25. Fall Leaves Sensory Bin and a Book
Your youngster will definitely enjoy reading the book Red Leaf, Yellow Leaf. Aaannnnd, for sure… they will not stop exploring this leaf sensory bin by Stir The Wonder.
More Sensory Bin Ideas & Fun from Play Ideas
Which of the Fall Sensory Play ideas would you love to try first?