Fall is here and with cooler temperatures and pumpkin-flavored everything, we can make amazingly beautiful crafts, These fall leaf arts for preschoolers are so much fun, and are a great way to keep younger ones busy while the older ones are at school.
Enjoy the golds and reds of fall with these awesome crafts!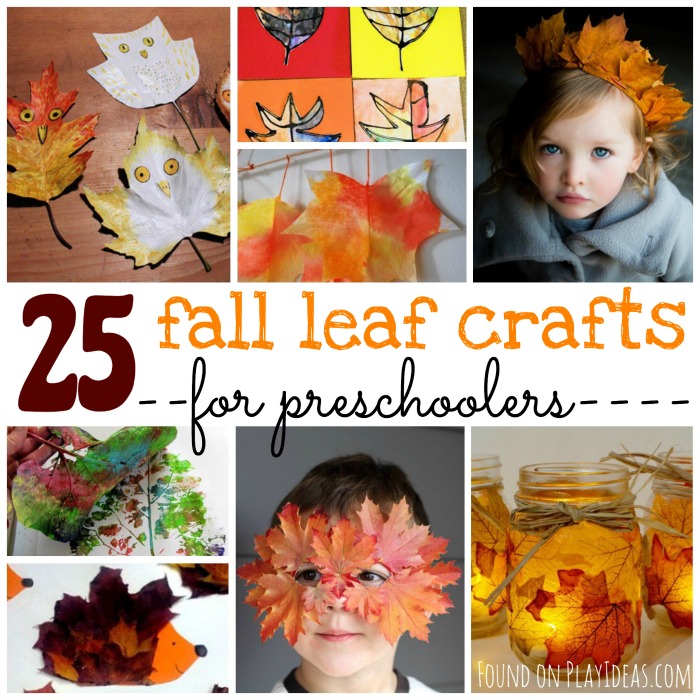 Celebrate the change of seasons with your preschooler and these awesome leaf crafts!
Beautiful and Fun Fall Leaf Crafts for Preschoolers
1. Fall Ornamental Window
Make your own fall ornamental window with freshly fallen leaves and sticks right out of your own yard like this one from Nurture Store.
2. Lovely Watercolor Leaf Projects
Black glue will make the already vibrant colors of fall pop in this beautiful watercolor project by Mess for Less.
3. Crafty Curved Bowl
Use a fresh leaf and clay to make a curved bowl that your kiddo will be proud of for years to come! Follow the steps from One Project Closer to make this cool craft!
4. Coffee Filter Leaves
This coffee filter leaves project from Miranda Made is the perfect fall art for any rainy day or use them as a garland in your home.
5. Fall Snow Globe
Instead of snow, this fall snow globe uses a stick and leaves. So much beauty in this craft project from Frugal Fun for Boys!
6. Tin Foil Leaf Etching
Work on your preschooler's fine motor skills with this tin leaf etching activity by Kingdom First Homeschool!
7. Glittery Coasters
These fun, glittery coasters from Confessions of a Homeschooler are a perfect gift, and your preschooler can take all the credit!
8. Easy Elegant Leaf Bowl
It's easier than you can imagine making this simply elegant leaf bowl from Fab DIY! Let your preschooler do the job!
9. Lovely DIY Leaf Crown
Your preschooler is already the apple of your eye, now make them king and queen of the world with this leaf crown craft by Clickin Moms!
10. Cute Leaf Fairy
The fall fairies are out to play with this sweet leaf fairy heading the charge! Make this cute craft from Naturally Educational this autumn!
11. Cool Leafy Hedgehogs
Adorable hedgehogs are so much fun to make with fresh leaves and a little glue! have a wonderful crafty afternoon with this fun idea from Crafty Morning!
12. Lovely Fall Lanterns
Watch your child's face light up as you make these beautiful fall lanterns (unavailable) from Spark & Chemistry together.
13. Silly Leaf Mask
Your mysterious child will love wearing this leaf mask idea from Small + Friendly… especially while you work in the yard together!
14. Lovely Leaf Necklace
Celebrate the season with this fun leaf necklace from Kiwi Crate! Your preschooler can even work on their fine motor skills by threading the beads themselves!
15. Crayon Etching Activity
More fun with fine motor skills as your kiddo uses a crayon and thin paper to etch out the beautiful lines and veins of the leaves they find in this fun idea from EDventures with Kids!
16. Printable Leaf Sewing Patterns
Want some fun sewing practice? These leaf printables from Kids Activities Blog come pre-printed with where each stitch should go!
17. Leaf Stick Puppets
Let your child's imagination come to life with these leaf stick puppets by Happy Home Fairy!
18. Classic Leaf Votives
These classic leaf votives by Holiday Kids Crafts will light up those darker fall days, and your child will be so proud that they helped make them.
19. Cute Leaf Owls
Take your child out for an owl scouting adventure and when you are done, use any leaves you collected to make these cute leaf owls crafts by My Owl Barn!
20. Colorful Leaf Prints
Even the most lifeless leaf can be vibrant and full of color once you paint it and your child presses it to paper, like this art from Kleas!
21. Leaf Fossils
These fun salt dough 'fossils' from Freebie Finding Mom are an awesome weekend activity to share with your inquisitive preschooler!
22. Classy Leaf Lanterns
Spend some time outside with your kiddo collecting fall leaves and seeds and when you bring them in, you can make these classy leaf lanterns together, just like these samples from Red Ted Art!
23. Marbled Leaf Art
A little shaving cream and food coloring are all you need to make this swirly, gorgeous fall leaf art by Little Wonders' Days!
24. Stained Glass Leaf Art
Let the sun shine through these gorgeous stained glass leaves (unavailable) and your entire house will light up, even on the dreariest of days! Follow the steps from E-How to make them!
25. Warhol-Inspired Leaf Drawings
Bring out your preschooler's inner artist with these Warhol-inspired leaf drawing ideas from Kids Activities Blog!

More Fun Crafts and Projects for All Seasons from Play Ideas
Which lovely fall leaf craft are you creating with your little ones this autumn?