Fairy tales are stories that every child can relate to. Each fairy tales stories teaches our kids values and helps imaginations grow. These easy crafts allow your child to express their creativity through the magic of fairy tales and Disney princesses!
These 25 fantastic fairy tale crafts for preschoolers and kindergarteners will give your child tons of stories to share with all their friends.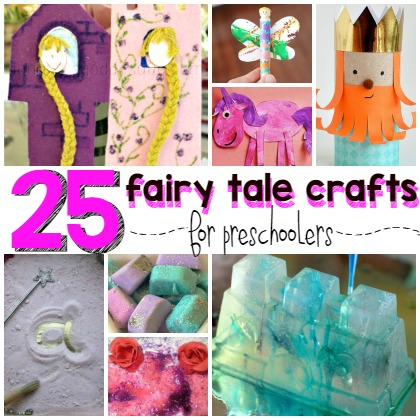 Happy Crafting!
Easy Fairy Tales Crafts for the Kids
1. Roses For Beauty and The Beast
Preschoolers will enjoy making these roses made with a celery stalk are for Beauty and the Beast by Joyfully Weary.
2. Paper Cup Dragons
Preschoolers will agree that Fairy tales are all about paper cup dragons by All Kids Network and adventure. These dragon crafts can even breathe breathe fire!
3. Enchanted Forest Box
These Enchanted forests box by The Imagination Tree are where all the magic happens. DIY it with your preschoolers!
4. Writing in Sensory Dusts
Your preschooler can practice writing their spells in fairy sensory dust by The Imagination Tree! with the help of a magic wand you can even practice math or readiness skills making it great for the classroom.
5. Egg Box Fairy Tales Shoes
These egg box fairy tales shoes by Zing Zing Tree are so cute! Your preschooler will have a thing for these pretty shoes.
6. Colorful Magic Potions
These fizzy and colorful magic potions (unavailable) by Bath Activities for Kids is boiling, bubbling fairy tale fun for your preschooler's imagination.
7. Magical Colorful Ice Cube Treasure
Dissolve these fizzy cubes to discover magical treasure by Fun-A-Day hidden within.
8. The Leprechaun King
The leprechaun king by Kids Activities Blog would like to make a deal with your preschooler, mmm…
9. The Knight Shields and The Dragon
These Knights shields by Rainy Day Mum are needed to fight those dragons! Tell your preschooler to make the shields stronger!
10. Jack Climbing The Beanstalk Craft
When Jack climbed the beanstalk by Family Theme Days he never imagined the giant coming back down with him. Oh no! All you need is some color paper or construction paper for these classic stories!
11. Goldilocks Paper Bags
Goldilocks paper bags by Nat Mac's Knick Knacks looks pretty cozy with the three bears in this craft. But your preschooler will know the truth.
12. Elsa's Frozen Castle
Help the princesses melt Elsa's frozen castle (unavailable) by Two Daloo.
13. Little Mermaid Magical Craft
Your child can have a looking glass under the sea with this magical little mermaid craft by Mrs. Weber's Neighborhood. Teach fine motor skills in the paper plate craft. Shiney, right?
14. Beauty and The Beast Magic Mirrors
Speaking of magic, these magic mirrors by Joyfully Weary know a lot if you can ask the right questions. Really, huh?
15. Clothespin Fairy Dolls
Fairies by Toddler Approved are the keepers of the magic in fairy tales, and these will be the keepers of your child's heart.
16. Pretty Princess Tiana Craft
Your preschooler can help Princess Tiana (unavailable) by Brimful Curiosities try to turn this frog into a prince!
17. Princess Sleeping on Top of A Pea Craft
This princess looks awfully rested for someone sleeping atop a pea (unavailable) by Carrots are Orange.
18. Beautiful Princess Crown
Your little preschooler princess will love wearing a crown by Preschool Ideas for 2 Year Olds of her very own around the house.
19. Magical Fairy Tale Luminaries
Magical fairy tale luminaries by Two Daloo will light up your child's imagination. Wow!
20. Rapunzel in the Tower Bookmarks
Reading fairy tales with your preschoolers? Save the spot with these Rapunzel bookmarks by Domestic Goddesque. Rapunzel's tower is great for saving a place in a book!
21. Playing with Snow White and the Seven Dwarfs
You might think these Snow White characters by Red Ted Art look a little nutty. And you might be right!
22. Make a Stone Soup
This stone soup by Our Creative Day will go a long way toward feeding your child's imagination. you can even add a toadstool mushroom or a carrot to the mix!
23. Three Little Piggies Noses Craft
What would your little piggies by Not Just Cute, build their houses out of? Or are they the wolf waiting to blow them all down? or you could make the big bad wolf and the three little pigs get along! It is all up to your children's points of view!
24. Paper Plate Ugly Duckling
No one is an ugly duckling (unavailable) by Layers of Learning when we realize we are all swans on the inside.
25. Printable Unicorn Craft
Unicorns by Learn Create Love are the beating heart of all things magical and this craft will help your preschoolers make that magic come alive.
More Colorful and Fairy Tales Crafts For the kids from Play Ideas
Which Fairy tales crafts are you going to do with the kids this afternoon?