These cardboard forts will give your kids hours of fun and years of memories.

Forts are where kids plot to take over the world. Where they dream. Where they pretend, imagine, play, and create. And these 25 epic cardboard forts are so amazing your kids won't want to leave them…but don't worry, they'll always promise to be home for dinner. Have fun!
25 Epic Cardboard Forts
This fort city is perfect for any kid superheroes (or super villains) in your life.
Via Pizzazzerie
Busy little baby hands will have a blast with this rocket ship fort. It has turnable knobs, a colorful port window, and plenty to play with inside!
If Old McDonald had a fort, this would be it. Ee ei ee ei oh.
Your kids will have rootin' tootin' fun in this old west city. Yeehaw, I believe it's time for a sarsaparilla break.
Who needs the great outdoors when your child can travel the imagination highway in this indoor RV fort?
Via The Merrythought
This elaborate castle fort with climbing ivy and turrets will impress any royalty in your family.
Via Impressed Inc
This cardboard playhouse has an actual doorknob and real knobs to open and shut the shutters. Whoa!
Via Rust & Sunshine
It won't take much to construct this make-shift playhouse, but don't worry, it'll still provide hours of fun.
This fort has an awesome reading nook AND it collapses for easy storage.
Via UnicornHatParty
I don't know who Rex is, but I promise not to go into his fortress fort without permission.
This two-story clubhouse might not look like much, but it comes equipped with a climbable ladder and a working slide.
Via Instructables
You might need a degree in engineering to construct this triangular-slatted fort, but the end results are truly epic.
Via Tales of a Monkey, a Bit, and a Bean
Your child might go in, but only superheroes come out of this telephone booth.
How do you make a giant cardboard rocket ship fort shine? With aluminum foil and duct tape, of course!
Via Filth Wizardry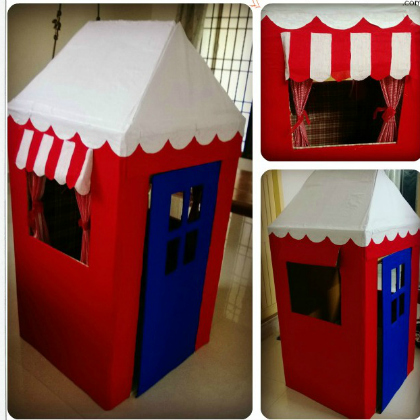 How do you give your fort some pizzaz? With a little red paint and a bright blue door. Adorable!
Who wants a lemonade stand when they can have this outdoor grocery store fort?
Via Ikatbag
Pitched roofs are So last year. Modern kids want modern architecture in their forts.
Via Inhabitat
If you have masking tape you have everything you need to decorate this bright, colorful castle fort.
Via Built By Kids
I'm not sure where Mario is, but since this is a party in his honor I'm fairly certain he's around here somewhere…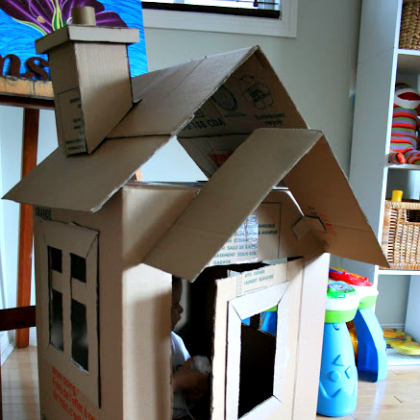 If your fort doesn't have it's own chimney, you're missing out.
Believe it or not, the inside of this fort is big enough for a stove, refrigerator, microwave, shelving, and a reading nook!
Via My Make Do
It's gonna take a whole lot of cardboard to build this super colossal fort, but it'll be worth it.
Via Super Colossal
This super-sized gingerbread house is so strong it'll even withstand Hansel and Gretel.
Via Inner Child Fun
This fort is decked out fancier than some houses. I wonder if the mail carrier will actually deliver to that mailbox?
Via This Girls Canon
The best thing about this slot and tab fort is that it can come apart for storage and be rebuilt over and over and over again!