Kids love to build, engineering projects seem just like play. With the emphasis of STEM and STEAM in the classroom, wouldn't it be fun to do some engineering at home?
We have handpicked 25 of the best engineering projects for kids that would appeal to older kids.
So whether your budding engineer is in elementary school, middle school or high school, there is something for them on this list to make their STEM heart sing.
These activities will get the whole family into the engineering design process with awesome results.
Whether it be with LEGOs, cards, Tinker Toys, paper or other household items, some kids just love to watch things come together. You can help encourage them by showing them activities they'll build, create and enjoy.
Build those STEM skills with projects that are fun and enlightening.
Enjoy!
25 COOL AND AMAZING ENGINEERING ACTIVITIES FOR BIGGER KIDS!
1. DO THIS AWESOME PAPER AIRPLANE CHALLENGE
How many coins can a paper airplane hold?
If you build this paper airplane by Kids Activities Blog with a different structure, will it hold more?
Have FUN with physics!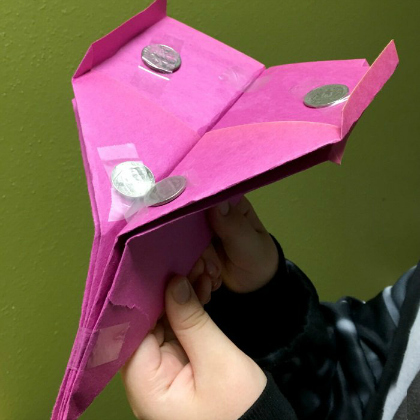 2. FASCINATING STRUCTURAL ENGINEERING WITH TIN FOIL
Your kids can use foil and pipe cleaners by Housing A Forest Blog to build structures for an entire imaginary village!
Will your construction techniques hold up?
3. WONDERFUL CONSTRUCTION INSPIRATION FROM BIG HERO 6
Do you have a Big Hero 6 fan? See if your kiddos can create their very own Baymax. This craft by Left Brain Craft Brain Blog is creating, building and material manipulation at its finest!
4. DESIGN THIS ASTOUNDING STRUCTURAL BRIDGE
Let your little structural engineers build their very own bridge by Playdough To Plato Blog and see how much it can hold! Young innovator's can explore their engineering curiosities.
5. ENJOY MAKING THESE CREATIVE JELLY BEAN SKY SCRAPERS
Jelly beans and toothpicks are great for construction! Older kids can get hands-on with this simple project by Lemon Lime Adventures.
6. BUILD THIS COLORFUL TOWER MADE FROM STRAWS AND WASHI TAPE
Or use some straws and washi tape for an especially colorful tower. Your children will love making this easy to make tower by Lemon Lime Adventures.
7. COOL CORK LAUNCHER TO PLAY WITH YOUR KIDS
Can your kids build a cork launcher by Instructables that actually works? They can with this tutorial!
8. HAVE FUN MAKING TOWERS BY BALANCING POPSICLE STICKS
Let your kids stretch their brain muscle by figuring out how to use popsicle sticks for balance. This creative activity by Frugal Fun For Boys Blog is a big challenge for the kiddos.
9. BUILD THIS BREATHTAKING ROCKET WITH YOUR KIDDOS!
Build a rocket that actually goes with this awesome tutorial by Lemon Lime Adventures. It will inspire your kids to become a rocket engineer someday!
10. ASSEMBLE AMAZING HYDRAULIC JUDO BOTS
Learn all about the power of hydraulics with these hydraulic judo bots by Instructables. Another engineering principle to learn with your future engineers!
11. CONSTRUCT THIS EASY TO MAKE ICE BRIDGE
Teach your kids about science and construction with this awesome ice bridge by Almost Unschoolers! Have fun building this chilly cold ice bridge with your little structural engineers!
12. HAVE FUN PLAYING WITH THIS SURPRISING STICK STRUCTURE
Watch the stick fly with this incredible stick structure by Frugal Fun For Boys. Have fun watching with your kids the chain effect of these sticks flying.
13. BUILD THIS SIMPLE PAINTING MACHINE FOR YOUR BIGGER KIDS
Can your kids figure out how to build a painting machine? They'll love it when you show them how this machine by My Nearest And Dearest blog (unavailable) works!
14. AMAZING PAPER BLOCKS
Who knew paper blocks by Baddle Dabble Do could work so well for building? How big can your kids go?
15. PLAY THIS PAPER TOWER CHALLENG WITH YOUR KIDS
Or check out this incredible paper tower by The Homeschool Scientist. Challenge your kids who will have the strongest paper tower among your family. How strong do you think your tower will be?
16. INNOVATIVE AND FUN AIRPLANE LAUNCHER
Build paper airplane launcher with your kiddos that actually works. Have fun letting those planes fly using these launchers by Frugal For Fun Boys!
17. INGENIOUS WAY TO STACK YOUR CUPS
This STEM challenge is awesome! Can your kids figure out how to stack cups without using their hands? Enjoy playing with your kids using this method of stacking caps by Kids Activities Blog.


18. EASY TO MAKE POM POM TUNNEL
Let your child build a pom pom tunnel that leads all the way to the floor. elp your kids learn problem solving with this clever idea by Coffee Cups and Crayon.
19. BUILD THIS POOL NOODLE STRUCTURE
Or here's an awesome pool noodle structure! How far can you and your kiddos make the marble race in this pool noodle run?
20. ROLLERCOASTER
How awesome is this kid made rollercoaster! Your child is going to love learning the physics of this one.
21. RUBE GOLDBERG MACHINES
Rube Goldberg machines are so much fun. Let your child make one from toys in their own room.
Via Tinker Lab
22. ANOTHER RUBE GOLDBERG MACHINES
Or go to the hardware store and build a Rube Goldberg machine with all the bells and whistles!
Via Brain Power Boy
23. STRAW DOME
This straw dome is such a fun STEM challenge and your kids are going to love watching it come together.
24. WIGGLE BOT
Wiggle bot loves to draw. Wiggle bot has his own motor and smily face and everything.
Via Research Parent
25. MAKE THIS SUPER CUTE WOBBLE BOT
Wobble bot wobbles but he don't fall down. Just kidding. But no, really, he doesn't fall down.
Via Research Parent
MORE FUN AND AWESOME ENGINEERING AND BUILDING ACTIVITIES
Which awesome engineering activity will you build with your kids today?