Origami teaches patience and gives amazing rewards. Your kids are going to LOVE these crafts!
I don't think there is an adult anywhere who doesn't remember making origami boxes as a child. Or stars. Or maybe even the notes that would be passed around class. These 25 Easy Origami Ideas for Bigger Kids are a fun way for you to get your kids involved in origami, and to show them that taking the time to do something well will give them something amazing in end. These crafts are truly incredible, and the instructions are all easy to follow…better stock up on some paper, because you'll have tons of fun crafts all over your house before you know it. Enjoy!
25 Easy Origami Ideas for Bigger Kids
Your kids will love decorating presents, their room, even their little siblings with these origami bows once they learn how to make them.
Via Zakka Life

How awesome is this origami boat? It floats on water and is perfect for holding trinkets, snacks, well, anything fun.
Via Kids Activities Blog

Check out this origami blinking eyeball. Yes, that's right. This eye actually blinks.
Via Kids Activities Blog

These origami birds are cheep to make and your kids are going to love watching them come to life.
Via Creative Jewish Mom

This fall, decorate your home with origami bats. They're hauntingly fun.
Via A Girl and A Glue Gun

Origami boxes are a rite of passage for any young origami fan. Plus, how cute are these?
Via Origami Mommy

Chickens, chickens everywhere…now that your kids know how to make them using origami!
Via Krokotak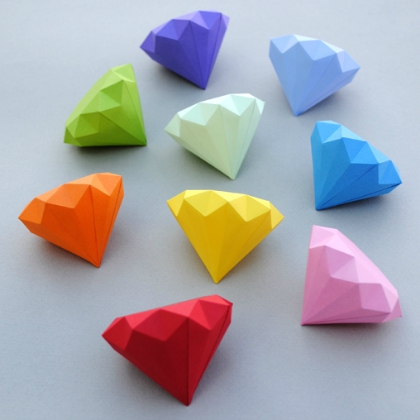 These origami diamonds are colorful, shapely, and will be so much fun to make.
Via Minie Co

This origami dress is super adorable, and would be awesome for anyone wanting to dress their paper dolls.
Via How About Orange

A herd of origami elephants are headed toward your house. But don't worry…they don't eat much.
Via Birdee

Origami fish are easy to make and an awesome starter project for any would-be origami enthusiast.
Via Childhood 101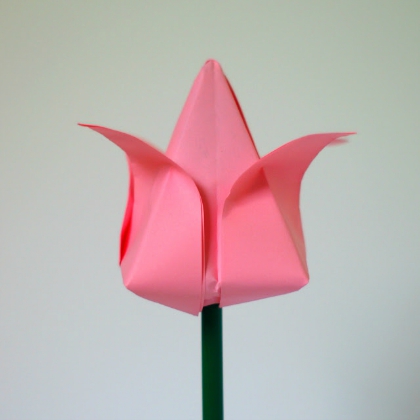 An entire bouquet of homemade flowers are a lovely gift for anyone.
Via Try It, Like It

Make these folded origami hearts and give them to someone you love.
Via Minie Co

Leaping lizards! No, wait…leaping frogs! These origami frogs can actually jump!
Via Kids Activities Blog

You never can have enough lucky stars. Which is good, because these lucky stars are easy (and totally addicting) to make.
Via Red Ted Art

How cute are these origami folded books? Your kids could make their own and write the tinniest novels ever.
Via How About Orange

These ninja throwing stars are awesome to throw…but never at people (or animals).
Via All For The Boys

Let your kids make bookmarks that are truly unique! These shark bookmarks are an awesome way to bite into that reading list.
Via Kids Activities Blog

Any Star Wars fan will go nuts for this x-wing origami. May the force, of paper folding, be with you.
Via ICSF

Make an army of whales to explore the ocean with.
Via Rusty and Rosy

Origami t-rex might have short arms, but he's definitely not short on fun.
Via Cannon

These transforming stars change from stars to circles and back again. It's like magic!!
Via What Do We Do All Day

When your kids make this origami star wreath, not only will they end up with an awesome decoration for their room, but a cool skill to show all their friends.
Via Make and Takes

Origami shirts and ties are perfect for kids who want to give their dads a special homemade gift.
Via Jillian in Italy

This shark cootie catcher is dangerous! Dangerously adorable, that is.