Fine motor skills are integral to a baby's development, so you have to be creative in helping your little one develop those skills! The challenge? You need to make it fun, not scary!
Well, we got you! These easy hand and eye coordination ideas for toddlers and babies are going to be so perfect for your little one! They make skill development a game instead of a chore, and your little one will be growing and learning while they play!
Make fine motor skills learning fun, not work!
Fun Fine Motor Skill Activities for Babies and Toddlers
1. Creative Baby Activity Board
Create a magical spot of activity and exploration with this baby activity board idea by Away We Go!
2. Sensory Play with Rings and Water
Let your sweetie discover and enjoy sensory play at the same time with these rings in water activity from Wild Flower Ramblings!
3. Scoop and Transfer Practice
Your toddler will love to scoop and transfer beans with this fun hand and eye coordination activity from Busy Toddler!
4. Chain of Button Rings
Toddlers love buttons, so let them button-up foam and create a chain of rings in this fun activity by Mama Papa Bubba!
5. Fun Button Sorting Cups
Learn about colors and work on those fine motor skills with these button sorting cups ideas from About Family Crafts!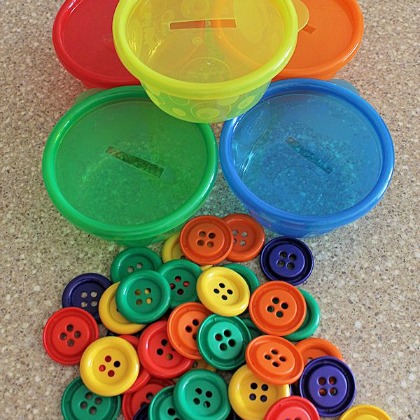 6. Simple Rolling Ramp Activity
Your little one will be delighted by this rolling ramp fun activity by Learn With Play At Home!
7. Cork Transfer Activity
This cork transfer activity from Happy Hooligans lets your baby work on fine motor skills and spatial recognition at the same time.
8. Plastic Egg Drop Game
Use those plastic eggs over and over with this egg drop game idea from Happily Ever Mom!
9. Adorable Monster Feeding Game
This monster feeding game from Baby Brain is adorable and great for building those fine motor skills!
10. Practice Hammering
Hammering tees is a fun kinetic activity and a fun way for kiddos to spend time 'helping' build! Definitely a fun activity from Hands On As We Grow!
11. Letter Matching Game
Toddlers will love letter matching in this simple-to-build matching game from School Time Snippets!
12. Fun Tissue Box Drop
Let the little ones play and learn with this tissue box drop activity by Learn With Play At Home!
13. Matching Objects
This matching objects game by Toddler Approved is so much more entertaining and uses toys out of your child's bin!
14. Playful Pasta Threading Activity
This pasta threading activity from Laughing Kids Learn builds those fine motor skills and is giggly fun to keep toddlers occupied while you're in the kitchen!
15. Play with Pipe Cleaners and Colander
Sort, thread, and have fun with pipe cleaners by stringing them into a strainer! Make the weirdest-looking hat ever with this game from Mess For Less!
16. Pompom Basketball
This cool pompom basketball drop by Laughing Kids Learn will keep your baby occupied and wondering where the pompoms keep going!
17. Fun Pool Noodle Threading
Your child will have a blast with this pool noodle threading activity by Money Saving Mom! This is a game they can play at the table or in the bathtub!
18. Push and Pull Activity
Set up this simple push and pull activity from Simple Learning Kids using recycled items from your kitchen next time you need a quick game for your baby!
19. Pull Out the Rainbow Ball
Stuff scarves to create this beautiful rainbow ball idea by Still Playing Schoool! Toddlers will love pulling them back out!
20. Rolling Baby Play Station
The fun will keep on rolling with this baby play station idea from Kids Activities Blog! Your kiddo can roll, roll, roll her way to a happy day!
21. Cool Peek-a-Boo Sensory Board
This peek-a-boo sensory board idea from Motherhood and Other Adventures will let kids open and close their way toward new sensory experiences!
22. Colorful Shape Sorter
Toddlers will love this shape sorter craft by Mess for Less as they learn about colors and shapes all at the same time!
23. Shrinky Dink Ribbon Toy
Create this shrinky dink ribbon toy by Lalymom and let your little one pull ribbons from one side to the other, over and over again!
24. Crasy Straws for Fun Threading Activities
Use crazy straws to create a crazy threading experience that's as colorful as it is fun! Great idea from Powerful Mothering!
25. Cardboard Bead Threading
This cardboard bead threading idea from The Imagination Tree is a great way to use those old cardboard tubes and give your child a fun, upcycled game they can enjoy for hours!
More Creative Activities for Babies and Toddlers from Play Ideas!
Which hand and eye coordination activity is your little one most fond of?