Ring in the spring with these fun DIY wind chimes crafts! Here's the thing about the best wind chimes. They can really brighten up an outdoor space with just a gentle breeze. Make your own wind chime for your garden. From recycled materials to craft supplies you already have in your home, we've got you covered with our collection of 25 diy wind chimes.
DIY Wind Chimes Kids Can Make
In fact, feng shui metal wind chimes in a variety of styles can make your backyard out of this world. Oh, and they make an excellent gift for special occasions.
Kids will love creating music with nature with these 25 Easy Breezy Wind Chime Crafts For Kids. From beautiful spinning colors, to magical wind-blown sounds, these crafts will give kids hours of fun that they can appreciate year round. Enjoy!
Wind chimes can be made of lots of different things. They can be metal, wooden chimes, bamboo wind chimes, memorial wind chimes, corinthian bells, wind river chimes, metal washers, copper tubing, driftwood, mason jar lids or even clay pots. Be careful because some can have sharp edges and metal tubes.
They really do make the perfect gift. Especially when they're handmade wind chimes.
Easy Wind Chime Crafts for Kids
1. DIY Colorful Beaded Wind Chime and Paper Cup
First Palette's bead wind chime won't make much noise. However, it will undoubtedly look beautiful swaying in the wind, and your children will enjoy dancing with it. All you need is a cup, some paint, straws and some wooden beads.
2. Easy DIY Button Chime
Add some can thread and lids and pretty soon this button chime of Crafts by Amanda will have a sound you and your children will look forward to hearing every day!
3. Easy DIY Project: Multicolored CD Wind Chime
Making spinning wind chimes out of old CDs by Happy Hooligans is a terrific way to make the world a more colorful place for children of all ages to live. Upcycle some old CDs with fishing line and a knot!
4. DIY Plastic Water Bottle Wind Chime
Or you can use an old plastic water bottle to create Happy Hooligan's beaded chimes with a little twine. This will surely brighten the kids' world around them.
5. Easy Paper Cup Wind Chime Craft
Here's a simple paper cup wind chime by Rainy Day Mum for the little ones to make. Allow children to practice on their fine motor skills with a paper cup hanger, strings, jingles, and beads.
6. DIY Easter Egg Fish Wind Chime
Put the tiny holes in your plastic eggs to work with Morena's Corner's fish wind chime is made of plastic Easter eggs. It looks so incredible and you'll love showing it off in your home especially to your kiddos!
7. Colorful Melted Plastic Patio Wind Chime Craft
Melted plastic beads by Stay At Home Life will make colorful sun catcher wind chimes. Add this to your list and your children will adore this while it sparkles under the bright spring sun!
8. Easy Melted Bead Heart Wind Chimes Craft
Or show the kids your love of nature with these melted bead heart chimes by No Time For Flashcards which looks to me like heart shaped sea glass blowing in the wind.
9. DIY Recycled Wind Chime
Your child will enjoy looking around your home finding spare buttons, old silverware, keys and whatnots to create Blogesteix recycled chime! This is like the ultimate silverware wind chime with a little extra fun.
10. Colorful Upcycled Wind Chime Craft
Handmade Charlotte's craft is both enjoyable and environmentally friendly! Kids can easily make it by reusing ice cream spoons! No waste here!
11. DIY Key Wind Chime
Have your kiddos paint the keys and hang them from a stick to make a beautiful rainbow wind chimes by Inner Child Fun. It will brighten your front porch and your children's day!
12. Easy Pinecones Wind Chime Craft
Or have your children gather some pinecones to make CBC wind chimes reminiscent of what you'd find on an old cuckoo clock. Just stop by your local hardware store to grab the little hooks for hanging.
13. Multicolored Bamboo Sticks Wind Chime Craft
These Michele Made Me painted bamboo sticks sound so incredible when they clink in the wind. Each of your children can paint different pipes and create family art wind chime you'll cherish for years to come.
14. DIY Colorful Plastic Lid & Bottle Cap Wind Chime
Kids of all ages will be happy to recycle some of those old lids and bottle caps into a Crafts By Amanda's colorful wind chime.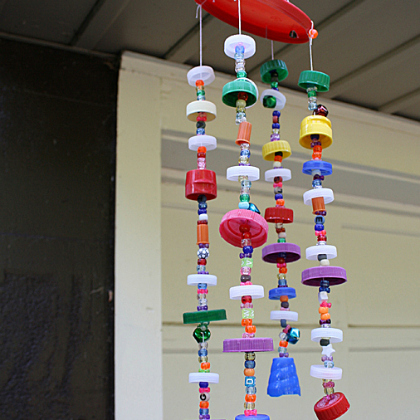 15. Easy Upcycled Can Wind Chime Kids Craft
These cans will sound magical once the wind kicks up! Working on this can chime by A Girl And A Glue Gun will teach your kids about upcycling.
16. Rainbow Sticks Wind Chime Craft
These sticks are all different sizes and colors. Perfect for kidds to create Happy Hooligans' wind chime with different sounds once the wind kicks in from each stick and piece of driftwood that clinks together.
17. DIY Recycled Tin Juice Can Wind Chime
Want to teach your children about basic chimes? Show your kids how easy they are to make from any found objects in your home just like juice tin cans via Maker Mama!
18. Colorful Xylophone Keys Wind Chime Craft
What a smart idea! Recycled xylophone keys tutorial by Instructables are going to sound fantastic blowing in the wind. Kids of all ages will always want to hear it!
19. DIY Easy Sea Shells Wind Chime
Planning a beach trip? Help your kids pick up some shells and make Mama Miss' wind chime that'll memorialize your vacation! Then add your beachy decor to your back porch or patio.
20. DIY Whimsical Crazy Creature Wind Chime
These whimsical crazy creatures (unavailable) will put a smile on your guests and your kids faces before they ever make it to your door. I love the feathers the best!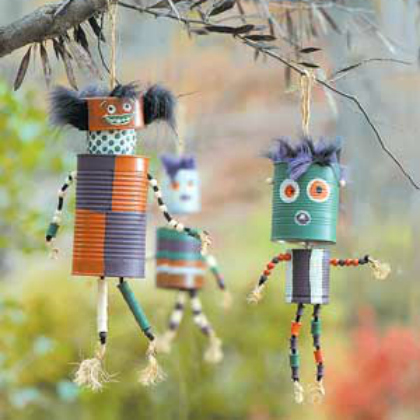 21. Upcycled Skeleton Keys Wind Chimes Craft
How about hanging some old skeleton keys for a beautiful chime via Simply Darrling? It looks way more complicated than it is but children will enjoy creaitng it!
22. DIY Colorful Star-bead Wind Chime
Bring the stars out for the day with some melted bead chimes from Stay At Home Life. It'll sparkle under the sunlight and keep the children be mesmerized.
23. Easy Terra Cotta Planters Wind Chime Craft
Take some terra cotta planters and create House of Joyful Noise's pots wind chime. It'll make music all day long and your kids will dance along.
24. DIY Cans and Lids Wind Chime
Let the kids paint their own cans and lids for this splatter wind chime by Hands On As We Grow.
25. Easy Colorful Washers Wind Chime
One Time Through's wind chime made of hanging washers looks gorgeous! It will brighten your yard and your kids' faces. Plus, they'll sound great, too!
More Wind Chimes Crafts & Fun from Play Ideas
What wind chimes craft ideas are your top picks for your kiddos?