Life is more fun with music, and your kids will love these musical instruments.
Kids will make music with anything. From when they are little and clanging pots together in your kitchen, until when they are big enough to bring home their first recorder from school, kids LOVE making music. These 25 DIY musical instruments are awesome because not only are they pretty and inexpensive to make, they are also all totally playable. So get the band together, it's time to jam!
Your young rocker is going to love to add this paper plate banjo to their DIY band.
Via Parents
These duct tape drums are about as close as you'll get to having that deep bass beat in your DIY band.
Via Journey Into Unschooling

This cardboard guitar is absolutely fantastic! Forget playing it, you might want to just display it in your home!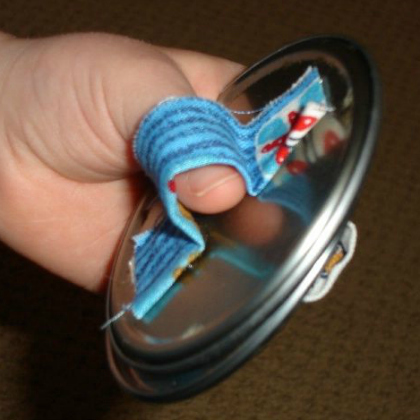 These castanets are perfectly fun for the percussionist with tiny fingers.
Via Angela Krueger
Egg shakers are easy to make and so necessary for any little band.
Via Mama Smiles
This sounds like a chicken in a cup. Seriously. Just like a chicken in a cup.
Via All For The Boys
Click-clack those clackers with these cute monster castanets.
Via Krokotak
The percussion line with be jumpin' with these easy coffee can drums.
Tiny tots with love to twang with this finger strummer made from a box top.
Via Teach Preschool
Want an instrument that sounds like a saxophone, but that you can make at home? This Membranophone is exactly what you're looking for.
Via Exploratorium
Your baby is going to dance to the music, and now they can help make it with this cute, jangle ankle bracelet.
Via Two Daloo
A couple of popsicles sticks, some rubber bands, paper, and toothpicks are all you'll need to make this cute little harmonica.
Via Housing A Forest
You'll absolutely love the awesome twang of these bobby pin strummers.
Via Pi'ikea Street
Now normally people don't ask you to toot your own horn, but they'll definitely request it with this DIY french horn.
Via Savvy Homemade
Shake shake shake! Shake those rain sticks and make make make fun music!
Via Danya Banya
This PVC xylophone will take a little more time to make but when you're done, you (and your band) will be astounded by the results.
Whether you know it yet or not, every band sounds better with sand blocks.
Kazoo's are the kind of lip-buzzing fun that young musicians live for.
Via The Joys of Boys
Do a deer, a female deer, re a drop of golden sun! And the rest you can sing on your own after you make these musical plastic bottles.
These painted sticks are as fun to make as they are to play!
Via Two Daloo
Some paper towel or wrapping paper rolls are all you'll need to make this DIY xylophone…and you won't believe the sound!
Ribbons don't change the sound of this rhythmic shaker, but they sure do make it pretty!!
Via How Wee Learn
Your kids can take their band on the road with these easy singing straws.
More twanging fun with this DIY strummer using a cross-stitching frame and rubber bands!
Via HelloBee
No band is complete without a tambourine. Play that tambourine, man, play it!
Via Buggy and Buddy