These dinosaur activities are a perfect way to get kids hands on and learning.
Dinosaur lovers will delight in these 25 delightful dinosaur activities for kids. And you'll love all the hands-on learning and growing they'll experience as your little paleontologist explores the world of dinosaurs.
25 Delightful Dinosaur Activities for Kids
Make a ferociously cute D is for Dinosaur Craft that is great for fine motor skills, encouraging creativity, and helping your child with their letter recognition!
Explore upper and lower case letters and help the dinosaurs find a home with this fabulous Dinosaur Alphabet Game!
Via Pre-K Pages
Kids will giggle, wiggle, and have a blast moving as they explore this Gross Motor Dinosaur Activity!
Via Sugar Aunts
Explore how Dinosaurs raised and cared for their babies with this fun and messy outdoor sensory experience of building Dinosaurs Nests!
Via Parenting Chaos
Dig out your magnifying glass and get kids up close and hands on with this fun way to explore dinosaur fossils!
Via Stir the Wonder
Keep kids busy on the go with these wonderful Dinosaur Busy Bag Ideas!
Via Fun a Day
Have some roaring fun stomping around with these simple DIY Dinosaur Feet!
Via Spaceships and Laser Beams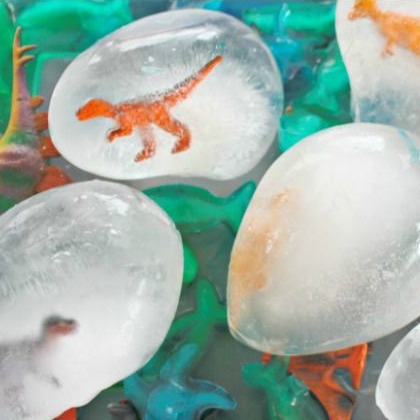 Save the dinosaurs from their icy entrapment with this cool Dinosaur Excavation Sensory Bin.
Via Parenting Chaos
Build a Dinosaur Cave using every day household materials that will have your Junior Paleontologist exploring prehistoric terrain and gooey sensory materials!
Add some Bubbling Dinosaur Magic to your child's bath time! Sensory fun while getting clean – what's not to love?!
Encourage your little paleontologist to explore counting, sorting, and matching with this fun math archaeological dig!
Stomp, Roar, and Create with this wonderful open-ended Dinosaur Painting activity!
Via Frog, Snails, and Puppy Dog Tails
Encourage big imaginations while cooling down with this amazing Dinosaur Small World!
Via Happy Hooligans
Strengthen fine motor skills while learning about the different types of fossils with this Dinosaur Bone Excavation sensory bin!
Via Little Bins for Little Hands
Show off your Dinosaur loving side with these super cute Up-cycled Dinosaur Bracelet.
Make these simple Homemade Dinosaur Bones and host a fun Dinosaur Dig in your backyard!
Roll with your dinosaurs in the sand with this simple Dinosaur Sensory Bin! Your kids will love this squishy sensory material!!
Via Little Bins for Little Hands
Explore the different type of foot prints dinosaurs can make with this Dinosaur Impressions Activity!
Dig your hands in and save some Dinos with this Sticky, Icky, Dinosaur Goop!
Unleash your Lego lover's imagination with these amazing Dinosaur Lego Builds.
Practice literacy skills while playing with this Dinosaur Swamp Sensory Writing Tray!
Make handwashing fun with this super easy to make Dinosaur Treat Soap!
Get your Dino Dancing with this adorable Cupcake Triceratops Craft!
Print out these free printables and head outside to rack up some points in this fun gross motor game of Dinosaur Toss!
Via Mess for Less

Dig in and enjoy some Dirt, Worms and Dinosaurs…yes that's a dessert!
Via Glorious Treats