The Day of the Dead is celebrated on November 1st every year, and has become a part of Halloween celebrations everywhere. Learn about the history of the holiday and how to make sugar skulls, paper bats, kites, and more!
Here are some fun and easy Day of the Dead projects that will teach your kids about Mexican culture and celebrate the Day of the Dead!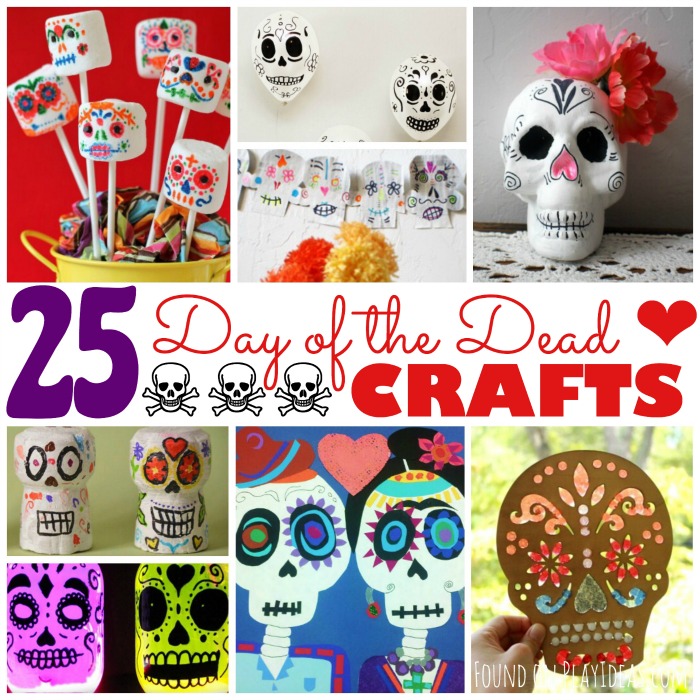 This year, make these super fun 25 Day of the Dead Crafts for Kids (with tons of sugar skull craft in there for anyone who loves Mexican folk art!). And teach your kids about this holiday, as well as their own ancestors. Have fun!
Super Fun and Simple Day of the Dead Crafts for Kids
1. Colored Garland Craft
This beautiful garland from Scrumdillydilly (unavailable) is fun for kids to make and a great way to celebrate the Day of the Dead. This beautiful Day of the Dead craft is perfectly appropriate for elementary-age students.
2. Cork Skull Art
Corks make for adorable skull art via Red Ted Art! Your kids are going to love decorating these.
3. Day of the Dead Suncatcher
This Day of the Dead sun catcher from The Artful Parent will look beautiful in your window this November. Your children will not stop looking out yo`ur windows.
4. Day of the Dead Tree
Make a Day of the Dead tree from Growing Up Bilingual. Afterwards, let your child hang your sugar skull ornaments for all to see!
5. Dinosaur Skeleton Craft
Fantastic Fun and Learning's skeleton dinosaur is a great way for kids to 'play' with Day of the Dead crafts. This super fun and simple craft can enhance your child's fine motor skills, creativity, and patterns and symmetry to name a few.
6. Felt Skull Craft
Crafts on Sea's felt sugar skulls can be coordinated into tons of different looks! This beautiful craft can help preschoolers learn about the customs and traditions behind the Day of the Dead. They can also help get them excited for the celebration.
7. Day of the Dead Flower Skull
Make Scrumdillydilly's calavera with your kiddos from items you can find at the dollar store! And you'll have a decoration that lasts for years!
8. Frida and Diego Skull Portrait
Frida and Diego (unavailable) are the ultimate Day of the Dead couple. Your child is going to love making them come to life with this art project from Modern Art 4 Kids.
9. Day of the Dead Glowing Jars
These skull lanterns from Growing Up Bilingual glow in the dark and make for beautiful night lights for your child's room. You don't have to be a kid to enjoy this Day of the Dead art!
10. Day of the Dead Jewelry
You can make skull jewelry and let your kids wear it all year round. Check out how it is so simple to do via Tried and True.
11. Marshmallow Skull Craft
Your child is going to love making their own Day of the Dead skull using mini marshmallows from No Time For Flashcards! Just let them know not to eat it once done.
12. Marshmallow Sugar Skulls
Or for more marshmallow fun… Ask your kiddos to draw on these marshmallows with edible markers and make your own Mom's marshmallow skull pops (unavailable)!
13. Moving Skeleton Decor
These articulated skeletons from Knitting Iris can be made to look like anything your child wants to create. They're moveable dolls that work as decorations.
14. Painted Day of the Dead Skulls
These air-drying clay skulls from Buzzville are fun to make. It can be used as jewelry or ornaments by kids of all ages. Via Buzzville
15. Q-tips Skeletons Craft
Your child will love making their own skeletons using q-tips from Green Bay Art Room. Add a beautifully-crafted grave around it for extra fun!
16. Day of the Dead Shrine
Teach your child about Day of the Dead with this shrine (unavailable) from Makezine. It's a wonderful way to honor their family members who have passed, and learn more about this holiday.
17. Balloon Skull Faces
Draw sugar skull faces onto balloons just like how Growing Up Bilingual did. This makes gorgeous decorations for your Day of the Dead party that kids of all ages will surely find pretty and fun to play with.
18. Paper Mache Skull Craft
This paper mache skull can be found at many craft stores. Your child can decorate it with markers or even crayons. Get ideas from Kid World Citizen on how to decorate yours.
19. Skull Cup Lantern
Play around with sugar skull designs by drawing them onto plastic drinking cups. Better yet, add lights and make them into kid lanterns via Growing Up Bilingual.
20. Salt Dough Skull Bead
This salt dough skull bead from Moment to Moment (unavailable) can be part of a chunky necklace or bracelet for your child's Day of the Dead celebrations. Be sure to create one for the whole family to wear!
21. Day of the Dead Skull Spoons
These beautiful sugar skull spoons via Scrumdillydilly (unavailable) are fun to make and will make for gorgeous decorations in your kitchen this fall! What a great way to create holiday crafts with your kids indoors!
22. Painted Stone Skulls
You can paint sugar skulls onto rocks and keep them as paper weights or simple decorations during this holiday. These simple holiday crafts from Hodge PodgeCraft can be enjoyed by kids of all ages, and can keep them busy for hours!
23. Sugar Skull Lollipops
These sugar skulls from Still Playing School are actual sugar lollipops. Your kids are going to love making them AND eating them!
24. Sugar Skull Suncatchers
B Kids' suncatchers are a great holiday craft idea for your kids to make this season! They are almost neon, and totally look cool as Halloween or Dia de los Muertos decorations.
25. Day of the Dead Skull Prints
These easy skull prints from Kid World Citizen are made using foam. Kids are going to love how fantastically easy they are to make. The colored glue outlining really makes these stand out!
More Day of the Dead Crafts & Fun from Play Ideas
Which Day of the Dead skull drawing did you find most fun to make?