Whether your cats are siamese, if you please, or simply the cat's meow, these kitty crafts will keep your feline loving kiddo content for hours at a time. With 25 curiously cute cat crafts for kids to choose from the biggest question will be what to make first! Have fun!
25 Curiously Cute Cat Crafts For Kids
It's hard to resist the draw of cat crafts. These crafts are sure to bring out the kitty-loving artist in your kids. Check out these adorable crafts perfect for cat lovers of all ages. We hope you love these fun kids crafts celebrating the feline.
This tp roll black cat is anything but scary. This black cat made with a leftover toilet paper roll is cute and fun to make with your kids!  We love these simple black cat crafts!
Via Kids Activities
Rest your bitty heads on these buckwheat-filled kitty pillows (inactive) for a good old fashioned cat nap.  This easy sewing cat craft is perfect for older kids honing their sewing skills.
Via De.Dawanda
C is for curious, for cautious, and definitely for cat! C is for Cat which is why preschool and kindergarten teachers use crafts and art projects to introduce students to the letter c!
Kitty bookmarks will keep your place in the cutest way possible.  This brightly colored construction paper crafts is purrrrrfect.
Teach kids how to protect tables early with this cat coasters. Kids can be artists too! They can learn to draw a cat in this preschool art craft using paper plates and paint.
Via A Beautiful Mess
You child will love creating their own amazing arts and crafts fancy cat village. These are the cutest feline crafts for kids!
Via Made By Joel
Spooky corner marker cats are looking to take a bite out of page-folding.
Kitty cat nesting dolls are truly the cat's meow.
Via Krokotak
Create your own curious kitty companion with these cat clay sculptures. A craft with whiskers? Follow this tutorial for whisker cat crafts. 
Via Krokotak
This paper kitty does nothing but sit there and look adorable. Just like a normal cat.  I love a purrrrrfectly awesome paper craft for kids!
Felt kitties are soft kitties, warm kitties, little balls of fuzz…ahhhhh sweet kitty arts and crafts!
Via Librarian Style
Cat handprints are fun and just a little bit feisty.
Make a macaroni necklace kitty and bring your fabulous feline with you wherever you go.
Via PBS
Mama and baby kitties are made from recycled juice and cereal boxes. Boxes. Cats would LOVE this craft!
Via Kids Activities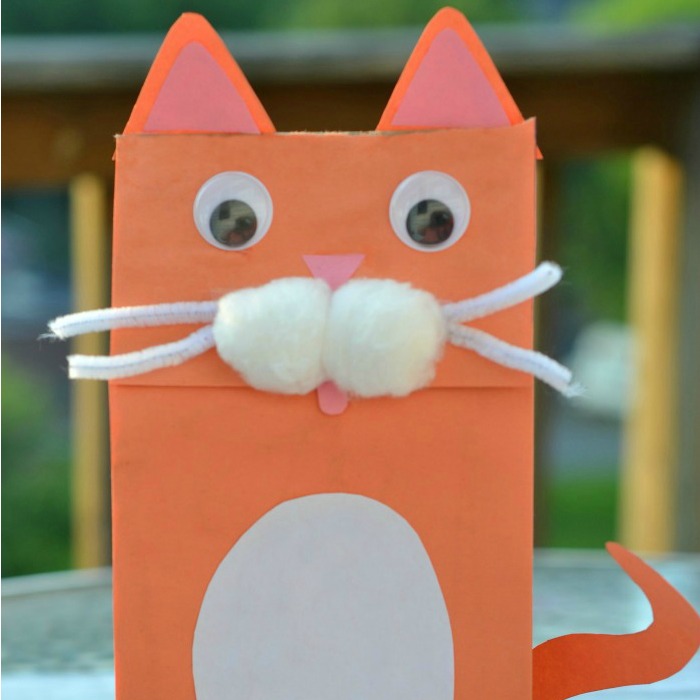 A paper bag cat puppet is all purr and no bite. Super simple feline arts and crafts.  LOVE!
This fan paper cat is hissterical.  Folding paper back and forth into an accordion makes for really fun crafts for kids!
Here are three fun paper cat crafts for kids who want to try it all!
Via Krokotak
Or you can make this paper plate kitty to keep on your fridge – no milk required.
Know what would be fun to plant in this kitty planter? Cat nip.
Cat rope pencil holders are just a little bit sassy, and a whole lot feisty.
Via Quiet Corner
These paper kitty statues are as curious as they come.
A sock kitty has all the warmth of a regular kitty, but none of the shedding.
Via Useful DIY
Try these homemade clay cat figurines next time your kids ask for a pet! It can be a great craft activity for older kids as well!
Via Nurture Store
Tissue paper black cats are fun to make, and certain not to scare anyone. These instructions will show you how to make a cute, spooky Halloween cat craft.
A cardboard tube black cat family will stand guard on your bookshelf – or pretty much anywhere else you put them!
Via Upcycled Wonders
What are your favorite cat crafts for kids?