These washi tape projects will inspire you and your kiddos to design and create.
Washi tape is everywhere. It's the go-to crafting tool that everyone is using, and since it peels right off it makes fixing projects and clean-up a breeze. Here are 25 creative washi tape projects for kids to inspire you to create, design, build, and imagine. Happy Crafting!
25 Creative Washi Tape Projects for Kids
Next time you make birdhouses, decorate them with washi tape instead of paint. The results are absolutely adorable!
Via Hoosier Homemade

Your kids can be super creative when they decorate this unicorn.
Via Totally The Bomb

These colorful butterflies are easy enough for a toddler to make, and would make great magnets for your refrigerator.
Via Artsy Momma

Need a quick floor mat for play? This city map used washi tape to block off streets and buildings. Your kids will be playing in minutes.
Via Playful Learning

These washi tape dolls are sweet and would fill any afternoon with fun, creative play.
Via Molly Moo Crafts

Build your own blocks using washi tape and boxes or tubes from around the house.
Via B-Inspired Mama

These clothes pin dragonflies are can't wait to flitter into your summer time activities calendar.
Via DIY Inspired

Don't go out and buy a new headband when you can redesign an old one.
Via Madigan Made

These paper plate hot air balloons are fun in the sky.
Via Honey Bee Books

Your kids can washi tape your keyboard to give typing a colorful twist.
Via Hallecake

Make this matching game to help your preschoolers with pattern recognition.
Via Sparkling Buds

These milk jug elephants are easy to make and would be a cute way to store small toys and baubles.
Via There And Back Again…A Mother's Tale

These washi tape owl heads would be a great fun, fast activity for any slumber party.
Via Happily Uprooted

Washi tape peg people are here to play!
Via Kiwi Crate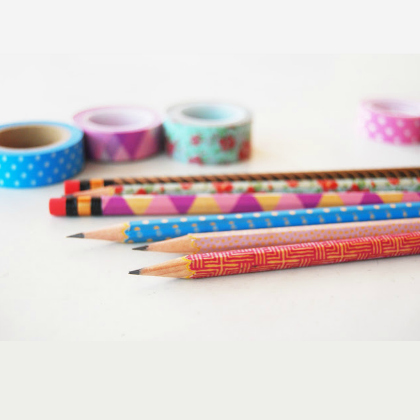 These washi tape pencils are as unique and creative as anything you'll find at the store.
Via The Pink Doormat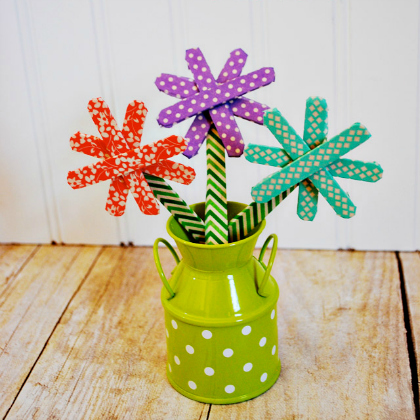 Let your kids make flowers using washi tape and craft sticks. You'll be blown away with how much fun they'll have.
Via The Benson Street

This washi tape owl is a hoot to make and the instructions are perfect for grade school kiddo's to follow.
Via Washi Tape Crafts

Don't throw away those boring old puzzles…recycle them into new puzzles using washi tape!
Via A Pumpkin and A Princess

Your babies will be making music in no time once you make this rain stick.
Via As The Bunny Hops

Ribbon wands promote activity and dancing and your kids will love the washi tape handles.
Via Becoming Martha

This rocket craft is over-the-moon cute.
Via Sweet Rose Studio

Grade school kids can make a notebook using paper and washi tape.
Via Inner Child Fun

This snake is slithery, slidey fun and your kids will love building him.
Via Brassy Apple

More musical fun with these spinning drums. The instructions are simple and your family will be making music in no time.
Via Alice & Lois

Bigger kids will be excited to try this wooden bracelet craft.
Via Mama Miss