Looking for a colorful, creative, easy and fun, yet cheap activity to do with your kids? These washi tape ideas will inspire you and your kiddos to design and create endlessly.
Washi tape is everywhere, from your local craft store, dollar store, or in a home decor store. It's the go-to crafting tool for everyone. As it peels right off, it's easy to repair and clean. Here are 25 creative washi tape projects for kids, created to inspire creativity, design, and imagination. Have a happy, colorful crafting day!
Colorful and DIY Creative Washi Tape Ideas for Kids of All Ages
1. Colorful Washi Tape Bird House
Next time you make birdhouses, decorate them with washi tape instead of paint. It's a creative way to paint, mess-free. The results of this fun project with the shape of a house are absolutely adorable!
2. Unique Unicorn with Washi tape Designs
Your kids can be super creative when they decorate this unicorn. It's a simple craft, but the older children will love making this fun washi tape craft too!
3. Colorful Clothespin and Washi Tape Designed Butterflies
These colorful washi tape butterflies are easy enough for a toddler to make, and would make great magnets for your refrigerator. This craft idea is so easy and fun to make with every artful parent and creative child.
4. Cool and Creative City Play Mats for Kids
Need a quick floor mat for play? This city map used washi tape to block off streets and buildings. Your kids will be playing in minutes. This easy craft is perfect on your plain old mantle.
5. Washi Tape Stick Dolls
These washi tape dolls are sweet and would fill any afternoon with fun, creative play. Your kiddos can also make these for special occasion, as mother's day gifts as cute card ideas.
6. Unique Blocks with Toilet Paper Rolls and Washi Tape
Build your own blocks using washi tape and boxes or tubes from around the house. This makes such an adventure with recycling and creative patterns! You can also make some pencil holders or a pencil cup out of toilet paper rolls and design it with different patterns of washi tapes. Genius!
7. Dragonfly Clothespin with Washi Tape
These clothes pin dragonflies are can't wait to flitter into your summer time activities calendar. They make the perfect design and craft!
8. Creatively Gorgeous Headband With Washi Tape
Don't go out and buy a new headband when you can redesign an old one. This makes your kiddos fashion cheap but pretty and unique!
9. Washi tape Designed Hot air Balloons for kids of All Ages
These paper plate hot air balloons are fun in the sky.
10. Unique and Colorful Washi Tape Designed Keyboard
Your kids can washi tape your keyboard to give typing a colorful twist. Try it for fun and learning!
11. Matching Game Craft with Washi Tape
Make this matching game to help your preschoolers with pattern recognition. This would be awesome and creative at the same time!
12. Colorful DIY Milk Jug Elephants
These milk jug elephants are easy to make and would be a cute way to store small toys and baubles.
13. Washi Tape Owl Heads Craft for Kids
These washi tape owl heads would be a great fun, fast activity for any slumber party.
14. Peg People with Washi Tape Dresses for Kids of All Ages Craft
Washi tape peg people are here to play! Make them look unique and creative as your kids creativity!
15. DIY Washi Tape Covered Pencils
These washi tape pencils are as unique and creative as anything you'll find at the store. Make your own things look unique like these pencils and start some magic!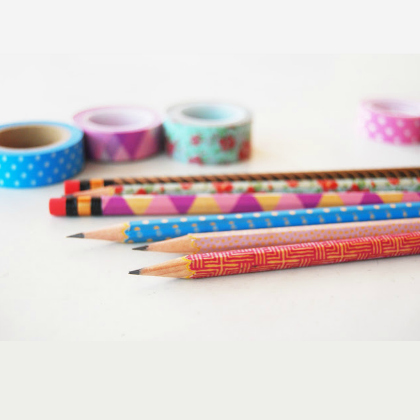 16. Adorable Flower with Washi Tape and Recycled Popsicle Sticks
Let your kids make flowers using washi tape and craft sticks. You'll be blown away with how much fun they'll have.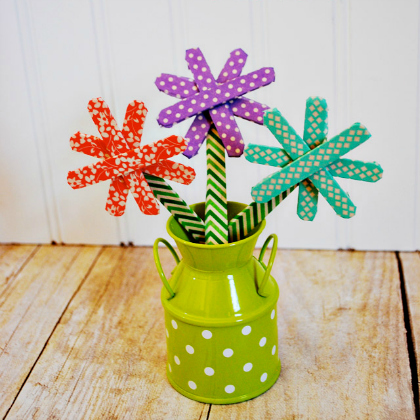 17. Easy and creative DIY Washi Tape Owl
This washi tape owl is a hoot to make and the instructions are perfect for grade school kiddo's to follow.
18. Cool and Gorgeous DIY Washi Tape Puzzles
Don't throw away those boring old puzzles…recycle them into new puzzles using washi tape!
19. Rain Stick With Washi Tape and Plastic Bottle
Your babies will be making music in no time once you make this rain stick.
20. Colorful Rainbow Magic Wand For Kids
Ribbon wands promote activity and dancing and your kids will love the washi tape handles.
21. DIY Rocket Craft with Washi Tape for Kids
This rocket craft is over-the-moon cute. Pick your own designs and uniquely land on the moon!
22. Washi Tape Designed Sketchbook
Grade school kids can make a notebook using paper and washi tape. This would make an amazingly personalized sketchbook that would make them totally unique by picking their own design!
23. Cool Washi Tape Covered Snake Craft For Kids
This snake is slithery, slidey fun and your kids will love building him. They can make as long as they want. How cool is that!
24. Colorful Washi Tape designed Spinning Drums
More musical fun with these spinning drums. The instructions are simple and your family will be making music in no time.
25. Wooden Bracelet Crafts
Bigger kids will be excited to try this wooden bracelet craft. These are made out of popsicle sticks and edless designs!
More Creative and Cool but Easy DIY Crafts from Play Ideas
What's your favorite craft that uses endless designs of washi tapes?