Create sensory magic with these fun crafts that all use an unexpected craft supply: cotton balls! Cotton ball crafts are perfect for little sensitive fingers and can make the most fluffiest things…
Cotton balls are great for sensory play, and these 25 Creative Cotton Ball Crafts For Preschoolers will give you just enough sensory fun without causing overload.
With fun pictures, crafts, and wearables, these crafts will give your preschooler hours of fun and great sensory play!
Enjoy!
Cotton Ball Craft Ideas for Kids
Make a cotton ball alpaca
This alpaca is adorable and easy to make with items you already have at home!
Via Little Red Hen And Friends
Cotton ball bunny rabbit craft
B is for bunny, and this little cotton tail is cute as can b!
Via The Simple Parent
Beard made of cotton balls
This beard is a great and easy wearable that your kids can play with year round.
Via A Little Learning For Two
Campfire & "marshmallow" handprints
Toast marshmallows over a handprint fire with this fun handprint art.
Via Glued To My Crafts
Fluffy cotton cloud learning craft
Teach your preschooler all about clouds using cotton balls!
Via I Heart Crafty Things
Create cotton ball art
Create beautiful cotton ball art that you'll want to hang on the refrigerator.
Via Scattered Thoughts Of A Crafty Mom
Let's count!
Use cotton balls for this sensory counting project.
Via Motherhood On A Dime
Art completely from the bathroom closet
This cotton ball and q-tip dandelion is beautiful and super easy to make!
Via No Time For Flashcards
Frozen movie craft with cotton balls
Do you want to build a snowman? How about a snow castle instead!
Via Crafty Morning
Boo! Cotton ball ghosts
These are friendly ghosts – I promise. And their cute cotton ball bodies are soft for little hands.
Via Thriving Home
Cotton ball igloo craft
How fun is this milk jug igloo? What a great way to teach your kiddo about Eskimos!
Via The Pinterested Parent
Mary had a cute little lamb mask
This fun sheep or lamb mask is easy to make and your kiddo will bah bah bah love it!
Via Danya Banya
Mary also had a cute cotton ball lamb
Or you can make this sheep with fun, crinkly feetsies!
Via Vicky Barone
Cotton ball Olaf
Now, if an ice castle isn't what you want to make, you can make a Real, well, cotton Olaf straight from Frozen!
Via Hip And Simple
Cotton ball oyster
This oyster is hiding a fun 'pearl' surprise inside!
Via Crafty Crafted
Sweet little lamb craft
Create a paper chain lamb that your kiddo will love to show off.
Via Free Kids Crafts
Pink cotton ball pig
This piggy is pretty in pink and precious as pudding.
Via Housing A Forest
Cotton ball popcorn art
Movie theater popcorn can be made at home, but I wouldn't recommend eating it.
Via Glued To My Crafts
Make a Cloud
Beautiful cloud mobiles are easy to make using cotton balls for clouds.
Via The Kindergarten Connection
Colorful rainbow & cloud craft
Or create a rainbow that your kiddo will proudly show off to anyone who comes to visit!
Via A Night Owl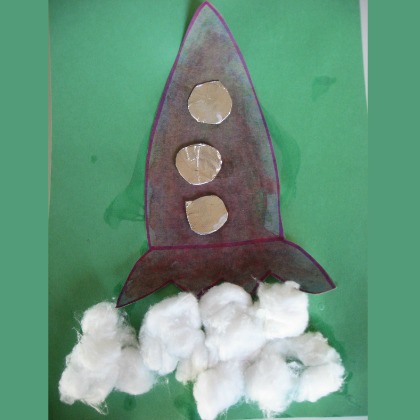 Blast off rocket craft
Blast off for fun with this rocket with cotton smoke! Poof!
Via No Time For Flashcards
Shaun the Sheep paper plate craft
Shaun the sheep is hanging out at your house. Or at least his doppleganger is.
Via Our Crafts N Things
Cotton ball snowman craft
This little snowman is easy for little hands, and so much fun as an indoor craft.
Via Housing A Forest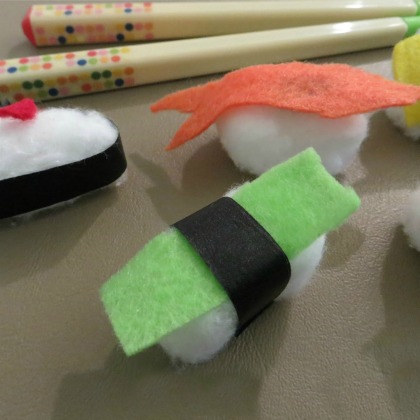 Make play sushi
Pretend sushi is easy to make, and cotton balls make perfect rice. Yum!
Via Pink And Green Mama
Patriotic cotton ball craft
Uncle Sam is hanging out at your house, or at least his popsicle stick portrait is!
Via Jump Start
Pin these cotton ball crafts for later:
More Cotton Ball Crafty Fun