Whether you're throwing a Fourth of July party or a Halloween Blowout, these crazy punch recipes for kids will have the drinks covered.
Kids love themes, and each of these recipes is inspired by a crazy party that your kid can imagine. Have a sweet punch party with kiddos!
These punch recipes for kids will give you beverage ideas for any kid party you have planned.
Refreshing and Crazy Punch Recipes for Kids
1. Jurassic World-Inspired Punch Recipe
Your little paleontologists will love these Jurassic World Inspired punch flavorings so much they'll roar for it at your next party! Get the recipe from Totally the Bomb!
2. The Incredible Hulk Fruit Punch Recipe
Hulk angry. Hulk fruit punch! Hulk happy now! Try the recipe from Simplistically Living!
3. Minecraft-Themed Punch Recipe
Minecraft fans everywhere will recognize this awesome creeper liter! Keep building those party plans with a punch they'll love, like this one from Totally the Bomb!
4. Bloody Vampire Punch Recipe
Let your little party-goers sink their teeth into this awesome mixture of Vampire punch recipes for kids from Shaken Together Life!
5. Minecraft Lava Punch Recipe
This Minecraft lava punch is coming to a party near you…Easy party punch for that little Minecraft fan of yours! Grab the recipe from Hallecake!
6. Rainbow Slushie Punch Recipe
This awesome rainbow slushie punch looks hard but is super easy to make. Cute layers like your seeing a cake! This recipe from Ramblings From The Sunshine State is perfect for a Mario party.
7. Crazy Zombie Punch Recipe
This zombie punch by Our Thrifty Ideas looks gross and awesome all at the same time! Disclaimer: no actual brains are found in this punch, and it looks cute in a large punch bowl!
8. Angry Birds Punch Recipe
Angry Birds fans will go cuckoo for this delicious Angry Birds punch recipe from Catch my Party. Pigs beware, we have fresh strawberries inside!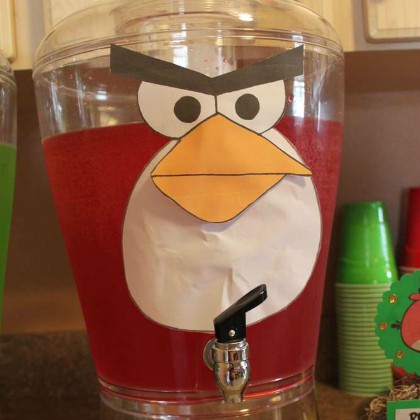 9. Spooky Fog Halloween Punch Recipe
This spooky fog Halloween punch recipe by Kids Activities Blog will keep your party kids happy and excited!
10. Arctic Shark Ice Punch Recipe
How awesome is this arctic shark ice punch? Watch the sharks swim around the bowl and serve the fun with this great punch recipe club soda from Hostess with the Mostess at your next party!
11. Rubber Duckie Punch Recipe
These rubber duckies are quacking up as they swim around this punch bowl. Blub, blub! Grab the recipe for a baby shower from Tidy Mom!
12. Refreshing Joker Juice Punch Recipe
Your next Batman parties need these fun addition of Joker Juice by The Trochelmans. No joke, it'll put a smile on their faces, and might help them lose some calories.
13. Swamp Water Punch Recipe
Even ogres are happy when they find swamp water at the birthday parties they attend! See the cool recipe from Purple Chocolat!
14. Bug Juice Drink Punch Recipe
Your bug-enthusiast is going to love finding flies swimming around in their Bug juice in this crazy lemon lime soda recipe from Casa Sondrisa!
15. Sweet Cotton Candy Punch Recipe
Something magical will happen when you make and pour this Cotton Candy punch. Your kids will be amazed by it! See the full recipe from Handmade Charlotte!
16. Witches Brew Punch Recipe
Double double toil and trouble celebration! This Witches Brew punch should be made with bubbles! Refreshingly crazy punch Halloween party idea from Your Home Based Mom!
17. Fizzy Love Potion Punch Recipe
Make sure your kiddos all have their cootie's shots before you make and stir this fizzy love potion from Bitz N Giggles!
18. Frozen-Inspired Punch Recipe
This Frozen-inspired snow cap punch syrup by Fashion Blog is as delicious as it is adorable. Olaf approves!
19. Amazing Butterbeer Punch Recipe
Harry Potter fans UNITE! It's time to drink down some butterbeer at your Potter party. See the foam on such a recipe from Just Sweet and Simple!
20. Pretty Princess Punch Recipe
Princesses will swoon and giggle at this beautiful pink princess punch (unavailable) drink from Dawn Nicole Designs. It will look good with cherries on top too!
21. The Grinch-Inspired Punch Recipe
They say the Grinch's heart grew three sizes the day he tried this delicious Grinch-Inspired punch with simple ingredients (unavailable) from Real Advice Gal!
22. One Fish, Two Fish Punch Recipe
Add little fishies to your punch and watch them swim around the glass. Your kids will think it's super cute and it's perfect for a Dr. Seuss party! Check out the party punch recipe by Fake Ginger!
23. Fourth of July Punch Recipe
Next Fourth of July, check out this patriotic punch oozing with ice cubes by Mom Endeavors made especially for your youngest party-goers.
24. Layered Candy Corn Punch Recipe
Candy corn is delicious and pretty, and it's crazy amazing that you can make a punch that looks just like layered candy corn, like this one from Fast Drink Recipes. So much for a pitcher!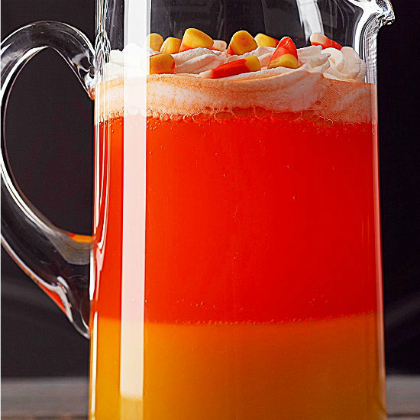 25. Superpowered Punch Recipe
This punch has a secret: it's a superpower punch in a lemonade concentrate. Seriously, how else would they be able to keep all the colors separate like that? Find out in this recipe from Yellow Bliss Road!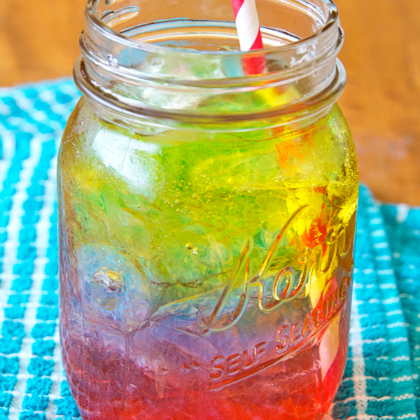 More Punch Recipes for Kids from Play Ideas
Which tasty crazy punch recipe best fits your little one's party today?