Your little monsters are going to love these super creative crazy monster crafts!
No matter how crazy your kids are, nothing will compare to their crazy little imaginations. That's why these 25 Crazy Monster Crafts for Kids are going to be so much for for all of you! Your kids will be able to unleash those while imaginations, and you'll enjoy crafting time. Happy Crafting!
25 Crazy and Quirky Monster Crafts for Kids
1.
Make your own ghoulish family with these paper roll monsters. All you need is some construction paper, cardboard tubes and googly eyes for this easy monster craft. very much toddler approved!
Via Crafts by Amanda
2.
A little duct tape and an old CD is all you'll need for these incredibly cute monster faces!
3.
This no-mess paint monster is a great way to teach kids symmetry and let their monster imaginations go wild.
Via Kids Activities Blog
4.
Floam monster? Oh, there are just so so many things your kids will want to do with him.
Via Paging Fun Mums


5.
Mr. and Mrs. Cup Monster are ready to hang out with your family…especially your creative kids.
6.
This stretchy, ooey, gooey glitter slime is full of monster eyeballs!
7.
Or if you want to keep that monstrous fun contained, check out these glitter slime jars.
Via The 36th Avenue
8.
These handy glove monsters are all about silliness and just hanging around. these fun monster crafts make for the perfect monster companion for any child!
Via Krokotak
9. GLUE MONSTERS
Glue monsters are an adorable, colorful, and very creepy creation. this messy little monster is super easy and fun to make. just watch out mom! there may be some cleanup required!

10. OLD CAN MONSTERS
These old can monsters are a great way to recycle, and decorate for Halloween! These tin can monster craft ideas can make for a variety of fun activities, and work great for the fall season!
Via Love This Pic
11.
This ultra-creepy monster hand is sure to delight your child's devious side!
Via Happy Hooligans

12. CUTIE LOVE MONSTERS
These love monsters are shaggy and silly. And your kids will love bringing them to life. These easy peasy yarn monsters serve as perfect spooky decoration for any room!
Via Eighteen 25
13. COOL CUP MONSTERS
Give your kids the craft bag, some glue, and cups and wait for their cup monsters to come to life!
14. EGG SHAKER MONSTERS
These egg shaker monsters are shakin' and rattlin' fun! I can totally imagine them at a Monster Mash.
Via Lolly Jane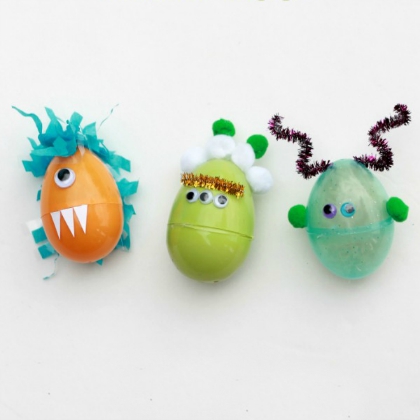 15. MONSTER FEET
Let your little monster stop around with these fun, wearable, monster feet!
Via Broogly
16. MONSTER EYES
Or let them create their own monster eyes and scare everyone with their stare. these scary monster crafts are a perfect costume for a classroom Halloween party
17.MONSTER NUMBERS
Decorate your house with these monster numbers! Perfect for birthdays or kiddo's who are learning to count.
18. MONSTER SWATTER
Worried about monsters in the bedroom? Your kids will love making their own monster swatter!
Via Happy Hooligans
19. PINCH POT MONSTERS
These pinch pot monsters are easy to make, and so much fun for kids to paint!
20. PING PONG BALL MONSTERS
It won't take much to make an army of ping pong ball monsters! Watch out – they'll invade your house if you let them!
21. CREATE DOUGH MONSTERS
Or give your child some play dough and let them create dough monsters they can reshape over and over again!
Via Creative Connections for Kids
22. PAINTED MONSTER ROCKS
These painted monster rocks are great fun to make with your kiddo's and totally a blast to hand out for Halloween.

23. CUTE AND TERRIFYING TISSUE-BOX TATTLE MONSTER
This tissue-box tattle monster looks totally ready to chomp down on any little fingers that come near it, but really he's just there to listen… All you need for these fun monsters are some tissue boxes!
Via Giggles Galore
24. SIMPLE AND EASY TOILET PAPER ROLL MONSTERS
Have fun making these colorful toilet paper roll monsters. The possibilities are endless! These cardboard tube monsters can be outfitted with pipe cleaners to act as arms or horns, making for an incredibly fun time! This cute monster craft is great for preschoolers!
25. MONSTER WIND CHIMES
These can monsters are also wind chimes! They're hanging around in the breeze, ready for a good time.
Via BHG
MORE CRAZY FUN CRAFTS FROM PLAY IDEAS