Turn early reading into a sight word game and you'll have a reader for life! A sight word game is a perfect opportunity for kids to practice sight words and build their reading skills. Sight word games can be a great way to help your little learner improve their reading skills, vocabulary and fluency. They are easy to set up and play, and your child will have a lot of fun.
Fun and Learning Sight Word Games for Kindergarteners
Reading skills can be hard work which is why we adore the idea that mastery of reading sight words can be turned into a game! Using toys, games, and activities will give your early reader a chance to see reading as fun, rather than hard.
Related: More Sight Word Games
Whether you are in the classroom, at home, or just having fun on the go, here are some of the best free sight word games we found online.
1. Word Building with Duplo Blocks
Learn all about how letters form words with letter matching and Duplo blocks! This letter matching game from The Printable Princess could be used for any word learning!
2. Bobbing for Words
"Bob" for words by hanging the words each on a word card your kid is learning from a door frame and letting them pull them down as they read it correctly. This game Via The Pleasantest Thing makes practice silly fun!
3. Opposite Matching Game
If you love opposites (and who doesn't?), you're going to love playing this opposite matching game from Kids Activities Blog! This combines sight words with non-sight words to let kids challenge their reading while concentrating on the word definitions. This more advanced reading activity can work great for kids in first grade!
4. Sight Word Toss Game
Toss the lid into the cupcake tin and say whatever word it lands on. Changing out the words can keep this game evolving while engaging children to continue playing. This fun game from Growing Book By Book is so much fun!
5. Pick Up Stick Sentences
Can your kiddo figure out how to line up the pick-up sticks to write a whole sentence? Whoa! That's like next-level learning in this fun activity by J Daniel 4's Mom!
6. Play I Spy with Words and Letters
Sift through the "I Spy" bin and figure out how the different letters match up to make words. Happy ready from Mess For Less!
7. Shark Fin Word Game
Match up the teeth to the shark fin words just like in the book Shark in the Park. This learning activity from Growing Book by Book has a lot of bites!
8. Roll a Sight Word Alien
This game of chance will give you either the coolest or the weirdest alien ever. It is all a matter of rolling the dice and playing along with what can be read. FUn game from Play Dough To Plato!
9. Sight Word Beach Ball Toss
Toss the word ball and practice words while the kiddos enjoy fun kinetic movements. This reading activity from Kids Activities Blog is great for the classroom and is a favorite of many Kindergarten and First Grade teachers.
10. Sight Word BINGO
Think your little is ready for a rousing game of blackout bingo? Well, this sight word blackout from This Reading Mama is even more fun because they'll be learning words as they play! Grab the common words Sight Word challenge Bingo-style or create your own with your child's sight word lists.
11. Connect the Word Game
Connect the Duplo blocks to spell out words according to this printable from Mom Inspired Life! Teach kids to read with this word smash idea using blocks you already have at home (or in the classroom)!
12. Spot the Sight Word Dominoes
Match up these sight word "dominoes" and see where the game takes you! Grab these high-frequency words that students in kindergarten through second grade typically need to know by sight. Clever game matching sight words perfect for literacy centers.
13. Sight Word Go Fish
Go fishing in your living room and learn all about whatever words you catch! Common sight words are so much easier to memorize through this game by Play Dough To Plato!
14. Early Reading Mystery Bin Activity
This shaving foam mystery bin is going to be a blast! Your kids are going to learn to letter and word recognition while searching through this goopy mess of fun game from Mess For Less!
15. Free Printable: Gumball Word Game
This gumball machine printable from Paly Dough to Plato is definitely fun you're going to 'chew' on for a bit…get it?  Early reading skills and learning sight words have never been more engaging!
16. Picture & Magnetic Letter Board Activity
Learn sight words by learning their picture pairs with this magnetic word board idea from Miss Giraffe's Mom! The big colorful sight word cards work perfectly with your magnetic letters for young readers.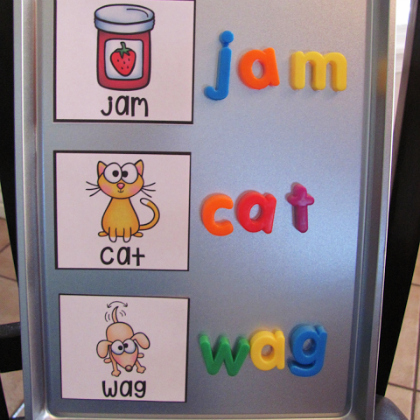 17. Word Parking Lot Activity
They paved paradise and put up a sight word parking lot (unavailable). This parking lot by Juggling with Kids is truly sight-reading heaven! This is an easy and fun way to learn for pre-K, preschool and Kindergarten.
18. Craft Stick Reading Puzzle
Let your kids match up the words with this colorful stick puzzle game from This Reading Mama! Smash the sticks together puzzle-style to uncover the hidden words.
19. Shake, Shake, Shake Those Sight Words
Shake shake shake, shake shake shake, shake those sight words! Recognize those words while dancing, singing, and reading in this fun activity by I Can Teach My Child!
20. Craft Stick Sight Word Challenge
Pick a stick, any stick! These sticks have sight words, and these words are totally going to 'stick' for your kids! Challenge kids to seek and find sight words with this simple DIY game from Teach me Mommy!
21. Silly Word Swat Game
Swat the words as they're said with this fun and silly swatter game (unavailable) idea from PBS! Grab the challenging word list your child might have and create your own custom set of post-it note words!
22. Build a Sentence with Toys
Use toys to teach your children not only sight words but sentence structure and actual reading! Grab some favorite toys, some challenging words and play this sight word game and you have a customized reading game at the perfect level for your reader. Clever idea from Kids Activities Blog!
23. Snakes, Ladders & Sight Words
Instead of Chutes and Ladders, play this fun printable with snakes, ladders, and sight words from Sight Words! Grab this free printable game and start playing this traditional board game in a non-traditional way.
24. The Very Hungry Caterpillar Sight Word Game
Here's another fun printable board game from Play Dough to Plato that uses the themes from The Very Hungry Caterpillar to teach sight words! Readers will love moving their game pieces around the board making sure their very hungry caterpillar gets fed!
25. Sight Word Cup Stacking Challenge
Write words on the bottoms of cups and see how high your kids can make their word pyramid before it tumbles to the ground! What a fun sight word game from J Daniel 4's Mom!
More Fun and Learning Activities for Kids of All Ages from Play Ideas
Which crazily fun sight word games are you playing with your kiddo today?