Looking for some fun and crafty ways to decorate your Christmas tree this year? No, not the ordinary store-bought ornaments but the ones you and your excited kiddos can make and decorate! Yes? Then, you are on the right place!
Kids love helping with Christmas decorations, so they'll love making these! With these 25 Christmas Ornaments Kids you'll be able to brighten up your tree; and enjoy some family quality time during these chilly winter days. Make your Christmas Crafty and fun!
25 DIY Christmas Ornaments Kids of All Ages Can Make and Enjoy
1. DIY Colorful Yarn Wrapped Star
These yarn wrapped stars are easy for even the littles and your tree is going to look so cute with them hanging from the branches.
2. Easy DIY Yarn Circles Christmas ornament for kids

Want a yarn craft for bigger kids? Try these yarn circles. They can make designs with the wrapping and make each ornament unique.
3. Button and Glitter Tree Ornament for kids

This button and glitter tree is going to be so much fun for you and the littles to work on together.
4. Tiny Twigs in Tree For Christmas Ornament

And your bigger kids will love cutting tiny twigs to make perfect sized tree limbs for this tree craft.
5. Cool Twig Christmas Tree Star

This beautiful twig ornament can be made by anyone with just a little help!
6. Round Snowman Christmas Decoration

Do you want to build a snowman…ornament?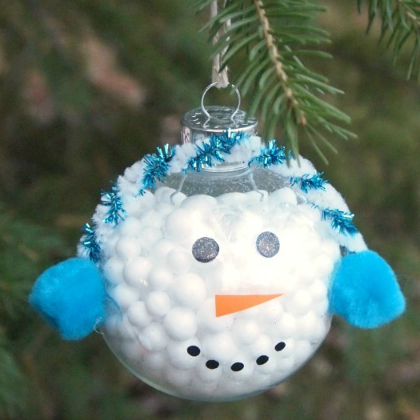 7. DIY Styrofoam Flowery Christmas Ornament

Foam balls, push pins, and sequins will make for gorgeous ornaments you'll want to hang every year!
8. Fabric Ribbons and Push Pins on Styrofoam Balls Christmas Ornament

For another variation of the same idea, try using fabric, ribbons and push pins. The results are just as gorgeous!
9. Awesome Self Portraits Christmas Ornaments

Your kiddo's can draw self portraits and hang them in cross stitch rings. Imagine having an ornament like this for every year of their life!
10. Tiny Pom-poms on Pinecones Nature Friendly Ornament

Pom poms on pinecones are a beautiful and simple ornament craft.
11. String Beads in Shapes as DIY Christmas Ornament

Work on those fine motor skills by stringing beads onto pipe cleaners for as many ornament shapes as your kids can imagine!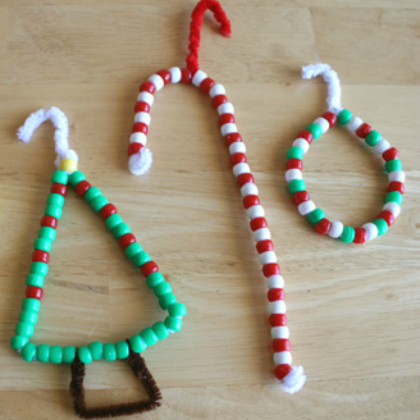 12. Cute and Adorable Posable Elves Ornament for Kids

Here's another fun way to use pipe cleaners, your kids can make posable elves.
13. Crafty and Unique Picasso Inspired Face Ornament

This Picasso inspired face ornament is truly a unique way to decorate your tree and enjoy great art.
14. 2 Cute Penguins in a Snow Globe Ornament

These penguins in a snow globe are adorable, and so easy for you and your kiddo's to make!
15. Paper Strips on Christmas ball ornament

Wrap an ornament in glue and paper for an ornament any bibliophile would love.
16. "I spy" Random Ornaments for Kids
These "I Spy" ornaments are fun for you to make with your kids, and a great way they can play with the ornaments even after the work is done!
17. Snowman Family with Your Kid's Fingerprint

Fingers make an adorable snowman family with this sweet snowy ornament.
18. Loving Holly Leaf Ornament for You and your Kiddo's hands

Or cut out a foam drawing of you and your child's hand together to make a holly leaf ornament that that celebrates their tiny little hands.
19. Colorful and Yummy Gumdrop Ornament For Kids

Gumdrops on ornaments is one of MY favorite things…and your kiddo is going to love it, too! Plus, how absolutely adorable is this? Not to mention they're look so yummy!
20. Easy DIY Sparkling Yarn Ornament

This yarn ornament is truly simple to make, yet creates such a beautifully stunning effect for your tree! You can make them with different colored yarns and get a stunning colorful yarn ornamented Christmas Tree!
21. Easy Shake Paint Christmas Ball Ornament

Shake paint into an ornament for a process art ornament that your kids are going to love showing off.
22. Cool Thumbprint Reindeer Ornament
Either you or your child can make a thumbprint for this fun little reindeer ornament. Make as many as you want!
23. DIY Old Cork Snowman Ornament
String some old cork screws together to make a snowman ornament that is both easy and adorable.
24. Snowman Bottle Caps Ornament
Or for another recycled art idea, these bottle caps also make sweet little snowmen hanging on your Christmas Tree.
25. Colorful Spiral Bead Ornament
This beaded pipe cleaner makes an adorable spiral ornament that'll make your tree absolutely stunning and colorful at the same time!
More Fun Winter and Christmas Craft From Play Ideas
Among the 25 DIY ornamentals kids can make, which is the most creative one?