Kids love to create! Giving kids the tools to build their creative side is easy: kids can create with just about anything. But teaching them basic techniques will help them grow as artists and creators. These 25 "celebrate winter" art projects for kids will help them grow their art skills, explore winter, and have fun while getting messy! Enjoy!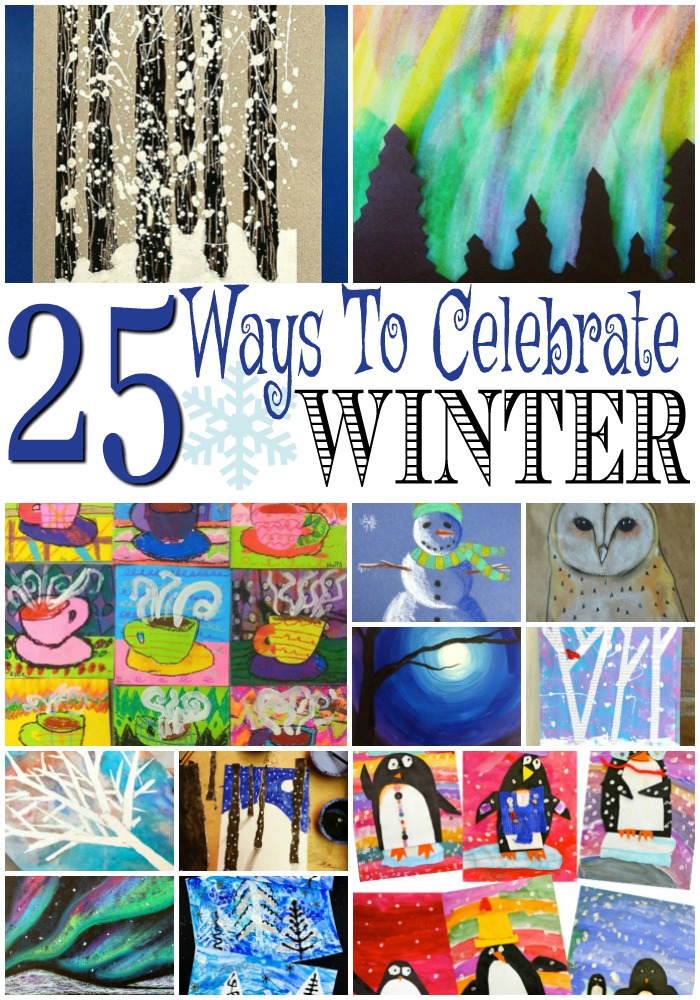 25 "Celebrate Winter" Art Projects For Kids
This torn tree forest will let them explore negative space and 3D art.
Tape resist art is a fun way for kids to see a picture within a picture.
Via How Wee Learn
Your littles will have fun making button snowflake ornaments that can be hung all over the house.
Via Kids' Craft Room
Here's another fun negative space project: winter lights!
Via Buggy and Buddy
These framable trees are easy enough for kids of all ages and pretty enough to hang in the house.
Your kids will have fun making these penguins out of construction paper and paint.
Want to warm up? These hot cocoa cups are a cool way to explore abstract realism.
Via Cassie Stephens
A bejeweled snowflake can be as unique as the child who makes it.
Via Artful Parent
Use glue to make snowflakes that glitter and shine.
Via Little Bins For Little Hands
Or use black glue to make incredibly beautiful abstract winterscapes.
Via Arty Crafty Kids
Imagine the night sky in winter. Exploring the color gradient will give kids a chance to design their own nighttime painting.
These beautiful northern lights flow over mountains, and from the imaginations of your littles.
Via Kathy AngelNik
Rainy winter days can be just as beautiful as the snow, if you look for the beauty within.
Via SmART Class
Tape resist trees with watercolors make gorgeous art that kids can 'gift' to those they love.
Via Inner Child Fun
Explore shading with this fun snowman project!
Who knew a black and white picture of a snowy field could have so many shades?
This fun tree project will invite your littles to finger-dab their way into the art world.
Via Krokotak
Beautiful snow owls are easier to make than you can imagine, and your kids will definitely be proud of the results.
Via Mary Making
Splatter snowy trees looks just like a super snowy day, and the splatter mimics an incredibly vivid windy effect.
Via Blog Lovin'
Salt and watercolor will make a snowy landscape that glitters in the sunlight.
Let your kids imagine a tree-filled field while creating a beautiful color gradient collage.
Via Hello Wonderful
This beautiful project uses watercolors and snowflakes to imagine that first winter's snow.
Here's another unique way to imagine northern lights, this time using negative space to show beautiful trees.
Let it snow with this fun resist art snowflake.
Via Arty Crafty Kids
There's nothing that says winter quite like Frosty standing outside a window in this inviting image.