Looking for ways to keep your kids busy but having fun? Is your kiddo into cute, adorable creative, recycle friendly and black and yellow things? If so, congratulations…you just found the right crafts and activities for them: some super cute bee crafts for kids!
Your kids can show their love and support for the bees with these awesome amazingly fun Busy Bee Crafts for Kids! These 25 Busy Bee Crafts will keep your own little bees busy all spring and summer long! Since bees are so important for our ecosystem, it is a great opportunity to teach kids why we all need to save them! Enjoy the combination of yellow and black on these Cute Bee Crafts.
DIY Cute and Awesome Busy Bee Crafts For Kids of All Ages
1. Clothespin Bee Friends Crafts
Looking for some easy bee crafts? Kids can have fun making their own little Bee Friend using clothespins. Simple, cute and easy!
2. DIY Recycled Egg Carton Bee Crafts
This Egg Carton Bee is an adorable way to recycle egg cartons. Recycling with overloaded fun and art. Cut out some wings from construction paper, grab some googly eyes and yarn, and glue them altogether!
3. Bee Finger Puppet for Kids to Make and Play
Here's a little bee craft for mom and toddler bonding time. Kids can put on a puppet show after making their own Bee Finger Puppet. Everyone will surely have fun making these finger puppets!
4. Recycled Toilet Paper Roll Bee Crafts
This Toilet Paper Roll Bee Craft is a great way to reuse all those toilet paper rolls you have lying around.
5. DIY Adorable Paper Plate Bee Crafts for Kids
There are more paper crafts you and your preschooler can make, like this paper plate bee craft. Kids will have a blast painting these Paper Plate Bees with yellow and black stripes. They are totally cute too!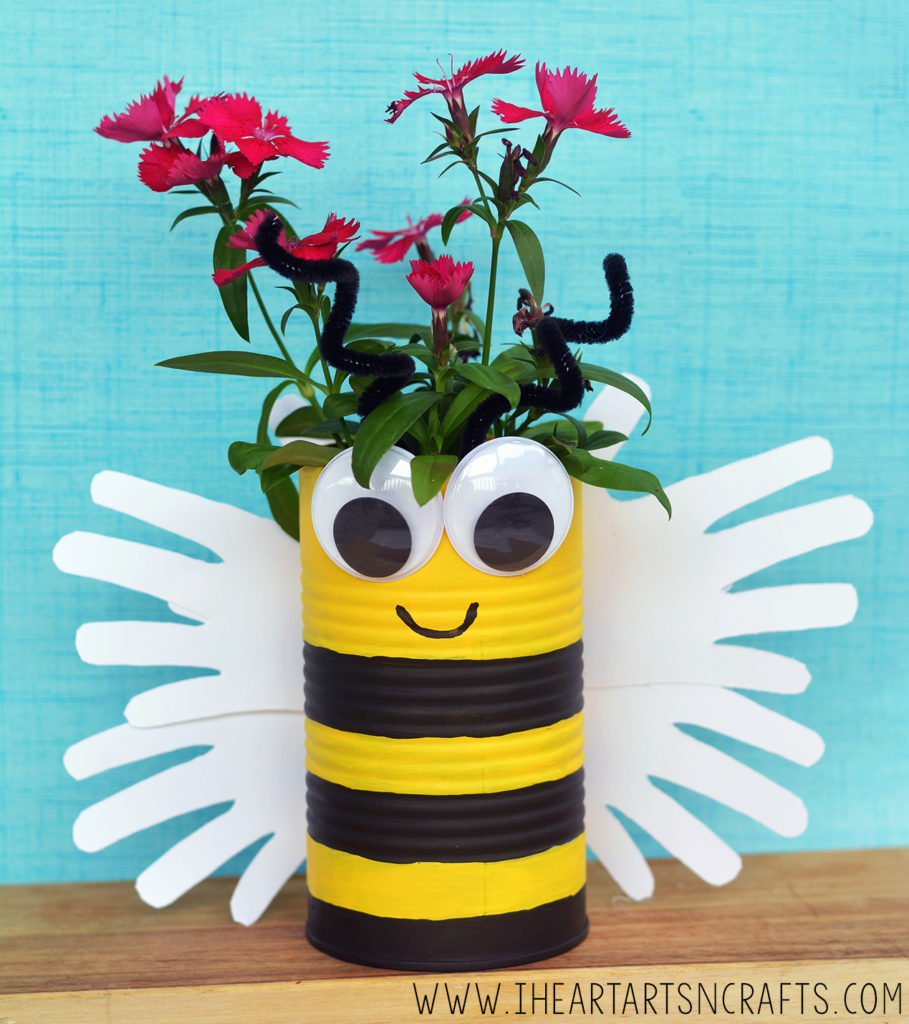 6. Easy Handprint Bumblebee Planter Craft for Kids
This handprint craft bumblebee planter will look adorable in the garden. More adorable knowing you and your kid created it!
7. DIY Busy Bee Headband for Kids
This Busy Bee Headband is a fun craft kids can make and wear! Let them wear it and pretend to be a Bee on their play! look at that cute pom-pom at the top!
8. Awesome DIY Paper Weave Bumble Bee Craft
This Paper Weave Bumble Bee is such a cute craft that kids can display right on the fridge! Your kindergarten buddy will love creating this cute little buggy for sure.
9. Cool and Crafty Bee Bookmark for Kids
Kids can make their own Bee Bookmark and use it as they get their summer reading in! You can also create some bee corner bookmark on your own!
10. Bumble Bee Craft for Preschoolers
This bumble bee craft on a craft stick is perfect for preschoolers. Make some cute insects using crayons, markers, googly eyes, and twine.
11. Sweet-Looking Honey Bee Slime for Kids
Honey Bee Slime will provide kids hours of fun. Who doesn't want to play with slime? It's a good practice for fine motor skills too.
12. DIY Bumble Bee Popsicle Stick Crafts
This honey bee craft looks like it just got out of the beehive! Let kids have popsicles and then save them to make this Bumble Bee Popsicle Stick craft. So cute!
13. DIY Cute Bee Straw Puppets for Kids
The Bee Straw Puppets are the cutest thing I've seen today! Hey, they're fresh from the hive.
14. Recycled Bee Craft from Bottle Caps
I love these Bee Bottle Caps! Such a cute way to reuse bottle caps!
15. Balloon Baby Bumble Bee for Kids to Play
Kids can make and play with their own Baby Bumble Bee – so cute! You'll definitely heart crafty things with this cute bumble bee craft for kids!
16. Bee Coffee Filter Craft for Kids
I love how bright and cheerful this Bee Coffee Filter Craft is… as If scattering joy and sunshine wherever it may be!
17. DIY Simple and Cute Paper Bee Crafts
Simple yet fun. Your kids can make their own Paper Bee. A bit of yellow and black paint is the key! Or you can get a free printable template, if you want.
18. Bee Spoon Craft for Kids and for Garden Designs
Upcycle old spoons with this Bee Spoon Craft. They will look cute in the garden too!
19. Fuzzy Pompom Pet Bee for Kids
Kids can make their own fuzzy Pet Bee made of pom-poms. How cute!
20. Cute Bumble Bee Felt Craft
This Bumble Bee Felt Craft is adorable and makes a little fuzzy friend in no time.
21. DIY Paper Bag Bee Puppet for Kids
Now that summer is here, kids can use those lunch sacks to make a Paper Bag Bee Puppet.
22. Tin Can Bee Craft Garden Designs
This Tin Can Bee will look adorable hanging in the garden! This is a good way to teach your kiddos creativity with recycling!
23. Fun Footprint Bee Art for Kids
This footprint bee makes a great keepsake and is fun for kids to make!
24. Painted Bee Rocks for Kids
Bee Rocks are fun and easy to make. Plus, you probably have everything you need at home! A very cool practice for kids who loves to paint.
25. Marshmallow Stamped Bumble Bees for Kids
Marshmallows aren't just for eating! These Marshmallow Stamped Bees are a fun way to use up those puffy treats.
More Cool And Amazing Animal Crafts for Kids From Play Ideas
Which Busy Bee Craft do you think your kiddo will enjoy doing the most?