Don't throw away those old CD's, recycle them into fun crafts! These 25 Brilliant Recycled CD Kid Crafts are a great way to teach your kids to upcycle old items into fun new creations. From crafting to collages, to painting and more, these crafts will give you and your kids a great way to recycle and have fun doing it! Enjoy!
25 Brilliant Recycled CD Kid Crafts
This unique candle holder is incredibly easy to make and a cool science experience for kiddo's, too!
Via Hubpages
Weave yarn into old CD's and make incredibly gorgeous coasters, garlands, and more.
This crazy robot is a fun way to play with recycled materials and stretch your kiddo's imagination!
Via Austin Kids
Mmmmm…these CD donuts are crunchy.
Blub, blub! CD fish are the shiniest fish in all the sea!
CD ice cream cones are deliciously adorable and a creative way for kiddo's to craft.
Via Make And Takes
Use those old CD's as a template to make lady bugs that you can use as magnets and more.
This love monster is anything but scary, and the CD used to make him is anything but junk.
Show your kiddo how easy it is to make rainbows inside using an old CD and just a little sunlight.
Tired of listening to that Frozen CD over and over? Recycle it into an adorable Olaf and tell your kids you wanted to build a snowman.
This glittery hanging ornament is a fun way to turn an old drab CD into something beautiful and shiny!
Via First Palette
Your kids will love creating their very own yard owl out of feathers and a painted CD!
Via Happy Hooligans
Or why not create a handsy, brightly colored peacock instead!
Are you making a planet mobile? A CD works perfectly as Saturn's ring.
Via Mommy In Sports
Teach your kids about scratch art using CD's and a little black paint.
Via Moms & Crafters
Or let them build their own clock using an old CD and some clock parts.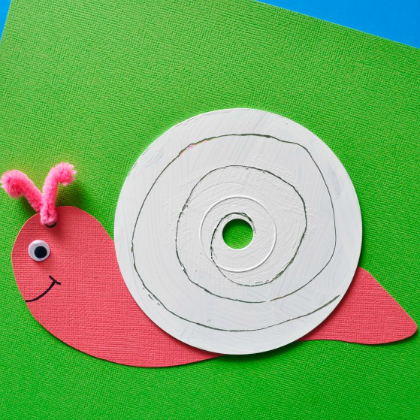 Your littles will love creating snail art that you can hang on your wall.
Or if the bigger kids want to play, let them cut out the snail shell and bedazzle it with shiny sequins.
Via Crafty Morning
Or for kids who love turtles, this adorable tortoise has a shiny, jewel shell!
Via Kids And Glitter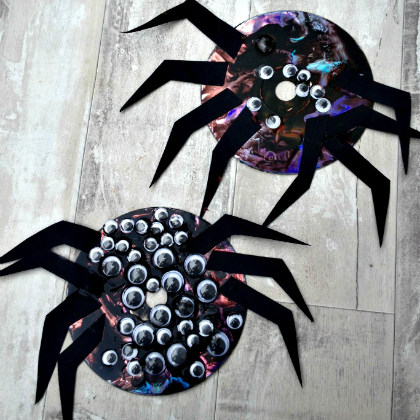 These creepy crawly spider cd's are the stuff of nightmares…or the perfect craft for your arachnid loving kid.
Via Crafts On Sea
Want to make a beautiful stained glass sun catcher? Use an old CD and some paint and you'll have art in an afternoon.
Via Suite
How is this for dynamic play! Made out of entirely recycled materials, this oven has the perfect cd burners for cooking up fun.
Via Parents
These cd spinners glow in the sunlight and they're fun for kiddo's of all ages to make!
Via Happy Hooligans
Practice time with this cd clock. When is it time to go to the dentist? Tooth-hurty…
Via Krokotak
Check out this sparkly cd sun catcher. It'll shine prism light all over your backyard for your kids to enjoy.
Via Happy Hooligans