Kids bored? Try these 25 Boredom Busting Balloon Games For Kids!
They'll be so busy playing they'll forget all about being bored. Between hockey, tennis, even balloon races, these games will keep those kiddo's active indoors and outside. These are also perfect for parties, family gatherings, and days that end with 'y'. Have fun!
Angry Birds target practice is a gun game for kids inside or outside. Plus, who doesn't want their very own balloon angry bird?
Let your kids blow balloons across the floor in a race to see who can hit the finish line fastest!
Via How Wee Learn
Balloon hockey is way less dangerous to breakables than just about any other hockey out there.
Via Creative Connections For Kids
Fill a trampoline with balloons and then kids have to try to jump on them to pop them! It's a lot harder than you'd think!
Set up your very own quiddich match with the Hogwarts fans in your home. Which house will bring home the cup? Only time will tell…
Via Buzzfeed Life
Balloon rockets are a blast to make and so much fun to watch fly.
How good are your kids at guessing? Fill each balloon with a different mystery substance and let them try to guess what's inside!
This balloon popping game is hilarious to watch and your kids are going to have so much fun trying to keep their balloon away while popping the other.
Balloon volleyball is super fun for those rainy day blues. Plus, no worries about the ball busting that vase on the table.
Via About Health
Make a balloon yo-yo and let your kids swing it up and down. This one might be better for outside, just fyi…
Via Tinkerlab
Can your kiddo catch a balloon in a cup? You'll soon find out when you engage them in this balloon catching activity!
Via Vanilla Joy
How long can your kids keep balloons in the air using only a flyswatter?
Via Little Bins For Little Hands
Ring toss takes on a whole new meaning when the rings are hula hoops and the goals are helium balloons.
Hungry, hungry toddlers race to grab as many balloons as they can and pass them off to their partner before the time is up.
Via In Random
Paper plate tennis is fun for kids of all ages and a great way to get them to play together!
Can your kiddo juggle? You'll find out soon enough with these balloon juggling balls.
A balloon operated toy car race is a super fun way to get kids building and thinking.
Via The Crafty Mummy
Balloon target practice is a blast when you use Nerf guns. How many will your kids hit?
Via Cafe Mom
Or want to give your little ninja a more active target? Let them hit balloon bad guys with their samurai swords.
Via Roe And Lee
This balloon relay is funny to watch and so much fun to play. Kids can't touch the balloons with their hands, but still have to get them across the room.
Want another super funny activity? Balloon penguin walking is where a child has to race across the room with a balloon tucked between their knees without dropping the balloon.
Via Kitty Groups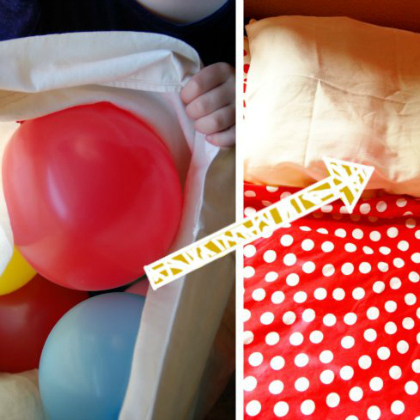 Want to prank your kids? This one is a blast for older kiddo's. Fill their pillow case with balloons and have them go take a nap. They're going to know what's up the second their head hits the 'pillow'.
Balloon marshmallow shooters are so much fun for playing tag without any risk of anyone ever getting hurt.
Want another fun balloon popping game? This one is great because the game isn't over until all the balloons are popped.
Check out these colorful, crazy balloon balls! Fun for juggling, but also just super cute to make. Your kids will love helping with this one.