No matter what the weather is outside, these Stained Glass crafts will perk up your day.
Beautiful, bright stained glass is something children are drawn to. The rainbow of broken colors and shapes are like puzzles of light. Truly a sight to behold. These 25 Beautiful Stained Glass Crafts for Kids will let you bring that beauty into your home and let your kids create their own mini masterpieces. Happy Crafting!
25 Beautiful Stained Glass Crafts For Kids
Can you believe this gorgeous craft was made using a bottle lid? I can't, but I'm super impressed!
Via Happy Hooligans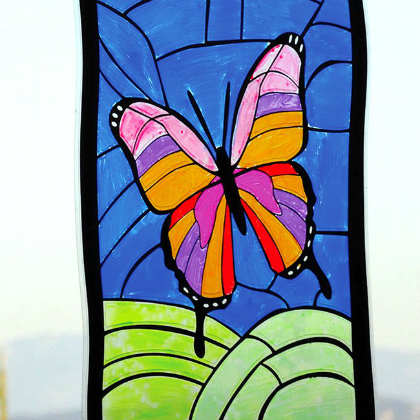 This beautiful butterfly stained glass is easy to make, and fun to watch come to life.
Via Kids Activities Blog

Check out these stained glass fall leaves. Can you imagine a window filled with these?
Via Mom On Timeout

You won't believe what they used to make these adorable and whimsical stained glass collage…I know I didn't!
Via Pink Stripy Socks

These little fish are here to brighten your day. Put them in your child's bedroom and they'll have something to look at anytime they need a pick-me-up.
Via Craft Foxes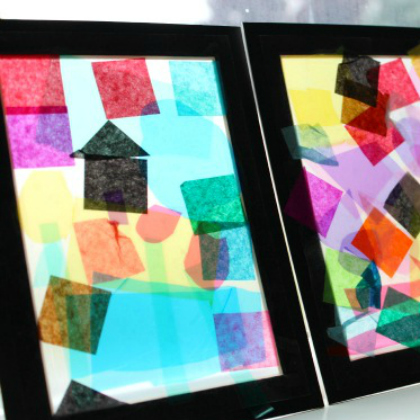 These framed stained glass pictures are bright, colorful, and a perfect way to add light and color to a dull room.
Via True Aim

Frankie here is going to make your child giggle. Work on this one with the kiddo's and maybe keep him around even after Halloween…
Via From ABC's To ACT's

This stained glass sharpie art is vibrant and easy to make with kids of any age.
Via Happy Hooligans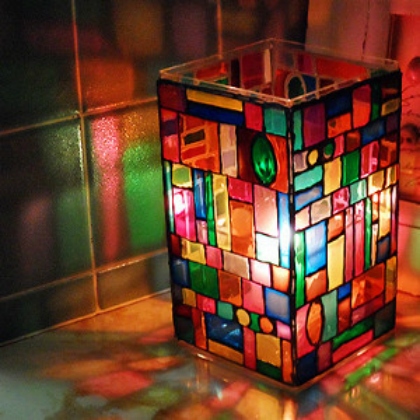 This gorgeous mosaic will add nighttime light to any dark room and adds a mesmerizing glow to calm your child's nighttime fears.
Via All Free Kids Crafts

How fun would it be to spell out your child's name in stained glass?
Via Teach Kids Art

This stained glass owl is a hoot and makes a beautiful window sun catcher.
Via In The Playroom

Using craft glue and food coloring you can make this incredible fluid-looking window art.
Via Still Parenting

Here's another way of making beautiful window art, this time using glitter glue!
Via Smart Schoolhouse

These stained glass paper plates are the perfect crafting project for littles who don't have great hand control yet…and they still look beautiful!
Via A Little Pinch Of Perfect

How amazing is this stained glass made from lasagna noodles! Noodles! I'm blown away!
Via Babble Dabble Do

Tissue paper makes this stained glass pumpkin look less scary and more just colorful and fun.
Via Crafts On Sea

And these stained glass pumpkins are like a family of jack-o'-lanterns ready to shine on the world.
Via Here Come The Girls

These stained glass rainbow collages are a beautiful way to brighten your home any time of year.
Via Where Imagination Grows

Brighten your tree this year with a stained glass ring garland.
Via Artful Parent

Who knew highlighters could become such a beautiful piece of window art!
Via Buggy and Buddy

Gorgeous stained glass tumblers aren't great for drinking water out of, but they'll always shine beautiful bright colors onto counters.
Via Happy Hooligans

These stained glass Christmas ornaments are made from sugar cookies. How sweet is that!?!
Via Kids Activities Blog

Making stained glass from tissue paper is a great way to share beautiful, colorful art with the littles.
Via The Artful Parent

This stained glass picture is made using a toilet paper roll. How much fun are your kids going to have with this one?
Via Powerful Mothering

Add a fireless candle to this stained glass votive and your child will have a beautiful prismatic nightlight for their room.