Today we have easy and fun Stained Glass Crafts that will make both you and your child feeling like Leonardo Da Vinci making his first masterpiece.
Spark your kids' creativity and liven up your living room with colorful stained glass art that's easy to make for you and your kids. These 25 Beautiful Stained Glass Crafts for Kids will let you bring that beauty into your home and let your kids create their own mini masterpieces. Happy Crafting!
Beautiful, bright stained glass is something children are drawn to. The rainbow of broken colors and shapes are like puzzles of light. Truly a sight to behold.
From everyday household items like a bottle lid, some glue and glitters, we have a wide array of projects to keep your little ones entertained all season long and will be a wonderful bonding time with their parents.
So grab your creativity and your glitters, and get ready to craft some stained glass with your cutest little crafters!
Creative and Colorful Stained Glass Crafts for Kids to Make
1. Make a Bottle Lid Stained Glass Painting
This bottle lid stained glass by Happy Hooligans uses paint, bottle lids, and wax paper to create the perfect stained glass painting. It's so easy to make that even preschoolers and toddlers can enjoy doing it.
2. A Fun Butterfly Stained Glass Craft
This butterfly stained glass by Kids Activities Blog can be made with a fancy silhouette machine, or if you don't have one, it's easy to be cut by hand. There's a free template that you can download so no need to worry about your art skills. Just cut, cut, cut!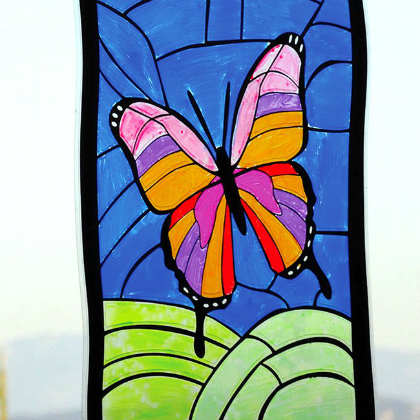 3. Stained Glass Fall Leaves
These stained glass fall leaves by Mom On Timeout uses glue, tissue paper, and wax paper to bring that spring feel into your home and it will make you "fall" in love.
4. Craft a Collage Using Stained Glass
This stained glass collage by Pink Stripy Socks uses an old frame, some glue, and craft paint to create the most awesome collage ever.
You won't believe what they used to make these adorable and whimsical stained glass collage…I know I didn't!
5. Aquarium-themed Fish Stained Glass Craft
These little fish are here to brighten your day. Put them in your child's bedroom and they'll have something to look at anytime they need a pick-me-up.
6. Framed Stained Glass Pictures
These framed stained glass pictures by True Aim just needs a Kiwi Crate for this masterpiece. It's cheap and easy, and it can be found on the link below.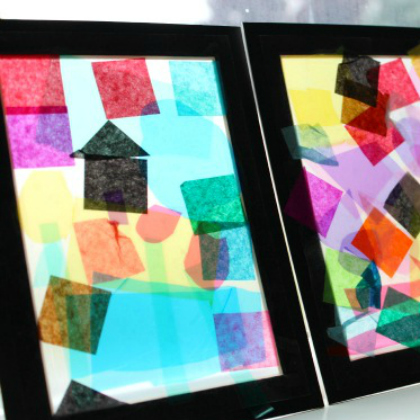 7. Frankenstein Stained Glass Craft
This Frankenstein Stained Glass by From ABC's to ACT's uses green tissue paper and contact paper to recreate Frankenstein with your little monster at home.
8. Stained Glass Sharpie Art
This stained glass sharpie by Happy Hooligans using only Sharpie markers and photo paper, you could make the easiest stained glass art that can be made even with your toddler.
9. Create a Beautiful Mosaic Stained Glass Craft
This stained Glass Mosaic Lamp by All Free Kids Crafts uses glass stain and silver leading to create the coolest lamp ever! This is more suitable to make with older kids.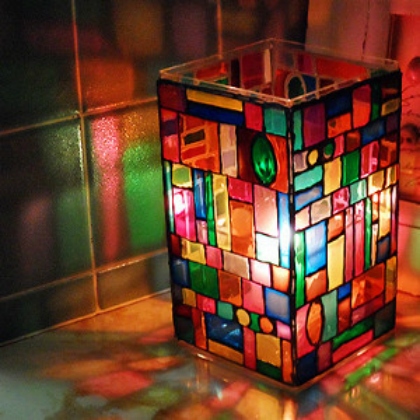 10. Create Words Using Stained Glass Letters
These Stained Glass Name Designs by Teach Kids Art uses paper and water-based markers to take the mundane part of teaching your younglings how to spell their name.
How fun would it be to spell out your child's name in stained glass?
11. A Hootin'-Tootin' Stained Glass Owl
This stained glass owl by In The Playroom uses cellophane, scissors, and glue to make one of our favorite and cute wise birds for children of all ages.
12. Fluid Window Stained Glass Craft
This fluid Window Stained Glass by Sophie's World uses glue and food coloring to make the dullest of windows look lively. It's easy and perfect for kids of all ages.
13. Colorful Galaxy Stained Glass
Instead of food coloring, Galaxy Window Art by Smart Schoolhouse uses glitter glue to make your windows looking like a colorful trip to the stars and beyond for your kids to enjoy.
14. Paper Plate Stained Glass
These stained glass paper plates by A Little Pinch of Perfect uses yarn, acrylic paint, and paper plates to create a layout for your kids to paint with. It's perfect for your little toddlers who are just beginning to learn to control their hands (mess free!)
15. Lasagna Noodles Stained Glass
This lasagna Noodles Stained Glass by Babble Dabble Do uses uncooked lasagna noodles and watercolor. This is perfect for those who have leftover lasagna that they didn't use for dinner. Try this with your kid now after eating a piece of that delicious lasagna!
16. Tissue Paper Stained Glass
Tissue Paper Stained Glass by Crafts on Sea uses tissue and to create your young one's first Jack-o'-Lantern with ease. It definitely doesn't need to be Halloween for them to make this masterpiece.
17. Spooky Stained Glass Pumpkins
Stained glass pumpkins by Here Come The Girls uses contact paper, orange tissue paper, and googly eyes to make the spookiest and cutest decors this Halloween for you and your kids to make.
18. Stained Glass Rainbow Collage
Stained glass rainbow collages by Where Imagination Grows uses tissue paper, contact paper, and construction paper to make the most colorful rainbow inside your home. It's perfect for teaching young kids different colors and their names.
19. Create a Stained Glass Ring Garland
Stained glass ring garland by Artful Parent uses colored ribbons to make the most festive DIY Christmas tree ornament that your kid can make. Perfect for all ages!
20. A Highlighter Stained Glass Craft
Highlighter Stained Glass Craft by Buggy and Buddy uses highlighters and inkjet transparencies (might sound complicated but it's easy to get one) to create a fun and easy coloring activity for your young kids.
21. Tumbling Stained Glass Tumblers
Stained glass tumblers by Happy Hooligans uses sharpie markers and a glass jar to make the easiest colorful paperweight for your kids. If you have a lot of empty jars of jam lying around, this is the perfect project to upcycle them.
22. Sugar Cookie Stained Glass
Sugar Cookie Stained Glass by Kids Activities Blog uses sugar cookie dough and jolly ranchers to make the sweetest stained glass craft. If you and your little kids love baking desserts, this project is perfect for you.
23. Tissue Paper Stained Glass
This awesome tissue paper stained glass by The Artful Parents uses colored tissue paper, wax paper, and liquid starch. It's easy to make that it looks good even when messed up. The color looks fun without any pattern. Look!
24. Toilet Paper Roll Stained Glass Craft
This toilet paper roll stained glass by Powerful Mothering uses toilet paper roll and water paint. After you use up all of your toilet paper, what more fun way to upcycle them than doing this easy activity with you little kids. Everyone can do it as long as they have their own roll (or they can share!)
25. Stained Glass Votive? I Definitely Vote For That
This stained glass votive by All Thumbs Crafts uses alcohol ink and a glass to make this nightlight that will bring you and your kids to that 70's vibe. If you have any unused glasses, this is definitely the activity for you and your kid.
More Kids Craft & Fun from Play Ideas
What was your favorite Stained Glass crafts for kids?