With Lego, everything is awesome! The moment kids get their first Lego set, they're hooked. But why not? Kids can express themselves creatively with Legos. below are tons of building instructions to help inspiration strike!
These lego creations teach ratios, engineering, math, and spatial awareness. Legos are great for combating boredom, and they're a great way for kids to learn while they play (even when they don't realize what's going on). also helps tune fine motor skills and assists with problem solving. plus they're just a lot of fun!
These 25 awesome Lego activities are a perfect mix of building and thinking out of the box. Enjoy!
Engaging and Amazing Lego Activities For Kids to Make
1. Build an Easy Lego Dam
Your kids can build Little Bins For Little Hands Lego dam effortlessly. They will be amazed at how it holds water!
2. DIY Lego Lantern
Do your kids love amping in the living room? This Lego Lantern by Laly Mom will light things up!
3. Cool Lego Card Holder
Kids can build their own card holder of Confidence Meets Parenting. With this cool activity, you and your child will have a great time playing any card game you like.
4. Sturdy Lego Ship Activity
How much can a ship hold before it sinks (unavailable)? Let your kids find out with this fun build!
5. Fun Lego Chess Set
It's all fun and games until your kiddo builds the Teach Beside Me chess set from Legos. Then it's all fun and concentrating games.
6. Colorful Lego Maze for Cars
Build Fun Learning For Kids Lego maze with your child and see if the car can make it through! This is fun and easy to do plus it will develop your children's critical thinking and motor skills.
7. Adorable Lego Pencil Holder
This adorable pencil holder is easy to make! It's perfect for any toy or crafting room that kids of all ages (even adults) will surely love! Via Kids Activities
8. Lego Ancient Pyramids
Learning about pyramids? Level it up by letting your kids build their own Ancient Pyramids of Egypt using Legos via Creekside Learning. This is an easy building process for beginners and will set them up for their future lego city!
9. Lego Cars for Art
Bring out the creativity of your kids with this activity. Imagine Etch-a-Sketch, but with Steam Powered Family's Lego Car as the stylus. Mic drop!
10. Lego Bridge for Kids
Here's a fun experiment that will keep your kids occupied. Allow them to find the answer on how much weight a Mama Smiles' Lego bridge can hold?
11. Awesome Lego Marble Run
This Lego marble run of Frugal Fun For Boys And Girls will give your kids a fun afternoon activity. They'll love trying to make it work again and again and again!
12. Stunning Lego Faces
Pump up your kiddos creativity and imagination! Let them make Lego faces by Susan Evans for the entire family!
13. Simple Lego Pulleys
Learning while playing is the best combination to develop kids creativity. With this engaging STEM Lego activity from Frugal Fun For Boys And Girls, they may learn about simple pulleys. this demonstrates some of the best benefits of lego, as with just a couple gears your child can learn some very basic engineering skills!
14. Build and Play with Lego Duplo Ring Toss
Here's a whole new spin on ring toss for kids: Legos and pipe cleaners by Stir The Wonder! Undoubtedly, your child will have so much fun playing this and will enhance their counting skills.
15. Lego Balance Scale
Build Frugal Fun For Boys and Girls' Lego balance and watch your kids learn about weights and measures.
16. Lego Secret Codes
Is your kiddo interested in coding? How about secret codes by Frugal Fun For Boys and Girls? This fun activity will let your children explore both!
17. Cool Lego Shadow Puppets
Lego shadow puppets of Powerful Mothering are fun to build and creatively express your child's imagination. with the help of some minifigures can use this device to demonstrate their fun ideas and tell stories!
18. Amazing Lego Skyscrapers
With Little Bins For Little Hands Lego skyscrapers, kids can draw shadows and compare what makes them different.
19. Create Lego Spirograph
Let your kids build a spirograph by Frugal Fun For Boys And Girls. They can create unique patterns that they can color later!
20. Multicolored Lego Sundial
Thinking for a fun sunny day afternoon activity? How awesome is this Lego sundial (unavailable)? amazing what you can do with just a couple lego bricks!
21. Enjoyable Lego Matching Game
Even the little ones will love this Lego matching game(unavailable). It will also help in improving their concentration and memory.
22. Handy Lego Tic-Tac-Toe
Lego tic-tac-toe of Mama, Papa, Bubba lets your kiddo play no matter where they are. Their playmates, kids of all ages will never stop asking for rematch! builders of all ages are going to be able to play tic-tac-toe!
23. Incredible Lego Volcano Experiment
Science can be extra fun with Lego! Build Little Bins For Little Hands Lego Volcano and start the coolest experiment for kids!
24. Lego Science Collage Project
Speaking of science, kids will love learning about weather patterns when they make this Lego collage of KCEdventures. great for any classroom trying to engage their young builders to learn science!
25. Adventurous Lego Zipline
This Lego Zipline of Little Bins For Little Hands will let your kids figure out what it takes to move their Lego mini figures all the way from one side to another. Make sure to add this to your list!
More Lego Activities & Fun from Play Ideas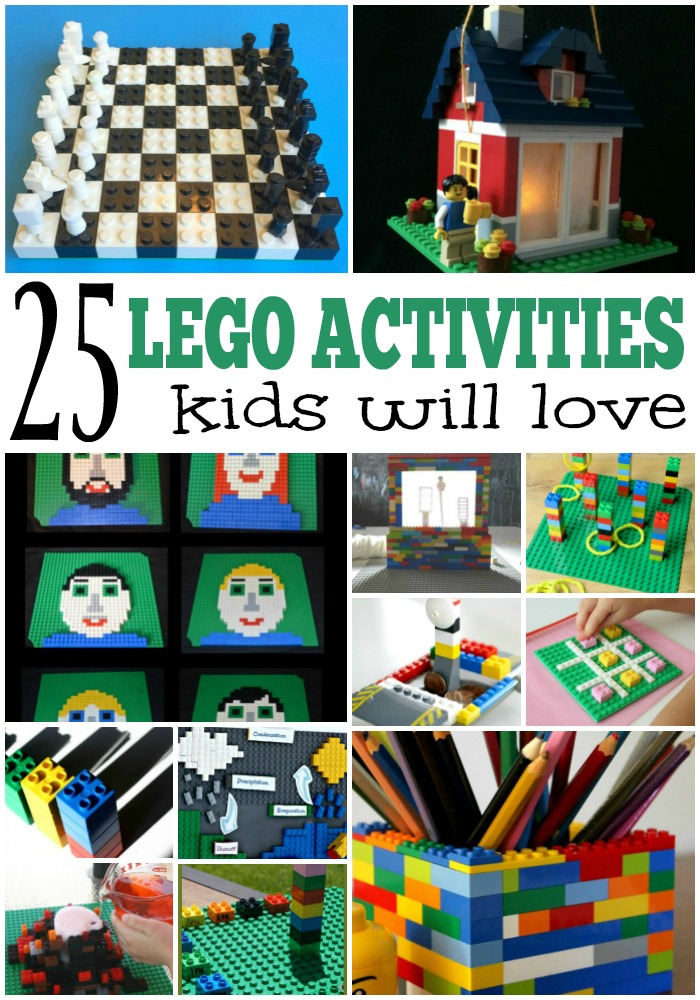 What are your top 5 Lego activities to try for next week?