Cake pops are delicious, but these are artistry!
These 25 Amazing Cake Pops Kids (and moms) Will Love put all other cake pops to shame. They aren't just globs of cake surrounded by frosting…these are so fantastically unique and truly gorgeous that they'll make anyone who makes them look like a culinary genius. Even better, they're much easier to make than you'd imagine! Definitely a 'must have' for your next kid party or bake sale. Enjoy!
Your Star Wars fan is going to flip for this BB-8 pop!
Via The Busy Spatula
How beary cute is this little bear pop?
Via Craftsy
Everyone is going to be all a-buzz for these bee pops!
Via Hobby Craft
Happy Birthday cake pops are a celebration in just a few bites!
Via Niner Bakes
Brownie pops are fudgey, delicious goodness that you'll tell all your friends about.
Want a bouquet of beautiful? How about these colorful cake pops?
Give them a delicious memory they won't soon forget with these corndog pops.
Minecraft creeper pops are going to be your Minecraft fan's new favorite thing.
Via Cake Journal
How sweet are these pup pops? Almost too cute to eat! Almost…
Via Moms & Munchkins
These sprinkle pops have a hidden surprise inside!
Adorable elephant pops are precious and perfect for anyone who loves elephants.
Via Pint Sized Baker
Old McDonald had a farm, and on that farm he had farm animal pops!
Via Rose Bakes
Grab your quidditch broom and catch these snitch pops before they flitter away.
Aww! These grumpy cat pops look so sad and so adorable all at the same time.
Via Bakerella
Everything is awesome with these Lego head pops.
Via Pint Sized Baker
There's nothing despicable about these Minion pops…
Via Bakerella
It's not easy being green, but it is easy making these Muppet pops!
Via Bakerella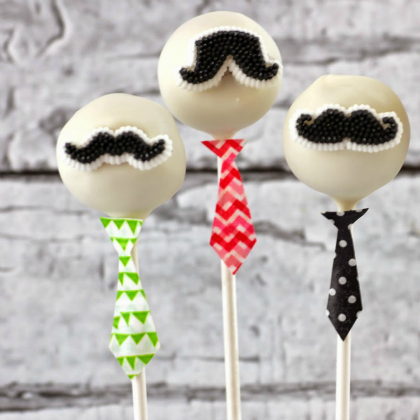 I mustache you if you love whimsical pops?
Via Pint Sized Baker
These octopus pops are all legs!
Via Pint Sized Baker
Delicious pink lemonade pops are tart and delicious treats!
Via Just Helen
No lying, these Pinocchio pops are truly delicious!
Via Miss Candiquik
Pug pops are too precious for words!
Via Bakerella
S'more cake pops, please!
Via Moms & Munchkins
How bright and beautiful are these sunflower pops?
Delicious watermelon pops are are adorable and a delicious slice of summer year round!
Via Heart Tree Home