Cake pops are delicious, but these are absolute works of art! Let's admit, kids (and yes, moms too!) and cake pops are a match made in heaven. All things considered, food and creativity can create the best experiences.
If you've ever wondered how you can just add more life to your kids' usual and beloved snack, this truly will take the cake, if you know what I mean!
These amazing cake pop creations will put all other cake pops to shame. Even better, they're much easier to make than you'd imagine! Definitely a 'must have' for your next kids party or bake sale. Enjoy!
Fun Ways to Spruce Up Your Kids' Cake Pops
1. BB-8 Cake Pops
The avid Star Wars fan within you is going to flip for this BB-8 pop by The Busy Spatula! We love it on screen, and don't mind taking a literal bite of its cuteness too!
2. Cute Bear Cake Pops
How beary cute is this little bear pop by Craftsy? Bears are formidable for their overall cuteness and when you've made it into a cake pop, I just feel like we've won everything.
3. Buzzin' Bee Cake Pops
Everyone is going to be all a-buzz for these bee pops courtesy of Hobby Craft! Can you imagine all the cute energy you'd be nurturing with all the different shapes and sizes they can come? I mean, this is absolute fun!
4. Mini Birthday Cakes Cake Pops
Admit it, you melted just seeing this Happy Birthday cake pops by Niner Bakes. Adorable, yes! But more like celebration in every single bite is what is!!!
5. Sprinkled Choco Cake Pops
These Brownie pops by Veronica's Cornucopia are fudgey, delicious goodness that you'll tell all your friends about once you've done making and enjoying eating em'. Best part? Very few ingredients needed and a gazillion fun to have!
6. Rainbow Cake Pops
Want a bouquet of beautiful? How about these colorful cake pops by Kara's Party Ideas? Oh, my goodness! Those colors are divine! I guess I'm a kid forever now!
7. Corndog Cake Pops
Give them a delicious memory they won't soon forget with these corndog pops by Hungry Happenings. We're raising the carnival roof on this one, don't you think? It's perfect for any venue may it be a fair, festival, carnival, or when you're just at home enjoying the simple things in life!
8. Minecraft Cake Pops
These Minecraft creeper pops by Cake Journal are going to be your Minecraft fan's new favorite thing. If they can enjoy them in a game, why not on a lollipop stick? Imagine the Minecraft-themed party you're going to have to throw!
9. Puppy Cake Pops
How sweet are these pup pops by Moms & Munchkins? Almost too cute to eat! Almost… Those moments where you wanted a bite out of your puppy's cute cheeks can be satisfied with a bite of these.
These sprinkle pops by Kids Activities Blog have a hidden surprise inside! It's like the ultimate gastronomic treasure hunt with every bite. Besides, look at all that colorful sprinkles. What a party!
11. Elephant Cake Pops
Pint Sized Baker's elephant pops are precious and perfect for anyone who loves elephants. Look at those cute little hearts at the tip of each nose. Think this is challenging to make? Think again.
12. Farm Animal Cake Pops
Old McDonald had a farm, and on that farm he had these farm animal pops by Rose Bakes! Go the extra mile and make your love for farm animals come to life in its mini edible form through these yummy cake pops.
13. Harry Potter Inspired Cake Pops
Grab your quidditch broom and catch these snitch pops by Create Celebrate Explore before they flitter away. Such a great homage to the Potter series especially since we secretly wanted to catch one. Might as well just make and eat one!
14. Grumpy Cat Cake Pops
Aww! These grumpy cat pops by Bakerella look so sad and so adorable all at the same time. Although Grumpy Cat would not approve of me getting a bite out of his look-alike, he'd understand why these cake pops would be irresistible!
15. Lego Head Cake Pops
Everything is awesome with these Lego head pops by Pint Sized Baker. The cute expressions on these would make it an even better treat for kids who truly enjoy the essence of cake pops.
16. Minion Cake Pops
There's nothing despicable about these Minion pops by Bakerella. I suppose if you're going to have some Minions for company, it better be in cake pop form. Kids would go ba-na-nas!
17. Muppet Cake Pops
It's not easy being green, but it is easy making these Muppet pops courtesy of Bakerella! I would love to hear a song from these Muppet favorites though if we're going to get the full Muppet experience.
18. Whimsical Cake Pops For Kiddos
I mustache you if you would love these whimsical pops by Pint Sized Baker? Pun aside, aren't these the best mustaches you've seen on cake pops? And those ties… adorable as can be!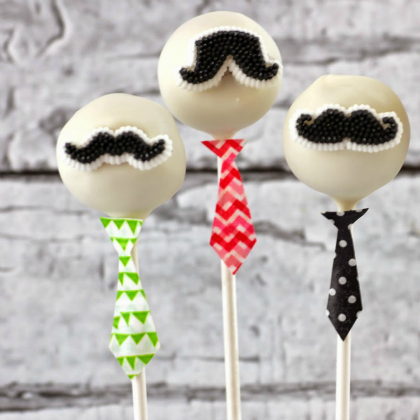 19. Octopus Cake Pops
These octopus pops by Pint Sized Baker are all legs! Less effort but huge promise of fun and creative ways to dispense cuteness all around. The googly eyes are just to die for!
20. Pink Lemonade Cake Pops
These delicious pink lemonade pops by Just Helen are the tart and delicious treats you didn't know you wanted! That pink lemonade cake mix is just icing on the cake if you know what I mean!
21. Pinocchio Cake Pops
No lying, these Pinocchio pops by Miss Candiquik are truly delicious. You and your kids are going to love them! I'm not surprised these cake pops made the list. Truthfully, there's no way it can be missed.
22. Pug Cake Pops
Thanks to Bakerella, these Pug pops are going to be such a hit in your household. They're too precious for words! Let's face it, we've always wanted a bite out of every pug faces we've seen.
23. S'more Cake Pops
Moms & Munchkins is making me want S'more cake pops, and yes, please! S'mores in any shape, way, or form is a classic favorite but in cake pop form, it has accomplished a new milestone!
24. Sunflower Cake Pops
How bright and beautiful are these sunflower pops by Munchkin Munchies? You know what these would be perfect for? You guessed it…Picnics! I mean, these cake pops speak gorgeous sunset family picnics to me.
25. Watermelon Cake Pops
These uber delicious watermelon pops by Heart Tree Home are an adorable and a delicious slice of summer all year round! Even just looking at it makes my mouth water.
MORE SWEET TREATS FROM PLAY IDEAS!
Which cake pop are you exited to make next?