Flowers make the world lovelier! Partner them with kids, the world becomes so much more beautiful! Celebrate the beauty of flowers together with your kiddos when you make these fabulous flower activities for kids!
Yes, your kiddos can make lovely flower crafts at home, with your help of course!
These bright, colorful flower crafts will brighten your child's day!
Colorful and Fabulous Flower Activities for Kids!
1. Easy Pipe Cleaner Flowers
Your child will have so much fun making these fuzzy pipe cleaner flower crafts by Kids Activities Blog!
2. Cupcake Liners Flower Bouquet
Your kiddos will love to celebrate spring with a cupcake liner flower bouquet idea from Laughing Kids Learn
3. Lovely Ribbon Flowers
If you have ribbon leftover from other crafts, you can help your little ones turn it into some gorgeous ribbon flowers like this idea from Kids Activities Blog!
4. Colorful Sensory Tissue Flower Craft
Torn tissue paper makes such a fun, colorful sensory flower activity for your toddler! What a cute idea from Mess For Less!
5. Simple and Colorful Tulip Painting
This activity from Kids Play Box uses a fork as a stamp to make a colorful tulip painting your little artist can easily make!
6. Coffee Filter Flowers
Your child will be amazed at what gorgeous flowers they can make with coffee filters from Kinder Craze!
7. Cute Bottle Caps Floral Card
Your kiddos can turn bottle caps into a special floral card for Mom in this idea from Crafty Morning!
8. Colorful Spring Bouquet Collage
Corks, buttons, and colorful paint combine to make this cheerful spring bouquet idea from Happy Hooligans!
9. Lovely Woven Flower Paper Plates
These bright flowers by Easy Peasy Fun are made from woven paper plates! Your kiddos will love creating these art pieces!
10. Sweet Candy Flowers
These DIY candy flowers by Spit Up Is the New Black would make a great gift for your kid's friends!
11. Lovely Fingerprint Dandelions
These fingerprint dandelions look great on the front of a handmade card! Your little one will have a great time making this cute art idea from Crafty Morning!
12. Colorful Cloth Flower Collage
Your kiddos will learn about the color wheel with this colorful collage flower activity from Deep Space Sparkle!
13. Newspaper Watercolor Flower
This beautiful watercolor flower by The Honorable Mention Preschool Big is made from newsprint! Your kids will enjoy cutting and coloring this cute flower craft!
14. Real Flower Painting
Using real flowers as a paintbrush results in such a unique painting! Kids will love the final art piece this activity from Playful Learning turns out!
15. Magical Milk Jug Flowers
 Recycle milk jugs (unavailable) into whimsical garden flowers in this idea from Kid Things! Just keep extra guidance in using the scissors!
16. Colorful Plastic Plate Craft
This simple plastic plate craft from The Girl Creative will add a pop of color to your yard! Have fun crafting with your kiddos!
17. Celery Head Stamp Flower Craft
Your kids can use a celery headstamp to create a beautiful flower design by Crafty Morning!
18. Cute Paper-Straw Flowers
These paper-straw flowers by Multiples and More make such a bright bouquet your kiddos will love to see!
19. Crafty Colorful Paperclip Flowers
Your child will love watching colorful paper clips transform into flowers in this cute craft by Cool 2 Craft!
20. Cool Dough Flowers
Your kids will have so much fun shaping the salt dough into flowers, and then adding fingerprints for petals in this idea by Meaningful Mama!
More Fabulous and Colorful Crafts for Kids of All ages from Play Ideas!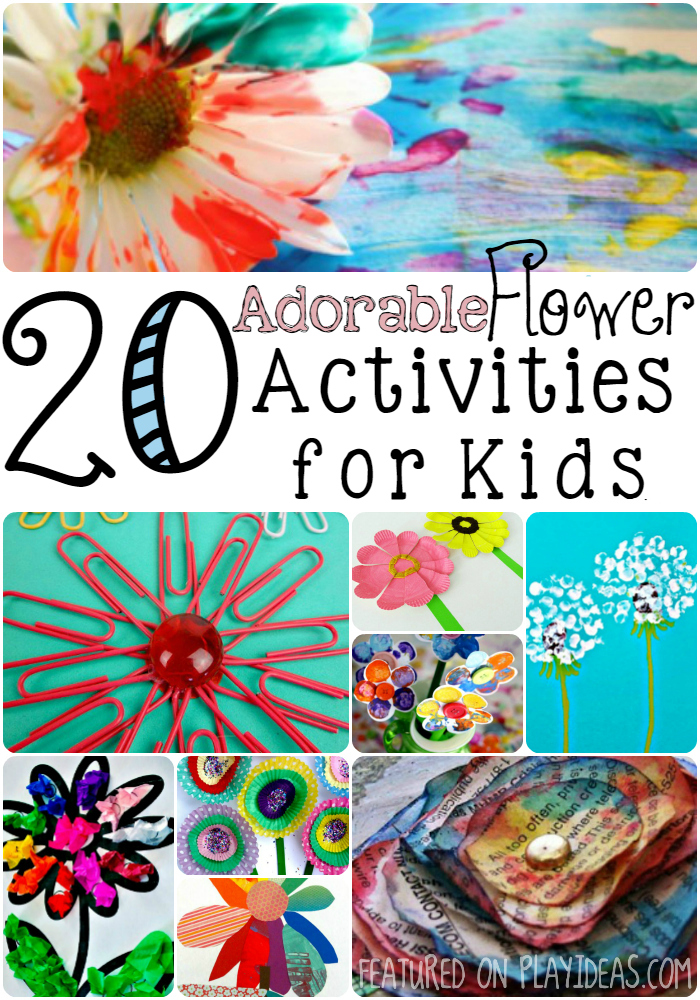 Which fabulous flower craft are you creating with your kids today?