Sensory play is one of the most important activities in your toddler's early formative years. This activity helps your little one use and hone their senses about the things around them through play! Make your child's day when you set up one of these activities for sensory play!
Your kid will have a blast, and you just might even get some quiet time for yourself!
Insanely Awesome Activities For Sensory Play for Kids
1. Edible Rainbow-Colored Sensory Bin
This beautiful rainbow-colored sensory bin from Happily Ever Mom is safe for babies to play with and eat!
2. Colorful Mud Sensory Play
With this activity by Frogs Snails And Puppy Dog Tails, your kids can play in the mud without getting dirty!
3. Fun Painting Session
If your kids love to paint, what could be more fun than painting on a wall? This cute idea from Meri Cherry will bring out the artist in your little one! This is a fun activity for young children who want to create interesting textures
4. Awesome Rainbow Rice Sensory Box
Your kids can explore touch and color with this rainbow rice sensory box idea (unavailable) from eHow! This is a great sensory experience for young kids!
5. Calming Down Jar with LEGO
Adults and kids alike are mesmerized by this LEGO calm down jar idea by Lemon Lime Adventures! Watch the glitters come down! Your child will love watching their toys float around in glitter!
6. Under the Sea Jello Sensory Play
This under the sea jello sensory play idea by Natural Beach Living is a great way for your little one to learn about different sea creatures! This activity is great for sensory exploration especially for younger kids such as preschoolers!
7. Yummy DIY Snow Cones
Not only are DIY snow cones great for eating, but they're also great for sensory play! This sensory idea by Tutus And Tea Parties is great to do with kiddos on a hot afternoon! Thought there may be a mess and some cleanup afterwards, the treat make it well worth it!
8. Saltwater Sensory Bin
There are several fun ways that your kiddo can play with this salt water sensory bin from Natural Beach Living! Don't forget the sea creatures! Playing with the sea creatures is a great way to develop finger muscles and gross motor skills!
9. Match the Smell Activity with Kiddos
Try a scent-themed sensory activity by Gift of Curiosity! How many scents can your child match?
10. Creative Sensory Eggs
There are so many fun games that your little one can play with these sensory egg ideas from Two Daloo!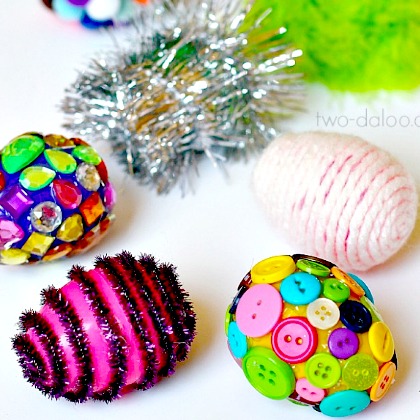 11. Sudsy Goop Sensory Play Idea
This sudsy goop from Kids Play Box is oh so fun to play with! Your kiddos will surely have a hearty laugh all afternoon!
12. Awesome Rainbow Chickpeas
This rainbow chickpeas sensory bin from And Next Comes L will provide your kiddos hours of colorful fun! Its like a sandbox but full of Chickpeas! an excellent way for children to gain fun stimulation!
13. Nature Soup Play
There's so much to explore in this nature soup: leaves, lemons, flowers, and more! Your kiddos will love to try this play idea from Meri Cherry!
14. Fun Homemade Moon Sand
Your kids will have a blast with this homemade moon sand by The Imagination Tree!
15. Dig Diamonds Sensory Bin
Your kids can pretend to dig for diamonds in this diamond mine sensory bin by Childhood 101! Searching for treasure in this tub is a great way to develop fine motor skills!
16. Insanely Awesome Lava Lamp Bags
These squishy lava lamp bags by Growing a Jeweled Rose are so fun to play with under a black light! A plastic bag has never been more fun play with! This sensory bag is sure to fascinate your child's senses.
17. Dig Some Worms Activity
A classic childhood memory is reimagined with this digging for worms activity from Learning 4 Kids!
18. Wonderful Rain Stick Craft
The inside of this rain stick looks scary, but it makes such an awesome noise as the beans fall through! Such a fun sound activity from The Imagination Tree! A great way to develop a child's sensory system!

More Awesome Sensory Play Activities from Play Ideas!
Which fabulous sensory play are you doing with your little one today?