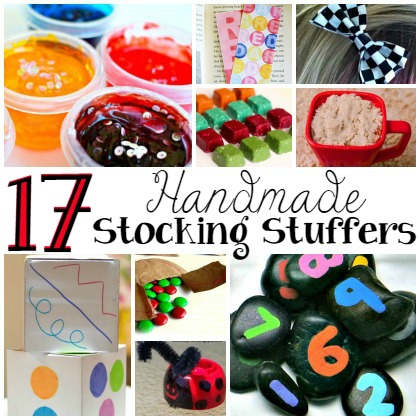 Put something unique in your child's stocking this year- add one of these 17 handmade stocking stuffers!Your child will be surprised and delighted to find any of these DIY gifts in their holiday stocking!
17 Handmade Stocking Stuffers
Little jars of paint make great stocking stuffers- especially when they're jars of homemade confetti paint!
Turn duct tape into something cute to slip into a stocking- a duct tape hair bow!
Via Totally The Bomb
These little DIY number rocks are both adorable and educational!
Via B-Inspired Mama
This DIY puzzle is easy to make and fun for kids to put together!
Via B-Inspired Mama
Do your kids love those fruit squeeze pouches? Don't throw away the lids- turn them into little puppets to hide in your kids' stockings!
Via Lalymom
Kids love play dough! Why not add a little Christmas themed hot cocoa cloud dough to their stocking this year?
Via Sow Sprout Play
If you have a child that's a bookworm, you can give them these DIY printable bookmarks in their stocking!
Via Picklebums
Add a stocking stuffer that your child can use outside later- how about some glow in the dark sidewalk chalk?
These personalized I-spy bottles provide fun, portable entertainment, and they're perfect for stockings!
Via Lalymom
This DIY kit means hours of fun for your child as they build their own robots over and over!
Via Picklebums
You'll add a little excitement to your child's next painting project when you gift them this DIY scratch and sniff paint!
This little DIY geoboard is small enough to fit in a stocking or carry along in the car!
Via And Next Comes L
These art dice provide your child with a prompt for their drawing, but still leave enough room for creativity!
Your science loving kids will go crazy for these DIY dinosaur eggs! Open them up and find a dinosaur inside!
These DIY bath crayons make a cute, colorful stocking stuffer for your kids!
Via DIY Natural
What a simple, creative way to gift wrap candy- in a sewn paper gift bag!
Via Peppermint Plum
These DIY Chalkboard Blocks are a great stocking stuffer for encouraging creative play!
Via Parenting Chaos