Polymer clay is so fun to create with. Get started with one of these 16 polymer clay crafts! These polymer clay ideas range from polymer clay animals to clay gift ideas you can make.  No matter what you choose, polymer clay is one of those fun gifts sure to bring a smile.
You'll love seeing what fun crafts you can create with clay and clay tools!  Polymer clay is used for arts and craft items (along with a few commercial applications) and can be found at your local craft store.
Plus, these are some of the most creative polymer clay ideas we've ever seen, so grab a cookie cutter and the right materials and let's work on some handmade gifts that will make even grandma happy.
What Brand Polymer Clay Should I Use?
The clay brand everyone loves is sculpey iii, but if you're just doing a fun project, you will be happy with any polymer clay from an online store. It's important to use the right materials, and not all clay is created the same, but it's still a great way to make easy clay crafts with your own hand.
What Do I do if My Polymer Clay gets Hard?
If your clay hardens, chop it up in tiny pieces (crumbles) and blend it (don't use your good kitchen blender). Add mineral oil, baby oil, clay softener or liquid polymer clay. Store in a plastic container for a few days to rest. If you simply need to soften the clay, warm it with your hands or microwave it for 10 seconds at a time until it is warm.
How Long Should I Bake Polymer Clay?
Follow the directions on your polymer clay to bake it.  Most require 275 degrees for 10-25 minutes depending on the size of your creation. 
Tip: Watch out for certain colors like red and yellow because it can darken quickly and bakes more effectively at a lower temperature.
16 Oven Bake Clay Ideas
Each polymer clay tutorial featured makes easy crafts no matter your skill level. Plus, with some acrylic paint and ceramic tile on the sculpey clay, you can really up your home decor.
1. Polymer Rose Jewelry
You and your kids will love making your own polymer clay jewelry! The cool thing about gilding your polymer clay is that it gives it an almost marbled effect.
Via Girl. Inspired.
2. Little Clay Gnomes
You can make a cute little gnome out of polymer clay! They make such a special gift! Everyone is gnome obsessed right now, so this works out really well as a gift for a teacher or even a best friend.
Via Lemon Zest
3. Popular Clay Beads
First you make polymer clay beads, then string them together to make these cute necklaces! You can also make polymer clay earrings to match.
Via Tuts+
4. Polymer Clay Dragon
Your kids will love playing with this little clay love dragon! He's one of those unique gifts everyone will flip for.
Via Kater's Acres
5. Mini Clay Gift Boxes
These miniature gift boxes are just the cutest little thing! This is such a fun polymer clay craft because it makes a special gift and is crazy easy to so. We are all about the simple polymer clay projects around here.
Via Ice Pandora
6. Clay Monster Horns You Can Wear
These DIY monster horns are so fun to make and wear! This is a super creative idea with tons of possibilities. Think little bear ears or bunnies!
Via The Roots Of Design
7. Clay Owl Stitch Markers
Don't lose your place when you crochet- use these owl stitch markers! You could make these with any clay animal really. It wouldn't have to take a long time.
Via Repeat Crafter Me
8. Polymer Clay Gargoyle
You can make anything out of clay- even this cute little clay gargoyle! I love the technique they used to give him that faux effect scaley loook. This would also make an adorable cake topper.
Via Kater's Acres
9. Clay Bow Necklace Craft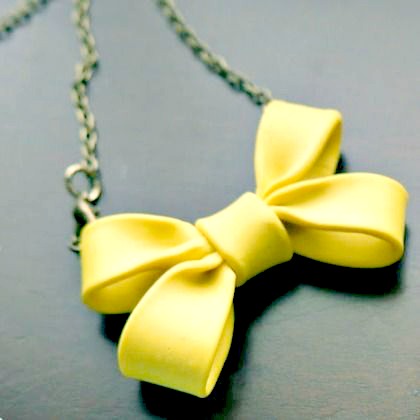 This DIY bow necklace would look cute with almost any outfit! It's basically cottage chic crafts in the coolest possible way.
Via Minted Strawberry
10. Polymer Christmas Ornaments
This clay snowman ornament would look so cute on your Christmas tree! Do you want to build a super cute snowman craft that is way easy and only takes minutes to make?
Yes, yes you do.
Via Lines Across
11. Clay Rainbow Bracelets
Kids will love making and wearing these bright rainbow polymer clay bracelets! You can even use cookie cutters to cut out shapes in them before you shape them.
These would be great to hand out at a pride parade or you could even make a little rainbow ring holder if you shaped it that way!
Via Babble Dabble Do
12. Polymer Clay Heart Necklaces
Marbled heart polymer clay necklaces are so fun for tweens! This is a super easy step by step tutorial for a fun teenage craft idea. I find these do best when you cook them at low temperatures.
Via Just For Tween And Teen Girls
13. Cutest Monster Earrings Craft
Add a little silliness to your wardrobe with these friendly monster earrings! And you can make tons of them and everyone you know can have these little monster mix and match cuteness.
Via Eighteen 25
14. Clay Penguin
This cute little penguin is ready to come and play! Don't you just want to grab Gumby and go on a stop motion filled adventure?
Via Creator's Joy
15. Clay Covered Pens
Reach for one of these gorgeous clay covered pens next time you need to make a list! This is an awesome gift idea for teachers that you can make yourself.
Via Creative In Chicago
16. Owl Ornament Craft
Add a little cute to your Christmas tree with these clay owl ornaments! Or add a few drops of essential oil and turn them into a car air freshener or a diy clay wall hanging.
Via Happy Go Lucky
Pin these 16 Awesome Polymer Clay Craft Ideas for Later:
More Crafts & Fun for Kids of All Ages
What was your favorite polymer clay craft? Which are you making next?