Polar bear crafts are a favorite thing to do during the winter months for kids of all ages staying warm inside the house or in the classroom!
Bring friendly arctic animals into your home with these 16 polar bear crafts for kids using simple craft supplies and art supplies you likely already have on hand.
Easy and Cute Polar Bear Crafts For Kids
We scoured the internet for our favorite kids polar bear crafts made from paper, paper plates, towels, handprints, craft rolls, watercolor paint, torn paper, shaving cream and even white chocolate…yum!
So, grab your markers, scissors and a glue stick because we are making polar bear crafts.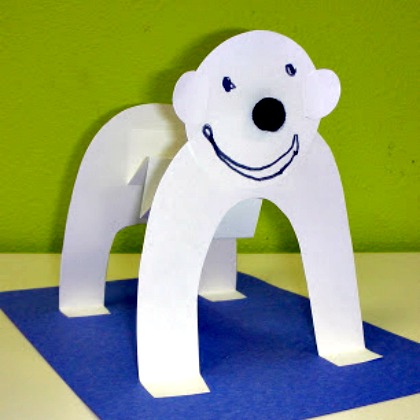 1. 3D Cardboard Polar Bear Craft
This polar bear craft Via Tippytoe Crafts is simple to make- and it stands on its own! Using simple office supplies like paper, cardboard and markers, you can make this really awesome polar bear to look over you.
2. Paper Plate Polar Bear Craft
You can make this paper plate polar bear Via Kids Activities Blog with materials you already around the house! It takes just one plain white paper plate and some additional white paper with glue and scissors…easy!

3. Fuzzy Polar Bear Craft
This fuzzy polar bear puppet Via Things For Boys can double as a washcloth at bath time! It uses a white towel, hand towel or 2 white washcloths to make this adorable polar bear that is great at bathtime.
4. Make a Handprint Polar Bear
Your child will love turning their own handprint into a handprint polar bear Via Love To Sew. We love handprint art here at Play Ideas and think this is such a cute way for even little kids as young as toddlers to make a polar bear.
5. Toilet Paper Roll Polar Bear Craft
Your child can turn an ordinary toilet paper roll Via Crafts By Amanda into an adorable little polar bear! Head to your recycling bin and pick up old toilet paper rolls or empty paper towel rolls and transform them with these cute instructions to add big paw prints to your polar bear.
6. Paint a Polar Bear Painting
This polar bear art piece Via It Is Art Day will give your child's creativity an opportunity to shine! I love how colorful the arctic is in this art project and how kids can layer different elements to make it their own.
7. Craft a Polar Bear Mask that You Can Wear

If your child loves dressing up, they'll love making and wearing these polar bear masks Via I Heart Crafty Things! The texture on this polar bear craft is created with tissue paper and really looks like real polar bear fur!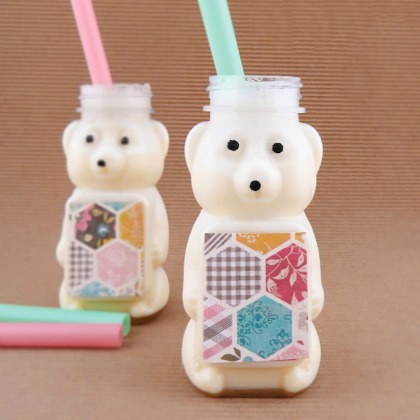 8. Make the Sweetest Polar Bear Milkshake in a Polar Bear Container!

When you serve a vanilla milkshake in a honey jar, it becomes a polar bear milkshake Via Smart School House! And serving them in polar bear jars (honey bear jars) just makes this the best polar bear treat around.
9. Make a Shaving Cream Polar Bear Face

This puffy shaving cream polar bear Via Parenting Chaos is such fun to paint! This polar bear craft is great for toddlers and preschool age kids who love to explore with their senses. It is a polar bear sensory craft!
10. Polar Bear Cookies Food Craft…Yum!

Turn ordinary cookies into delicious little polar bear cookies Via Hungry Happenings! Isn't it so cute that polar bear faces look a lot like nutter butters? This would be a cute snack for a polar bear themed class party.
11. Polar Bear Game You Can Craft

Your kids will have a blast making and then playing this DIY polar bear race game Via Little Family Fun! This polar bear kids craft turns into a polar bear game for kids…genius!
12. Create Polar Bear Pretzels

These white chocolate polar bear pretzels Via Hungry Happenings make a delicious wintertime snack! The white chocolate dip makes polar bear fur!
13. Polar Bear Art Project for Kids

This mixed media art for kids Via Art. Paper. Scissors. Glue! idea results in a pretty polar bear art piece! Kids can make something very lovely that will hang in the home for years to come.
14. Polar Bear Paper Plate Collage

Your child will love tearing up paper Via Hands On As We Grow to make this fun polar bear craft! Create a polar bear torn paper collage where the more irregular the texture, the fuzzier the polar bear appears.
15. Polar Bear Fan Craft
Here's a summertime polar bear craft! Via Mr Printables (unavailable) Make polar bear fans to cool you off in the hot months! Make a folded paper fan with a clothespin handle out of white paper and then add polar bear eyes and a nose with light pink circle cheeks…adorable!
16. Make Polar Bear Ornaments
These polar bear ornaments Via Mom On Time Out will look so precious on your holiday tree! Making polar bears for your Christmas tree will be something you can revisit every year at holiday time.
More Bear Crafts & Winter Fun from Play Ideas
Which polar bear craft will your child try first?