A 4-year-old toddler's mind is super creative! Harness that gift with these colorful and fun activities! Your child will love these 16 easy art activities for your 4-year-old!
These fun, colorful ideas will make for an afternoon of creative fun!
Colorful Art Activities For Your 4-year-old
1. Make a Creative Foam Mosaic
Got extra foam pieces? Your 4-year-old will enjoy cutting them up and making a foam mosaic! This art activity from The Craft Train reminds you to supervise your 4-year-old with scissors usage, of course!
2. The Perfect 4-year-old Painting Using a Basket!
Painting is so creative that your 4-year-old can use anything to paint with! Use a basket as a stamp with this fun art project from Kids Activities Blog!
3. Your 4-year-old can Use Watercolor on Canvas!
We're always thrilled to see an artist, right? Why not help your 4-year-old develop that creative talent at an early age? Create an easy masterpiece with watercolor on canvas activity from Learn With Play At Home!
4. Cookie Cutter Stencil Paintings for 4-year-olds
Everybody loves cookies! Now, you can use these cookie cutters for an easy and creative art activity! Your 4-year-old can use cookie cutter stencils to make a beautiful fall-inspired tree art activity from Kids Activities Blog!
5. Create an Art Masterpiece Using Broken Crayons!
Most 4-year-olds love just loves breaking crayons. But don't throw them just yet! This idea from Kids Activities blog makes use of broken crayon pieces, turning them into a raised painting!
6. A Beautiful and Fun String Art for 4-year-olds
This string art tutorial by Preschool Powol packets makes such interesting, swirly designs! Your 4-year-old will fall in love with paint, strings, and pulling off this easy art activity!
7. Teach your 4-year-old This Paper Weaving Activity!
You might remember this craft from your own childhood! What fun to introduce your 4-year-old to paper weaving activity from Kids Activities Blog too!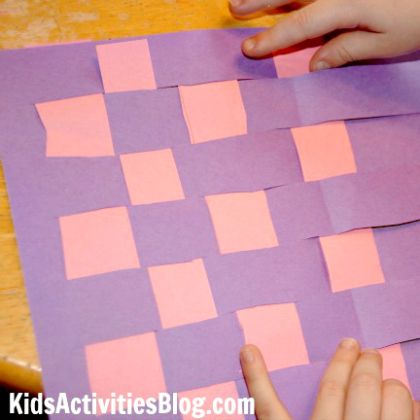 8. A Creative Bubble Painting Activity for 4-year-olds
Art activities with your 4-year-old are so fun! Your kids will be delighted with these cool designs created by bubble painting activity by Housing a Forest!
9. Color the Fun with Glue and Paint Art Activity
Get your 4-year-old's creative wheels turning by combining glue and paint into a single piece of art activity with this idea from Learn With Play At Home!
10. Make a Masterpiece with Salt Paints for 4-year-olds!
Your 4-year-old will surely love to explore texture with these beautiful salt paints art activities from Kids Play Box!
11. An Epic and Creative Glowing Ice Paint Activity!
Add some summer fun with your 4-year-old! This glowing ice paint art idea from Housing a Forest would make a great summer cool-down activity!
12. Make this Creative Stapler Art Activity with Your 4-year-old
Got a 4-year-old who loves stapling? Why not let them turn staples into art with this easy art activity from Tiny Rotten Peanuts?
13. Leave Colorful Paint Marks on the Tiles
Did you know you could paint on tile? This easy and fun art activity from Preschool Powol Packets lets you preserve your 4-year-old's art by making a print onto a piece of paper afterward!
14. Bake Those Creative Arts by Your 4-year-old!
Baking can be introduced to as early as 4 years old! Create a puffy paint design by "baking" your artwork in the microwave with this creative art activity by Housing a Forest!
15. Make Circle Arts and Abstract Art Activities with 4-year-olds
Your 4-year-old should know that you can create art out of anything. Teach them that by turning simple objects from home into creative circle art with this activity from Fun-A-Day!
16. Watch the Clouds with 4-year-olds and Paint them!
Take your 4-year-old out for a stroll! An afternoon of cloud watching provides inspiration for these cloud paintings from Coffee Cups and Crayons!
More Fun Crafts and Activities from Play Ideas!
Ready to pick one idea for todays' activity? Which one does your 4-year-old choose?