Explore the wonderful versatility of tissue paper with these tissue paper crafts for kids. There are so many different crafts that can be created from humble tissue paper!
Happy tissue paper crafting!
Easy to Do Tissue Paper Crafts For Kids at Home
1. DIY Tissue Paper Jetpack Craft for Kids
This adorable DIY tissue paper jetpack for kids by Kids Activities Blog is perfect for the space or superhero enthusiast in your life. Fun!
2. Create Tissue Paper Mason Jar Lanterns
Your kids will love making these tissue paper mason jar lanterns by Buggy and Buddy! They're perfect for bringing along on dusk, fall walk!
3. Tissue Paper Chicks for Easter!
These little tissue paper chicks by Red Ted Art birdies are not your ordinary Easter egg! they're so cute, kids will love!
4. Make this Tissue Paper Tie-Dye Butterflies Craft with the Kids!
These tissue paper tie-dye butterflies by Housing A Forest are so fun to make with the kids! It's even more fun to play with! Yay!
5. DIY Colorful Tissue Paper Lanterns
These colorful tissue paper lanterns by Red Ted art will look so gorgeous during a summer evening chill outside with the kids. Yay!
6. Do Tissue Paper Monet Poppy Collages with the Kids!
Your kids can create their own twist on classic art with this tissue paper monet poppy collages by Meaningful Mama. A fun art activity!
7. Create a Tissue Paper Jelly Fish Light Craft with your Kids!
Follow this DIY tissue paper jellyfish light tutorial by Kids Activities Blog and let your kids turn a sea creature into a tissue paper lamp! Yay!
8. Easy Tissue Paper Globe Craft with the Kids!
Your kids will have the whole world at their fingertips when they create this tissue paper globe craft by Meaningful Mama! Amazing, right?!
9. Make a Colorful Stained Tissue Paper Glass Kites with the Kids!
This colorful stained tissue paper glass kite by Make and Takes is just so perfect for a window display. Perfect for kids who loves to see colorful kites every day too!
10. DIY Hexagonal Tissue Paper Art Craft To make with the Kids!
Play colorful paints as you try this hexagonal tissue paper art craft by Fiskars with your kids! That will definitely look gorgeous on your wall!
11. Create an Apple Tree Tissue Paper Craft!
Have fun creating this bright apple tree tissue papercraft by I Heart Crafty Things with the kids today! Perfect art activity for celebrating autumn! Yay!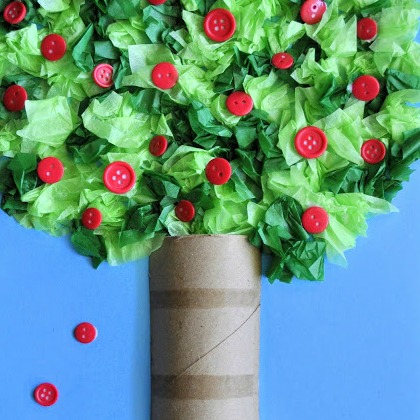 12. DIY Mini Tissue Paper Campfires!
Go camping with the kids together with the dollies and toys with this mini tissue paper campfire (unavailable) by Home Sweet Homebodies! So cute!
13. Adorable Tissue Paper Turkey Craft
This adorable tissue paper turkey craft by Cooking With Ruthie is such a cutie! Great for color matching activity with the kids as well!
14. Milk Jug Tissue Paper Elephant Craft
Isn't this milk jug tissue paper elephant by The Imagination Tree just the cutest little thing? Your kids will love decorating it with a rainbow of tissue paper squares!
15. Colorful Tissue Paper Clipboard to make with the Kids!
Your kids will love making this colorful tissue paper clipboard by Inner Child Fun. They can also use it to make more art! Yay!
More Easy and Colorful Tissue Paper Crafts To Make with Your Kids From Play Ideas
Which tissue papercraft are you going to do with your kids today?