Throw out your glue, glitter and markers as We have the coolest list of outdoor crafts and art ideas that kids of all ages will adore! Kids can use the fresh air of backyards as inspirations for fun outdoor arts and crafts. These fun outdoor activities includes creating beautiful art in the great outdoors with pieces of nature and are perfect for the summer months. Plus they allow your child to experience a variety of unique mediums furthering their creative process and perhaps become some of their new favorite things!
Favorite Outdoor Arts & Crafts Activity Ideas for Kids
There are so many wonderful art materials waiting just outside your front door! these crafts are a fun way to get your child outside and expressing their creativity!
1. Make this Fabulous Andy Goldsworthy Inspired Art Outside!
Your kids will love making this colorful Andy Goldsworthy inspired art by Red Ted Art! It's so easy to make, anyone could make it. Just grab some colorful leaves outside and have fun making this!
2. Have Fun Time Collecting Items on a Nature Walk
When you collect items on a nature walk, help your kiddos explore symmetry! They will have so much fun learning this activity by Buggy And Buddy while outdoors! The outdoor play makes kids think about how the outside is full of art in different ways.
3. Super Cool Nature Paintbrushes Made from Evergreen Tree
Paint with these super cool nature paintbrushes by Learn Create Love. Make these paintbrushes while exploring the forest. Every stroke with these natural paintbrush will make the kids love doing art projects!
4. Branch Art for the Playful Outdoor For Your Artistic Kids
If your child loves to collect branches, why help them make some branch art? Kids will be proud hanging their amazing this project by Art Bar Blog in their room! I love outdoor craft ideas that are this simple. The holidays would be a great time to try this again.
5. Easy-to-make Art from Bark Rubbings Outdoor Art Activity
Bark Rubbings by The Seasoned Mom (unavailable) are such a simple, classic outdoor art project! The feeling of the bark's texture can enhance their sensory experience. the sketching process can also be quite fun! This is definitely kids-approved activity! Toddlers are great at this activity!
6. Nature Weaving Project that Looks Like Bouquet!
This nature weaving project by Child In Harmony is a great way for your child to collect goodies during a nature walk! Put lots of flowers, twigs and colorful leaves on this natural weave to make it look like a bouquet that you could give to anyone. Cool art ideas! plus they make for great decorations and sculptures!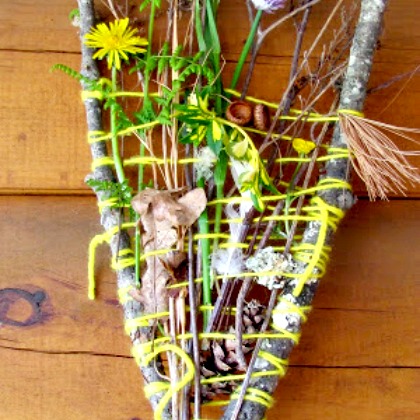 7. Make Nature Mandalas Made from Sea Shells
Nature mandalas for kids by Playful Learning are so pretty, and easy to make! Those sea shells, pine cones, acorns, feathers and flower petals that kids love collecting would make a good Mandala art piece!
8. Kids Will Love Painting With These DIY Colorful Mud!
Bet you didn't know you could make paint out of mud! You'll definitely want to stay outdoors for this activity by Learn Play Imagine as it can be quite the mess! This takes playtime to a whole new mud pie level! My preschool age kids love this so much!
9. Enjoy the Thrill of Painting with Rocks
When the weather is nice, take your children outdoors and give painting with rocks by Fantastic Fun And Learning a try! Make your rock wall a great canvas for your own little painter to paint on! plus all you need are rocks, no paint brushes necessary!
10. Awesome And Easy Leaf Rubbing Art
Have your kids tried making a leaf rubbing artwork by Edventures With Kids yet? You will never regret trying this super awesome art project from leaf rubbing! the finished product looks incredible and all it requires is some wax paper and crayons!
11. Colorful And Magnificent Outdoor Salt Art
You will never feel salty from this outdoor salt art by Buggy And Buddy. It is so cheap and easy to make, just grab a pack of salt and dye it using food coloring. Those kiddos would never regret doing this art!
12. Pretty Nature Faces Made from Everything Natural
You'll have so much fun making nature faces by Make And Takes with materials gathered outdoors! Taking silly pictures of your kids with this art is highly recommended! No googly eyes needed for these outdoor art ideas!
13. Tricky and Easy Camouflage Art Kids Would Love!
Your child will learn how camouflage works when they create their own camouflage art by Fireflies And Mud Pies! You can treasure hunt and use this camouflage technique to hide the treasure from your kids. It will make hunting much more exciting! or you could create some collages for wall art ideas!
14. Create this Abstract Water Balloon Art in Your Pool!
Do something out of the ordinary with water balloons this summer- try making water balloon art by Lasso The Moon! Do this art craft with the kids in the pool. This highly recommended outdoor activity that kids would approve of!
15. Lovely and Awesome Sea Shell Mosaics
Don't throw away those beach keepsakes you collected! Follow this tutorial to turn them into sea shell mosaics by Alpha Mom. Embedding sea shells on cement is like an engineering work of art!
16. Make Bubble Art
This fun bubble painting activity is perfect for outdoors and kids of all ages will want to get involved using colored bubble solution mixture. It is incredible the kinds of patterns a simple straw can make!
17. Make Shadow Art Using the Sun
This easy art idea is shadow art created by the sun and your child's favorite toy's shadow. Oh so much fun!
More Fun & Exciting Art Projects From Play Ideas
Which of these Outdoor Art Projects would you like to try out with your kids?