Create some beautiful art in the great outdoors with these 15 outdoor art projects for kids!
There are so many wonderful art materials waiting just outside your front door!
15 Outdoor Art Projects For Kids
Your kids will love making this colorful Andy Goldsworthy inspired art!
Via Red Ted Art
When you collect items on a nature walk, you can use them to explore symmetry!
Via Buggy And Buddy
These nature paintbrushes are so fun to make and paint with!
If your child loves to collect branches, why help them make some branch art?
Via Art Bar Blog
Bark rubbings are such a simple, classic outdoor art project!
Via The Seasoned Mom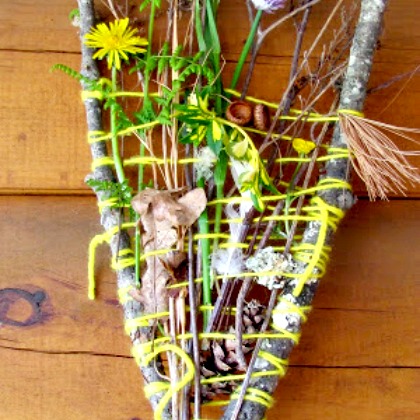 This nature weaving project is a great way for your child to collect goodies during a nature walk!
Via Child In Harmony
Nature mandalas for kids are so pretty, and easy to make!
Via Playful Learning
Bet you didn't know you could make paint out of mud! You'll definitely want to stay outdoors for this activity!
When the weather is nice, take the kids outdoors and give painting with rocks a try!
Via Fantastic Fun And Learning
Have your kids tried making a leaf rubbing yet?
You may tried making salt art before, but have you tried outdoor salt art?
Via Buggy And Buddy
You'll have so much fun making nature faces with materials gathered outdoors!
Via Make And Takes 

Your child will learn how camouflage works when they create their own camouflage art!
Do something out of the ordinary with water balloons this summer- try making water balloon art!
Via Lasso The Moon 

Don't throw away those beach keepsakes you collected! Turn them into sea shell mosaics!
Via Alpha Mom