Learning Science with balloons is so fun! Running out of ideas? We got your back! Your kids will surely have fun with balloons while creating awesome science experiments at the same time!
Your kids will love playing with the balloons and you'll love that they are learning Science!
Cool and Awesome Balloon Science Experiments
1. Learn Static Electricity with Balloons
Learn the science behind ballons and hair by doing this static electricity science experiment from Kids Activities Blog!
2. Make a Muscle Model from Balloons
Teaching the muscular system can be tricky. Well, this science activity by Kids Activities Blog can help you! Your kids will learn how muscles work by making a muscle out of balloons.
3. Use Balloons to Measure Distance
Winds can make an object move from one place to another. This awesome balloon science experiment by Kids Activities Blog uses Balloons to measure the power of gusts of air to see how far objects can travel. Blow some balloons and get the fun started!
4. Awesome Electric Fan and Balloon Experiment
Your toddler is sure to have fun with this cool balloon experiment by Kids Activities Blog! Let them throw balloons in front of a fan and watch how fast the balloons will bounce back to them!
5. Discover Static Electricity with Balloons!
Have your kids ever wondered what exactly is Static Electricity? In this awesome science activity by Kids Activities Blog, they will learn the science behind static electricity all while using balloons!
6. Launch a Balloon Rocket for Kids
Your child surely gets curious about how rockets work! Launch a balloon rocket into space in this space lesson by Kids Activities Blog and see your kids watch in awe!
7. Balloons Can Teach About Sounds!
Who knew you could use balloons to learn about sound? This awesome science activity from Kids Activities Blog gets the kids moving, thinking, and listening as you learn about sound!
8. Fun LEGO and Balloon Race
Air can fuel your kid's LEGO cart! Create this LEGO balloon car kit from Little Bins for Little Hands and see how far the balloon can make the car can go!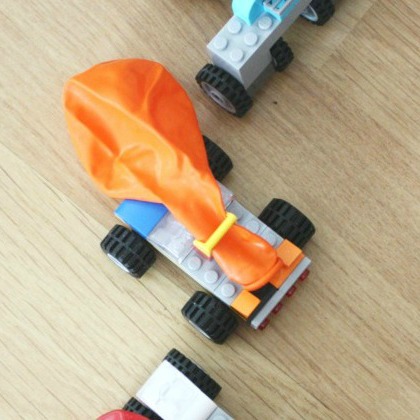 9. Teach Kids about Matter Using Balloons
Your kids will love learning about science using balloons to compare liquids, solids, and gasses. This fun idea from Momma's Fun World will get your kids to love learning!
10. Cool Balloon Sensory Play
This science experiment from Everything and Nothing can be a fun sensory play! Create tactile balloons with different items inside them to explore the 5 senses.
11. Helium and Balloon Experiment
Does your kid ever wonder why some balloons float? Learn about weight in this activity by Mess for Less to learn how many helium balloons it takes to lift a bag.
12. Learn Physics with a Penny and a Balloon
Did you know you can spin a penny inside a balloon? Try this super awesome physics experiment from Juggling with Kids to find out!
13. A Cool Polar Bear Experiment for Kids
Learn about Polar Bear facts and use balloons to learn about polar bear insulation with this science experiment from Preschool Powol packets. Do it with ice water and your kids will surely fall in love with this experiment!
14. Awesome Hot Air Balloon Science Experiment
Your kids will love making their own hot air balloon experiment by Diapers to Diplomas using construction paper, balloons, and string! They'll also have fun reading some hot air balloon books and learning about how things go up!
15. A Solar System Made up of Balloons!
This great idea to use balloons to represent the different planets in the solar system is the coolest! This idea from Creekside Learning is so awesome your kids will have fun making them!
More Awesome and Fun Activities from Play Ideas!
Which awesome balloon activity is your kid's favorite?