Sand and kids match perfectly together! Whether you're at the beach or not, your family can have a good time this summer with these super fun sand activities for kids. Let's have some summer fun and play with sand!
Hours of fun digging, building, and creating with sand await you and your kids!
Creative and Super Fun Ways to Play with Sand For Kids
1. Your Very Own Beach in a Box
Even if you don't live near the beach, your child can still have fun searching for seashells on this beach in a box idea from Kids Activities Blog!
2. DIY Moon Sand for Kiddos
This homemade moon sand by Learn Create Love is so fun to squish and shape. Preschoolers will have a really good time playing with this much fun sensory play!
3. Bright Sand Painting Activity
Add a little texture to your little one's basic painting activity by using this sand paint idea from Learn Play Imagine! Look at that cute little hands doing a colorful sand play! Perfect for toddlers!
4. Cute Sand Art Jars
Wanting to make sand art jars? You can make DIY colored sand from Busy Kids Happy Mom to use in them too! You'll need some glue, own coloured sand, a mini jar with lids, and loads of fine motor skills to practice that hand eye coordination in this activity.
5. Preserve Your Footprints in the Sand
This craft idea by Paging Fun Moms lets you preserve your child's footprint in the sand forever (unavailable)! This would also make a great gift for a family member! Such beautiful treasures.
6. Greeting Cards with Sand Art Designs
Your kids can use sticky contact paper to make a unique sand art piece or greeting card craft by Red Ted Art! You may use any regular sand (but make sure it's dry sand), set them on a sand table, and follow the tutorial to make some cool shapes.
7. Fun Erupting Volcano
It's a classic childhood activity that never fails to get kids excited: the erupting volcano! Your kids will love this kinetic sand idea from Kids Activities Blog.
8. Rock Made from Sand
Ever tried making a rock? Your kids will love this activity by Fantastic Fun Learning! Plus they'll be learning about geology too! This might be a cool partner activity with kinetic sand dinosaur excavation paly.
9. Imprinted Seashells on Sand
Does your child love to collect seashells at the beach? Turn them into a cute seashell keepsake with these steps from Local Fun For Kids! Even 4 year olds can do this!
10. Memory Game with Seashells
Reimagine a classic game of memory by hunting for objects under seashells! A fun way to spend your summertime with this activity is by Kids Activities Blog! Now you can hide them with wet sand, but don't dig with shovels, okay?
11. Explore Sand Foam with Dinos
Your child will love exploring sand foam through this simple open-ended play activity by Parenting Chaos!
12. List of Beach Activities!
There are so many different ways to play at the beach! This list from Nate and Rachael has 35 different ideas for you and your kids to try!
13. Lovely Sand Fairy Garden
All your child needs are some sand and a few loose garden pieces to make a pretty fairy garden by Nurture Store!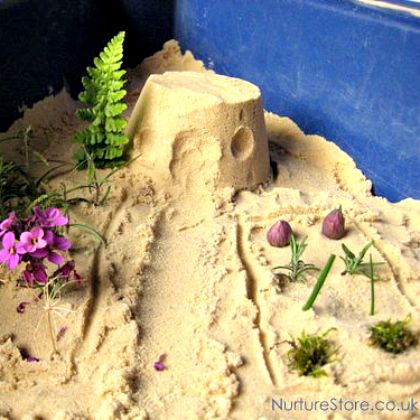 14. Beach-Themed Sensory Box
Start with a simple beach-themed sensory box, then add some water to turn it into a tide pool! Your kiddo will love this fun activity by Buggy And Buddy!

More Fun and Creative Activities for Kids of All Ages from Play Ideas!
Which super awesome sand activity is your kiddo's favorite?