Can crafts are a great way to teach your kids about recycling and have a crafty fun time!
These recycled tin can crafts for kids are a blast for the whole family because they're everything from fun decorations to interesting art pieces that you might not have ever thought of!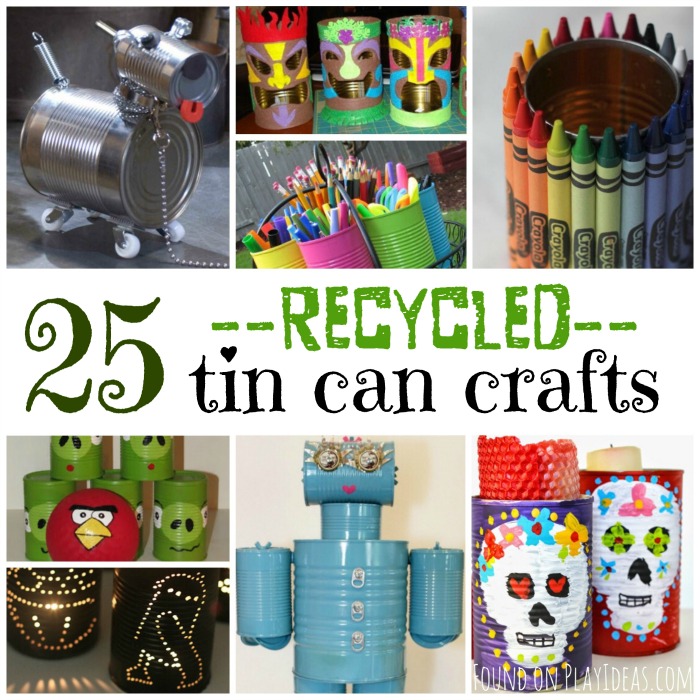 Get ready for some fun recycling time with these art ideas!
Fun and Awesome Tin Crafts for Kids of All Ages
1. Angry Birds-Inspired Bowling
Bowl for pigs with this fun homemade Angry Birds game idea from Homemade Beauties By Heidi!
2. Crafting Station with Can Holders
Set up a crafting station outside using painted cans to carry the supplies, like this one from Controlling My Chaos!
3. Tin Can Bongo Drums
Boom boom, ain't it great to be crazy! Especially with these tin can bongo drums from Kids Activities Blog!
4. Lovely Candle Holders
Create gorgeous candle holders by painting tin cans and using them year-round as you can see in this creative project by Plenty Of Paprika!
5. Cool Crayola Vase
Make a recycled but fun Crayola vase for that teacher or babysitter your kids love so much! Smart craft by Donuts, Dresses, And Dirt!
6. Upcycled Tin Can Bot
Your kids will love getting whacky and wild making their own tin can crazy bots like this one from Laura's Crafty Life!
7. Dog Craft Made of Tin Cans
Man's best friend? Man's tin can best friend (unavailable)! Such a cute recycled project from Martha Stewart!
8. Lovely Upcycled Tin Cans
How awesome are these tin can cans made from fabric and other crafting supplies? Thanks to Uncommon Designs for this lovely idea!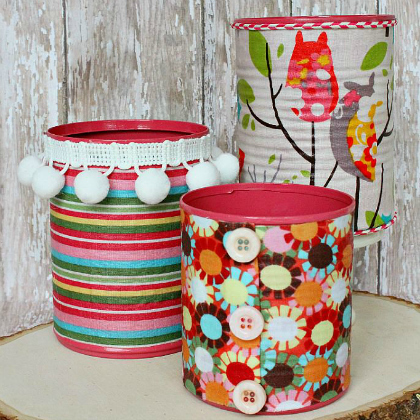 9. Beautiful Tin Can Flowers
Decorate your garden with these tin can flowers by We Made That. They're in bloom year-round! Just be extra careful in cutting the tin can!
10. Insect Tin Cans
Your kiddo can add a few not-so-pesky creatures like these ones by My Very Educated Mother to make things colorful even before the growing starts!
11. Tin Can with Old Keyboard Design
Your tech kid is going to go crazy making this pencil holder out of an old keyboard! SUper crafty project from Recyclart!
12. Love Bug Can
Bring the love with this can love bug project from A Little Pinch Of Perfect!
13. Magnetized Pencil Holder
This locker can be magnetized so your older kiddo can keep it out of the way in their school locker. What a clever space saver project by Crafts By Amanda!
14. Cute Marionette Family
This crazy recycled can marionette family wiggle, jiggle, and dance! Find out how to make these from Adventures At Home!
15. Noisemaker Cans
Create fun kid art by using cans as noisemakers in this craft idea from Greening Sam And Avery!
16. Recycled Silly Planters
These silly planter faces (unavailable) recycling ideas from Live Craft Love make perfect gifts from your crafty kid to their favorite adult.
17. Cool Tin Can Robot
You might have to collect a few cans to make this robot, but the final assembly is worth all that work! Your kiddos will enjoy crafting this fun bot idea from Thrifty Fun!
18. Fun Process Art Activity
Create a process art experience your kiddos will remember by using cans to roll the paint onto paper! Get the fun time rolling in this activity by Playful Learning!
19. Recycled Tin Can Scarecrow
This tin can scarecrow project from Crafty Imaginings isn't very scary. In fact, he's there to welcome everyone to your humble abode!
20. Cat in the Hat Tin Craft
Want to have fun crafting with Dr. Seuss? Make this tin can hat made just for a cat following the tutorial from Plaid Online!
21. Lovely Punch Can Lanterns
Create some punch can lanterns in the shapes of your favorite Star Wars episodes and send your child to dreamland thinking about the stars! Very cool recycling idea by Frugal Fun For Boys!
22. Storage Cans
Tin can cans are great, but add some lids and you've got a perfect secret storage place for all your child's favorite things! Try this cute project from Good Ideas For You!
23. Beautiful Constellation Cans
Want to really dream amongst the stars? Use constellations to create constellation cans that'll shine onto the walls, like these ones by Coffee Cups And Crayons!
24. Tiki Torch Cans
Uga chaka uga chaka! These tiki torch can ideas from Craft Foxes are perfect for a backyard survivor game at your own home!
25. Tin Can Train Project
Give your little train enthusiast a craft they'll adore with this tin can train like Thrifty Fun! Choo Choo!
More Recycling Projects and Crafts from Play Ideas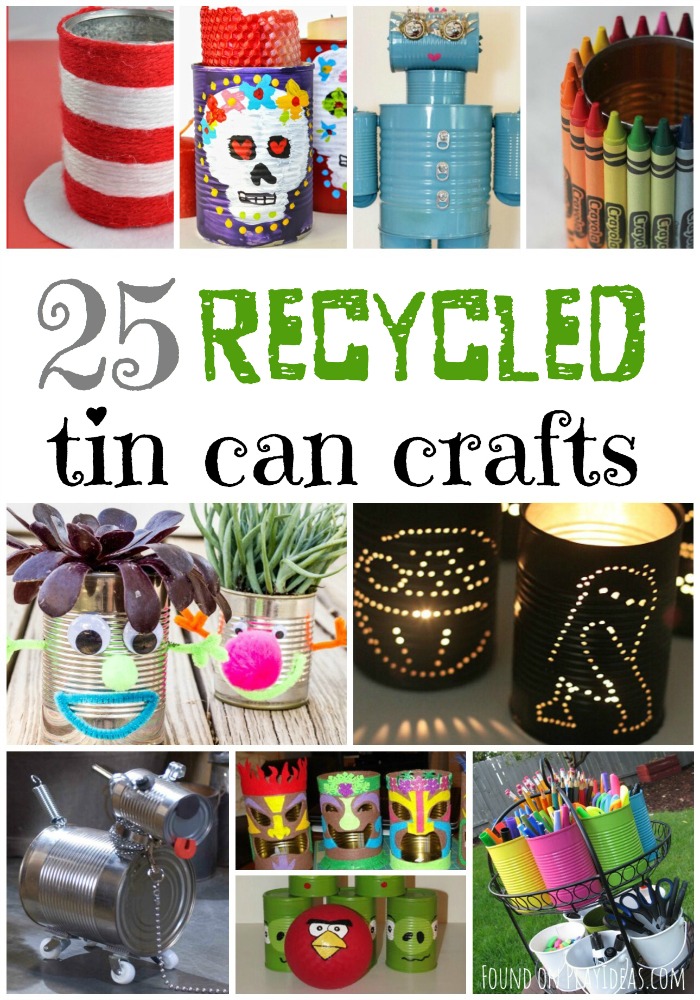 Which recycled yet fun tin can craft are you doing with your kiddos today?