Forts are where kids plot to take over the world. Where they dream. Where they pretend, imagine, play, and create. Your child may have seen box forts all over YouTube and got inspired, so here are some great fort ideas that they can do with parent's help!
These epic cardboard forts are so amazing your kids won't want to leave them…but don't worry, they'll always promise to be home for dinner. Building forts provides for countless hours of fun, and lets your child imagination run wild. It can even assist in the leadership skills of a child, while also decreasing screen time.
These cardboard forts will give your kids hours of fun and years of memories! Enjoy!
Super Fun and Epic Cardboard Forts for Bigger Kids
1. Cool Fort City
This fort city idea from Pizzazzerie is perfect for any kid superheroes (or supervillains) in your life! These are super easy to make, and will quickly become your toddler's favorite activity!
2. Awesome Carton Rocket Ship
Busy little baby hands will have a blast with this rocket ship fort project by Kate's Creative Space! It has turnable knobs, a colorful port window, and plenty to play with inside! with some sturdy cardboard panels, this ship can blast off to space!
3. Old MacDonald's Barn Fort
If Old MacDonald had a fort, this would be it. Your kiddos will go ee ei ee ei oh when you finish this awesome fort idea from See Vanessa Craft! These old-fashioned homemade forts are a great couple of hours, and can be done at the grandparents' houses if their bored!
4. Epic Old West City
Your kids will have rootin' tootin' fun in this old west city fort by Peckleed Creative Studio! Yeehaw, I believe it's time for a sarsaparilla break, little cowboy! These fun buildings will bring your backyard to a whole new level, and provide endless possibilities for play and story telling!
5. Awesome RV Fort
Who needs the great outdoors when your child can travel the imagination highway in this indoor RV fort by The Merrythought? Your child can even outfit it with some interior comfort such as couch cushions or furniture pieces.
6. Lovely Castle Fort
This elaborate castle fort by Impressed Inc with climbing ivy and turrets will impress any royalty in your family! This activity makes for great father daughter time.
7. Fun Cardboard Playhouse
This cardboard playhouse idea from Rust and Sunshine has an actual doorknob and real knobs to open and shut the shutters. Whoa!
8. Make-Shift Playhouse for Kids
It won't take much to construct this make-shift playhouse idea from Life as a Thrifter, but don't worry, it'll still provide hours of fun.
9. Collapsible Fort with a Reading Nook
This fort by UnicornHatParty has an awesome reading nook and it collapses for easy storage!
10. Safety Fortress for Kids
I don't know who Rex is, but your kiddos should not go into his fortress fort without permission! Or you can just put your kiddo's name in this fun fort idea by Kat This Kat That!
11. Two-Story Outdoor Fort
This two-story clubhouse project by Instructables might not look like much, but it comes equipped with a climbable ladder and a working slide!
12. Epic Triangular-Slatted Fort
You might need a degree in engineering to construct this triangular-slatted fort from Tales of a Monkey, a Bit, and a Bean, but the end results are truly epic!
13. Superhero Telephone Booth
Your child might go in, but only superheroes come out of this telephone booth by Apartment Therapy!
14. Giant Cardboard Rocket Ship
How do you make a giant cardboard rocket ship fort shine? With aluminum foil and duct tape, of course! And be sure to follow the steps from Filth Wizardry! This is a great activity to do with friends and ca help better social skills!
15. Pizza Parlor Fort
How do you give your fort some pizzaz? With a little red paint and a bright blue door while following the tutorial from Artsy Craftsy Mom, of course!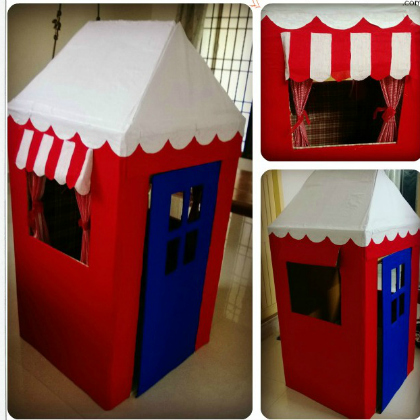 16. DIY Grocery Store Playhouse
Who wants a lemonade stand when they can have this outdoor grocery store fort by Ikatbag? Happy shopping! great for an old daughter who has some baked goods to sell!
17. Modern House Designed Fort for Kids
Pitched roofs are so last year. Modern kids want modern architecture in their forts, like this one from Inhabitat! before long your little architect will be creating incredible structures!
18. Epic and Colorful Castle Fort
If you have masking tape you have everything you need to decorate this bright, colorful castle fort like this one from Built By Kids! making a big fort like this is great for bettering fine motor skills, or hand eye coordination. Plus its fun, and your child will be up late building forts if your not careful! all the walls are a blank canvas with a fort like this!
19. Super Mario-Inspired Fort
I'm not sure where Mario is, but since this is a party in his honor I'm fairly certain he's in this fort by Pam-a-Rama Ding Dong…
20. Epic Fort with Chimney
If your fort doesn't have its own chimneys like this one from Charcoal and Crayons, you're missing out on something!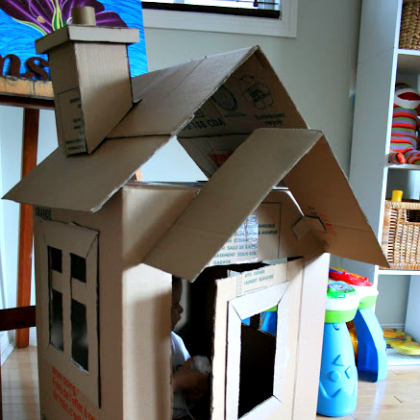 21. Cool Homemade of Cardboard Boxes
Believe it or not, the inside of this fort is big enough for a stove, refrigerator, microwave, shelving, and a reading nook! How? Follow the tutorial by My Make Do! This step by step guide will have your child making a beautiful home in no time!
22. Giant and Epic Colossal Fort
It's gonna take a whole lot of cardboard to build this gigantic colossal fort by Super Colossal, but it'll be worth it! It's like a giant maze in there!
23. Enormous Gingerbread House
This super-sized gingerbread house idea by Inner Child Fun is so strong it'll even withstand Hansel and Gretel!
24. Fancy House Fort
This fort is decked out fancier than some houses. The mail carrier will actually even deliver to that mailbox if you make this fort idea by This Girls Canon! putting a blanket over the top of the forts makes for a great roof!
25. Neat Slot and Tab Fort
The best thing about this slot and tab fort by Project Little Smith is that it can come apart for storage and be rebuilt over and over and over again! these fort kits are super easy to make, and are a perfect gift for any young creative kid!

More Super Fun and Epic Crafts from Play Ideas!
Which epic cardboard fort is your kiddo's favorite to create?