'E' stands for elephant. Excited and enormous! Just what kindergarteners love. These 25 Cute Elephant Crafts for Kindergarteners are sure to be a huge hit since they were specifically chosen for kindergarteners.
Your kindergarteners will enjoy making all the cute elephant crafts, paper elephants, elephant toys, elephant's trunk, and more with cereal boxes and crayons!
Let's start crafting. Have fun!
Cute Elephant Crafts for Kindergarteners
1. Cut A Big E for Elephant
Big E is for elephants by Miss Maren's Monkeys. This cute paper elephant craft will help your kindergartener practice their cutting skills, too.
2. Easy Cardboard Standing Elephant
Recycle that old cardboard into this adorable standing elephant fun craft by A Patchwork Life. Kindergarteners will love!
3. Turn Old CDs into an Elephant
You're not using that CD anymore, so why not turn it into a CD elephant (unavailable) by Arts and Crafts for Kids! No old CD purchases are wasted!
4. Cupcake Liner Elephant Craft
Cupcake liners by I Heart Crafty Things are wonderful for crafting and a fun way to make a cute as can be an elephant.
5. Kirigami Japanese Paper Cutting Style Elephant Craft
These elephants by The Little Traveler were cut out of one piece of paper – like a snowflake!
6. Decorate Some Beads to the Elephant
Your child will love adding jewels to this colorful elephant by Activity Village!
7. Make an Elephant Face Mask
Decorate this elephant face mask by Activity Village and your kindergartener can run around the house playing pretend for the rest of the day.
8. Elephant Silhouette Canvas Artwork
This adorable elephant silhouette by DIY Network is easy for small crafters and makes for adorable, long-lasting art.
9. Suncatcher Elmer The Elephant Craft
Hang this sweet suncatcher elephant by Crafts on Sea in your kindergartener's room window to enjoy the rays.
10. Long Trunk Elephant
This elephant has a long trunk by Zayit and Ziva that folds up into a tiny little square.
11. Easy Origami Elephant Craft
Speaking of folding, with a little practice your kindergartener will be able to make this origami elephant by Hodge Podge Craft all by themselves.
12. Handprint Elephant
Make memorable art for your kindergartener with this happy handprint elephant by Learn Create Love!
13. Elephant Heart Craft
Who doesn't love an elephant made out of hearts by Crafty Morning? Made from toilet paper roll and cards. This construction paper craft will get your kid excited to have their very own elephant!
14. Small Letter e for Elephant
Little 'e' is also for elephant by Confessions of a Homeschooler and this elephant is going places!
15. Milk Jugs Elephant Elmer Craft
Did you know milk jugs by The Imagination Tree make great elephants? Create one with your kindergartener!
16. Noisemaker Elephant Nose Craft
With a noisemaker for a nose by Storytime Katie this elephant will sure have a lot to say!
17. Gorgeous Asian Elephant Craft
How gorgeous is this Asian elephant picture by Kid World Citizen? Your kid will love crafting it and you're going to love showing it off.
18. Paper Plate Elephant
This paper plate elephant by Learn Create Love is super sweet and your child will love the scissor practice.
19. Cut-Out Elephant Shapes Craft for Kindergarteners
How many shapes can you spot in this cut-out shapes elephant by Learning 4 Fun? Guess now!
20. Sponge-Painted Elmer The Elephant
Your kindergartener can use a sponge to stamp out the colorful squares by Buggy and Buddy on this adorable elephant.
21. Standing Origami Elephant
Want more origami practice? Teach your child to make this standing origami elephant (unavailable) by Birdee and watch an elephant army come to life.
22. Colorful Toilet Paper Fun Elephants
These fun elephants (unavailable) by The Craft Train are made out of toilet paper rolls and are a perfect opportunity for your kindergartener to practice paint and cutting.
23. Stenciled Watercolor Elephant
This watercolor elephant by Grow Creative was made with a stencil. It's a great project for you and your child to work on together!
24. Paper Bag Elephant Puppet
How funny is this paper bag elephant puppet by DLTK's Crafts for Kids? Help your kindergartener make it and they'll have fun playing with it for hours.
25. Make an Elephant Toothpaste Craft
Once all that elephant crafting is done, you should show your kindergartener this awesome video about how to make elephant toothpaste by Hallecake. Yay!
More Fun Elephant Crafts for Kids from Play Ideas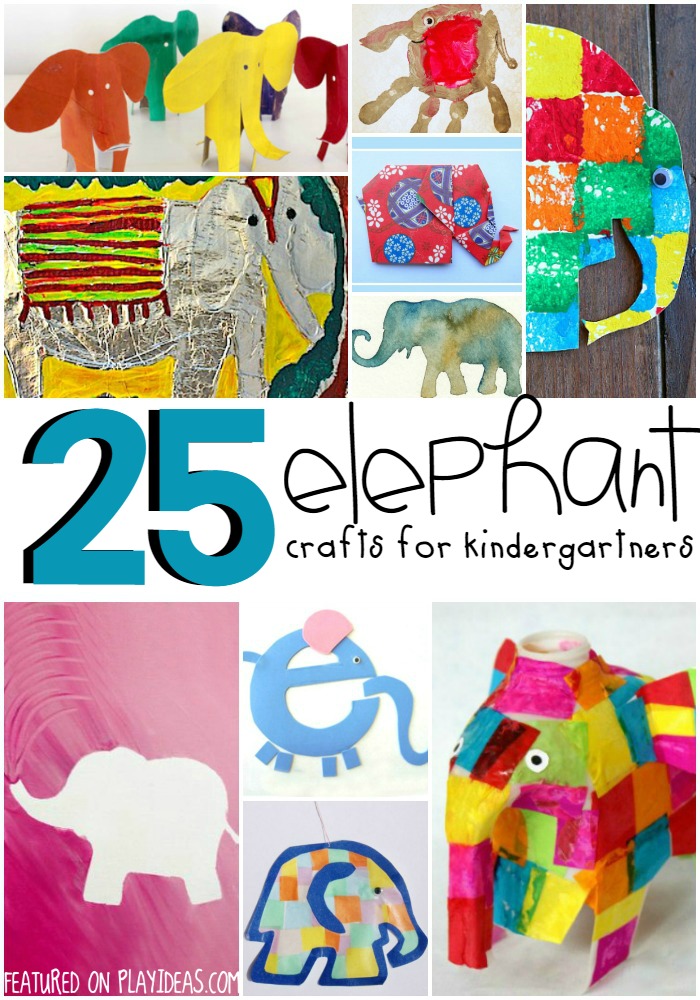 Which of these elephant crafts are you going to choose for art time today with your kindergartener?