There are so many things you can do with pony beads! Your kids are going to love these brilliant pony bead crafts not only because are they working on those fine motor skills, but also because there are genuinely just a ton of different things you can do with these beads!
From melting them into beautiful suncatchers to creating truly striking Valentine art, you and your children are going to run out of beads way before you run out of ideas!
Have fun creating moments and projects with beads and your kids!
Fabulous DIY Pony Bead Crafts for Kids of All Ages
1. Vertical Pony Bead Art
Work on creating amazing pony bead patterns with this vertical pony bead heart project! This beautiful kid-made gift by De Tout Et De Rien will spread some deep love!
2. Watermelon Slice Keychain
Let your kids make something sweet with this little slice of watermelon. This cool idea from Free Kid Crafts can be used as a backpack charm, key chains or as key rings!
3. Lovely Snow White Crown
Does your little Princess need a crown? Now she can make her own Snow White crown with clear beads and pipe cleaners like this one from Make And Takes!
4. Silly Snake Crafts
These silly snake craft ideas from Kids Activities Blog are so sweet and slithery, your child won't even realize they are working on those fine motor skills with this one. Little kids will love this easy craft!
5. Pony Bead Ring Craft
Make some truly beautiful jewelry that your kids will be proud of with this pony bead ring craft by Cooking With My Kid!
6. Colorful Creepy Caterpillars
These little creepy caterpillar crafts from Make and Takes are fun for little hands and perfect for kiddos who maybe aren't into snakes, but still want to make a little critter.
7. Melted Bead Pendant
This melted bead pendant idea from Cut Out and Keep is a perfect craft for bigger kids and something they can turn into necklaces, bracelets, and more!
8. Colorful Pony Bead Sun Catchers
Make these beautiful, brightly-colored pony bead suncatchers with your kids and bring brightness into your home year-round! Such a lovely idea from Kids Activities Blog!
9. Fancy Beaded Lizards
Another awesome craft for following patterns! These beaded lizard crafts by Sugar Bee Crafts are super easy to weave, plus your kids will learn all about following directions. Your child will be able to create their own little lizard friend!
10. Flower Beaded Bracelets
These pony bead flower bracelet ideas from Ordinary Life Magic are great for first and second graders! They love to craft, and these give them a chance to work with shorter directions.
11. Colorful Bead Shamrock Project
For the little ones, you can make this sweet and colorful pony bead shamrock project from Learn Create Love! Bring a little luck into your home with this one!
12. Patriotic Melted Bead Flag
Show your patriotism for the state, country, or even club with this melted pony bead craft by Kids Activities Blog!
13. Lovely Hair Clips for Girls
These cute hair clip ideas from THe 36th Avenue are just a few minutes away with these awesome pony bead activities! Simply melt them into the shape of a flower (or heart or whatever) and affix them to the clip. Beautiful!
14. Giant Bead Suncatcher
How adorable is this giant bead suncatcher with a heart shape in the middle? You could make one with almost any shape imaginable, just follow the steps from Cleaver Catastrophe!
15. Melted Bead Wind Chimes
How about some delightful wind chimes that take almost no time at all to make? The instructions from No Time for Flash Cards are easy and your kids are going to have a real good time!
16. Adorable Plastic Beads and Feather Craft
Work on those fine motor and color matching skills with these pony beads threaded onto feathers craft ideas by Sugar Aunts!
17. Dreamcatcher and Suncatcher in One
Make a truly dream-worthy suncatcher using pony beads with this idea from Babble Dabble Do! Maybe add some feathers or other gorgeous colors, too!
18. Disney Bead Bracelets
These pony bead princess bracelet ideas from Cutesy Crafts are so much fun to make, and each one represents a different Disney princess! Belle has her rose, Jasmine her lamp! Which bracelet will your child want to make?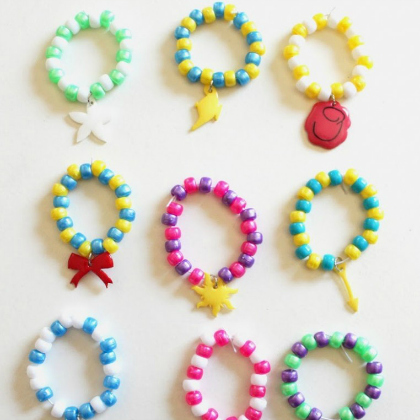 19. Sweet Candy Dot Earrings
These stunning and sweet candy dot earrings from The Life of Jennifer Dawn are all the rage with the elementary school crowd, and now you can make them at home!
20. Cool Pony Bead Butterfly
How sweet is this pony bead butterfly craft by Indietutes? Simple enough for preschoolers, and if you add a magnet it's also a great way to show off their other artwork!
21. Cool Bangles for Kids
These bangle ideas from Kin Folk Crafts are fun for all ages, and pony beads can be turned into a whole lot of bangles in just a few hours!
22. Awesome Pony Bead Abacus
Create this fun pony bead abacus by Kids Activities Blog and let your child learn to count in one of the oldest but classic ways possible. Use pony beads for math!
23. Melted Pony Bead Bowl
This pony bead bowl project by Crafty Craftons is perfect for keys, knick-knacks, and other baubles and yet simple enough for your kiddos to design themselves!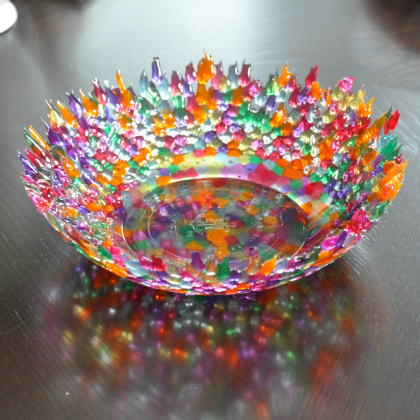 24. Cute Pony Bead Hangers
How beautiful are these pony bead hangers by We Made That? Such a fun craft for any kiddo who wants to hang up that 'special' outfit in a stand-out way.
25. Sweet Pony Bead Heart
This sweet pony bead heart project by Holly's Art Corner is a simple design, yet so elegant. This great craft is an excellent kid-made valentine for someone they truly love.
Colorful and Fun Bead and More Crafts from Play Ideas!
Which colorfully fun bead craft are you making with your kids today?