Laissez les bon temps rouler! In English, "Let the good times roll!"
Mardi Gras celebrations are feasts of indulgence, but children can enjoy the fun while keeping their waistlines in check with these crafts for kids. This is a celebration your kids shouldn't miss, as it is so festive, colorful, and meaningful! The kiddos will not get bored learning what Mardi Gras is all about when you make these super fun and creative crafts this Lenten season.
These 25 Mardi Gras Crafts For Kids are good times waiting to happen. From beads to masks to floats you can create a celebration fit for a king or queen! Have fun!
Easy and Fun DIY Mardi Gras Crafts for Kids
1. DIY Royalty Cluster Rings
You can use leftover Mardi Gras beads to make cluster rings for the royalty in your home! know how to make these cuties in the tutorial from One Artsy Mama!
2. Colorful Mardi Gras Masks
These crayon masks from Mami Talks are mysterious and gorgeous. Perfect for any Mardi Gras-themed party. These toddler-approved masks spell F-U-N!
3. Rose-Covered Royalty Mask
You can use crepe paper to create a mask full of gorgeous royal roses like this one from Mardi Gras Outlet.
4. Creative DIY Crown and Scepter
Royalty needs to be recognized this Mardi Gras and your littles are going to love this crown and scepter project idea from Galileo Camps!
5. Personalized Mardi Gras Mask for Kids
This homemade Mardi Gras mask is easy to make and fun to decorate. Your kids can personalize it with beads, paint, glitter – whatever they love, like this one from Kids Activities Blog.
6. Mardi Gras-Themed Monogram Letters
Use beads to make a monogram letter to memorialize your bon temps long after the celebration is over. Thanks to Mardi Gras Outlet for this lovely idea!
7. Creative Mardi Gras Necklace
These duct tape beads can be cut up to make gorgeous beads to thread your own Mardi Gras necklaces. This idea from Crafts By Amanda is perfect for kids who are practicing their fine motor skills!
8. Necklaces from Paper Beads
You can use paper to create paper beads for those necklaces. These are way prettier than the plastic beads. Such a cool Mardi Gras Art odea from Design Sponge to make with kids!
9. Lovely DIY Crown
This crown is fit for la reine. Make one for your little queen by following the instructions from Alpha Mom!
10. Handprint Mask Art
Use handprints to make a fun mask that doubles as handprint art. Clever idea from About Home!
11. Easy Homemade Jester Crown
Every parade needs a jester, and your jester is going to love their homemade jester crown project from Mardi Gras Outlet.
12. Fun Mardi Gras Drum
This Mardi Gras drum project from Activity Village is perfect to create music that'll keep your celebration going late into the day.
13. DIY Mardi Gras Garland
Make a garland using simple items you can find at the dollar store for cool Mardi Gras party decor! Get the idea from Stockpiling Moms!
14. Unique Nature Mask
A nature mask will let you celebrate Mardi Gras and spend some time outside enjoying the day. Go ahead and bookmark this link from Fun Stuff to Do to make your future DIY Mardi Gras mask and stand out from the rest!
15. Cardboard Beads for Toddlers
Cardboard or poster board will make fun beads that your little ones can string into a necklace of their own design. What a lovely craft idea from Projects For Preschoolers!
16. Cool Paper Mache Mask
Use this tutorial from About Style to make a paper mache mask that actually fits your child's face. Could be the most fun holiday craft for your kids to try!
17. Easy Paper Plate Castanets
This paper plate castanet is perfect for adding music to your celebration or parade. The instructions from Activity Village are so easy you won't be able to believe it!
18. Homemade DIY Crown
Or you can use a paper plate to make an easy crown in minutes, like this one from Alpha Mom!
19. Lovely Pipe Cleaner Crown
Want a more complicated headpiece that your le roi will be proud to wear? This pipe cleaner crown is truly royal! Your imagination is the limit for this fun holiday craft from Free Kids Crafts!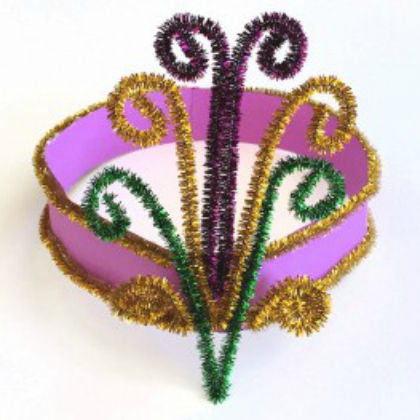 20. Printable Mask for Mardi Gras
You can also cut out this printable mask from Kids Activities Blog and then let your child color and decorate with whatever you have on hand.
21. Easy DIY Noise Shaker
Make a DIY Mardi Gras-themed noise shaker and shake up that crowd at the parade. Follow the tutorial from Activity Village to make one!
22. Colorful Float from a Shoebox
Mardi Gras isn't complete without stunning floats, and your child can make their own float using a shoebox. Pull out your glitters and beads and be ready for a fun holiday craft from Nola Mommy with your kids!
23. Cute Mardi Gras Mask Art
This Mardi Gras-themed mask art from Learn to Teach shows off beautiful symmetry and celebrates the colors of Mardi Gras. It's super fun to make with kids too!
24. Toilet Paper Noisemaker
Personalize your child's noisemaker with this simple toilet paper roll craft from Stockpiling Moms. They'll shake things up in style.
25. Twizzlers Necklace
Want a bead necklace that doubles as a snack? This Twizzlers necklace from No Time for Flashcards is perfect for any Mardi Gras-themed party! What a smart holiday craft!
More Holiday Crafts and Projects for Kids from Play Ideas
Which Mardi Gras craft for kids is on the top of your list?